'Freethought Matters' TV Show
Weekly half-hour TV talk show produced by the Freedom From Religion Foundation
Freethought Matters episodes are on hiatus until September 2019.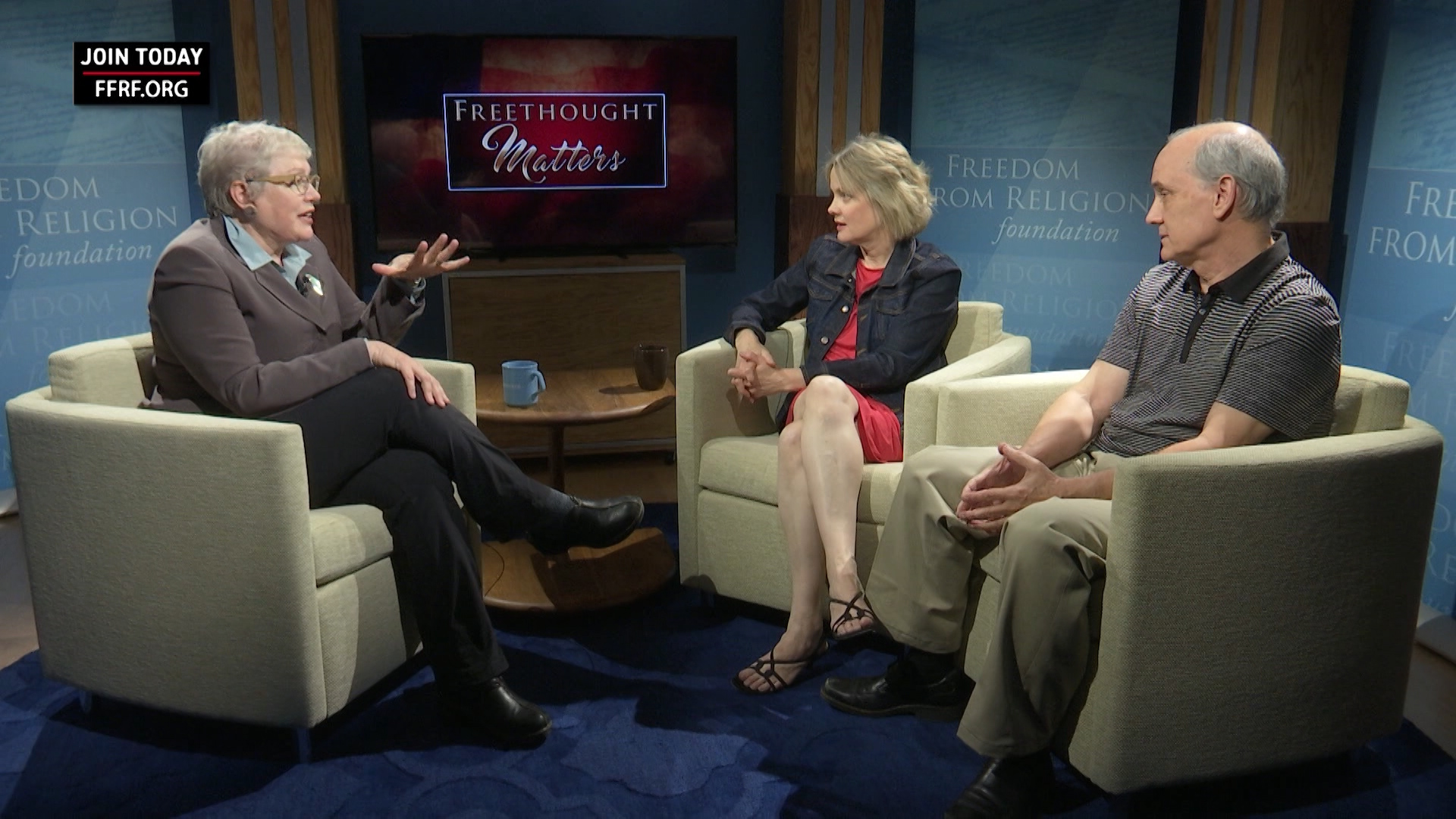 The Freedom From Religion Foundation's new weekly TV show, "Freethought Matters" is airing in cities across the country, covering more than 22 percent of the United States TV market. As an antidote to religion on the airwaves and Sunday morning sermonizing, the half-hour talk show will air Sunday mornings in eight cities.
"Freethought Matters" airs in:
Chicago, WPWR-CW (Ch. 50), Sundays at 9 a.m.
Denver, KWGN-CW (Ch. 2), Sundays at 7 a.m.
Houston, KUBE-IND (Ch. 57), Sundays at 9 a.m.
Los Angeles, KCOP-MY (Ch. 13), Sundays at 8:30 a.m.
Madison, Wis., WISC-TV (Ch. 3), Sundays at 11:00 p.m.
Minneapolis, KSTC-IND (Ch. 45), Sundays at 9 a.m.; 9:30 a.m.
New York City, WPIX-IND (Ch. 11), Sundays at 8:30 a.m.
Phoenix, KASW-CW (Ch. 61, or 6 or 1006 for HD), Sundays at 8:30 a.m.
Portland, Ore., KRCW-CW (Ch. 32), Sundays at 9 a.m. Comcast channel 703 for High Def, or Channel 3.
Sacramento, KQCA-MY (Ch. 58), Sundays at 8:30 a.m.
Seattle, KONG-IND (Ch. 16 or Ch. 106 on Comcast). Sundays at 8:00 a.m.
Washington, DC, WDCW-CW (Ch. 50), Sundays at 8 a.m.
"You can turn on the TV and be preached at 24/7, especially on Sunday mornings. We not only want to provide sympathetic programming for the 'unmassed masses,' but offer an alternative, so that religious programming does not win by default," says Annie Laurie Gaylor, FFRF co-president and co-host.
The intent is to introduce communities to leading freethought authors, thinkers and activists in a non-threatening and positive way, adds FFRF co-president and co-host Dan Barker.
Look for well-known guests as well as many activists and authors, including: comedian and actress Julia Sweeney; Harvard Professor Steven Pinker, FFRF's honorary president — whose latest book is Enlightenment Now: The Case for Reason, Science, Humanism and Progress; former Planned Parenthood President Cecile Richards, science communicator and journalist Cara Santa Maria — who appears on Neil deGrasse Tyson's "StarTalk," and biologist Jerry Coyne, author of Why Evolution Is True. Watch episodes here.
Please tune in to "Freethought Matters" . . . because freethought matters.
FFRF'S TV SHOW - FREETHOUGHT MATTERS