'Freethought Matters' TV Show
Weekly half-hour TV talk show produced by the Freedom From Religion Foundation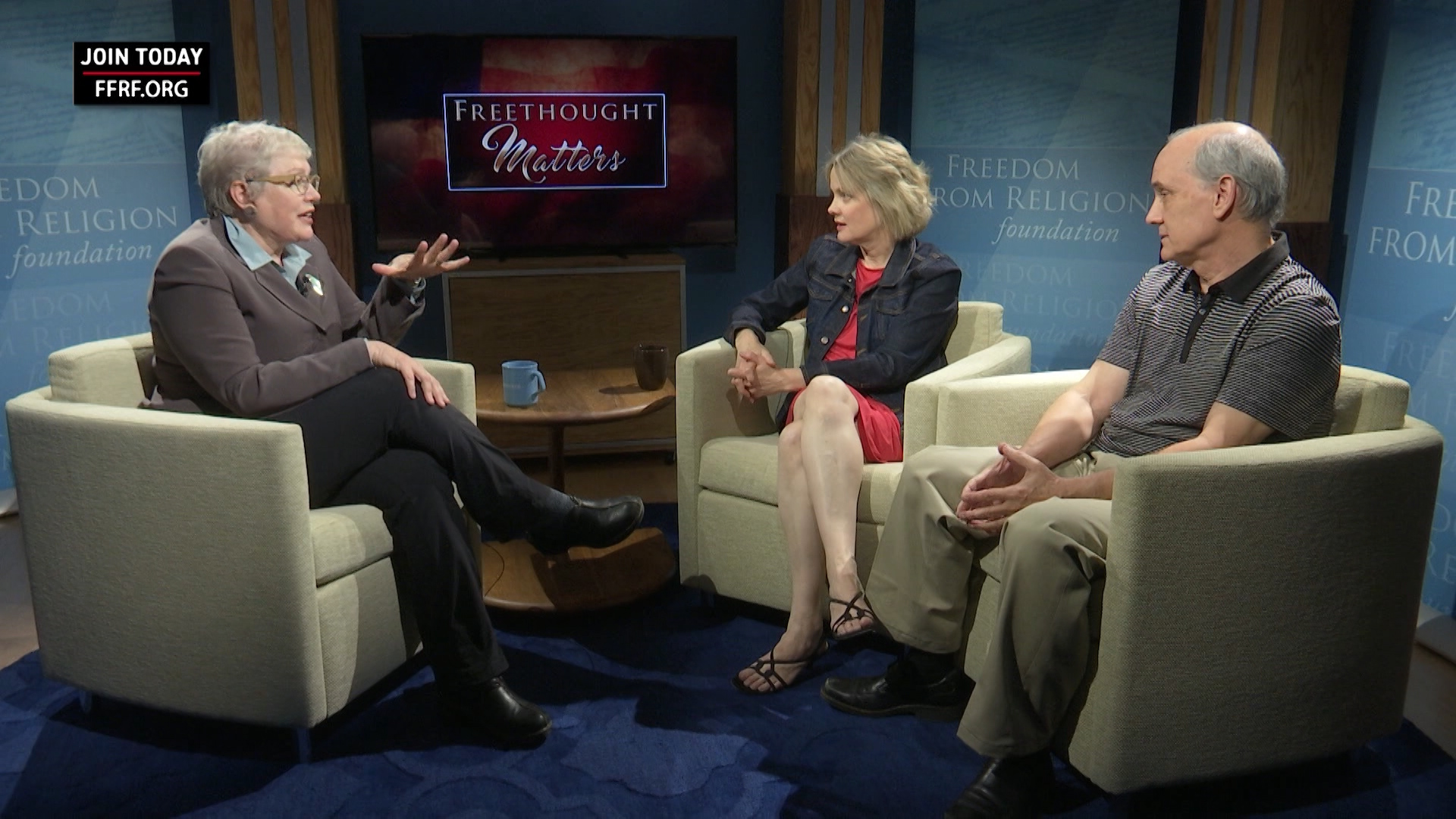 Note: "Freethought Matters" is now on summer hiatus. It will be back on the air the first Sunday in September 2022.
The Freedom From Religion Foundation's new weekly TV show, "Freethought Matters" is airing in cities across the country, covering more than 22 percent of the United States TV market. As an antidote to religion on the airwaves and Sunday morning sermonizing, the half-hour talk show will air Sunday mornings in 12 cities.
The first guest in the new season is U.S. Rep. Jared Huffman, founder of the Congressional Freethought Caucus, who represents California's second congressional district since 2013. Before serving in Congress, he represented the North Bay in the California Assembly and was an attorney and successful public interest attorney. He was formerly Mormon before becoming the only "out" nonbelieving member of Congress, identifying as an agnostic.
The guests in subsequent weeks include Center for Inquiry President and CEO Robyn Blumner, legal scholar Geoffrey Stone, U.S. Rep. Jamie Raskin and philosopher and scientist Daniel Dennett.
"Freethought Matters" airs in:
Chicago, WPWR-CW (Ch. 50), Sundays at 9 a.m.
Denver, KWGN-CW (Ch. 2), Sundays at 7 a.m.
Houston, KIAH-CW (Ch. 39), Sundays at 11 a.m.
Los Angeles, KCOP-MY (Ch. 13), Sundays at 8:30 a.m.
Madison, Wis., WISC-TV (Ch. 3), Sundays at 11:00 p.m.
Minneapolis, (Ch. 45, Digital Channel 5.5), Sundays at 9:30 a.m. (Digital channel 5.2 has been dropped.)
New York City, WPIX-IND (Ch. 11), Sundays at 10:00 a.m.
Phoenix, KASW-CW (Ch. 61, or 6 or 1006 for HD), Sundays at 8:30 a.m.
Portland, Ore., KRCW-CW (Ch. 32), Sundays at 9 a.m. Comcast channel 703 for High Def, or Channel 3.
Sacramento, KQCA-MY (Ch. 58), Sundays at 8:30 a.m.
San Francisco, KICU-IND (Ch. 36), Sundays at 10 a.m.
Seattle, KONG-IND (Ch. 16 or Ch. 106 on Comcast). Sundays at 8:00 a.m.
Washington, D.C., WDCW-CW (Ch. 50 or Ch. 23 or Ch. 3), Sundays at 8 a.m.
WRIU also replays the audio of FFRF's TV show, "Freethought Matters. You can tune in here.
"You can turn on the TV and be preached at 24/7, especially on Sunday mornings. We not only want to provide sympathetic programming for the 'unmassed masses,' but offer an alternative, so that religious programming does not win by default," says Annie Laurie Gaylor, FFRF co-president and co-host.
The intent is to introduce communities to leading freethought authors, thinkers and activists in a non-threatening and positive way, adds FFRF co-president and co-host Dan Barker. Watch episodes here. You can also receive notifications when we post new episodes of Freethought Matters by subscribing to FFRF's Youtube Channel.
Please tune in to "Freethought Matters" . . . because freethought matters.
FFRF'S TV SHOW - FREETHOUGHT MATTERS