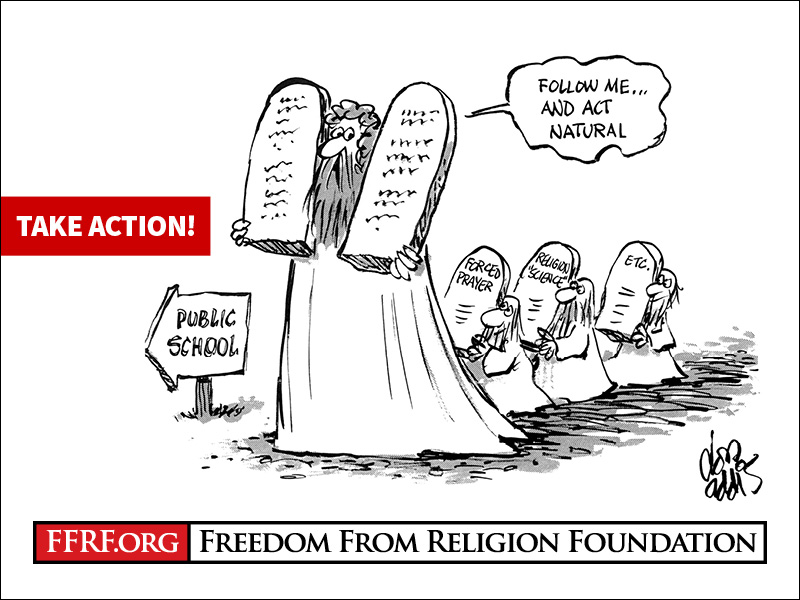 A school district in your area is considering a proposal to require each of its schools to display the Ten Commandments. Please take a few moments to contact the school board to oppose this unconstitutional consideration.
A member of the Cleveland County School Board in Shelby, N.C., recently introduced the proposal, which would mandate that schools display the Ten Commandments in a prominent location near the school's entrance. FFRF immediately sent a letter informing the district of the impermissibility of such displays and highlighting the significant legal liability the district may incur by violating students' rights. Read FFRF's full statement.
As an area resident, your voice is powerful. Please contact the district and urge it to ditch this proposal and leave religious coercion out of its schools. Feel free to use or adapt our talking points below. Personalized messages are always the most effective!
Cleveland County School Board Members Contact Information:
This email address is being protected from spambots. You need JavaScript enabled to view it.
This email address is being protected from spambots. You need JavaScript enabled to view it.
This email address is being protected from spambots. You need JavaScript enabled to view it.
This email address is being protected from spambots. You need JavaScript enabled to view it.
This email address is being protected from spambots. You need JavaScript enabled to view it.
This email address is being protected from spambots. You need JavaScript enabled to view it.
This email address is being protected from spambots. You need JavaScript enabled to view it.
This email address is being protected from spambots. You need JavaScript enabled to view it.
This email address is being protected from spambots. You need JavaScript enabled to view it.
SUGGESTED TALKING POINTS
As an area resident, I urge the school board to drop its proposal to require Cleveland County schools to prominently display the Ten Commandments. Please do not put the district at risk of legal action, an enormous waste of taxpayer dollars, when this proposal is plainly unconstitutional and will only serve to divide students and families. Leave religious education to students and their families. Thank you for your time.