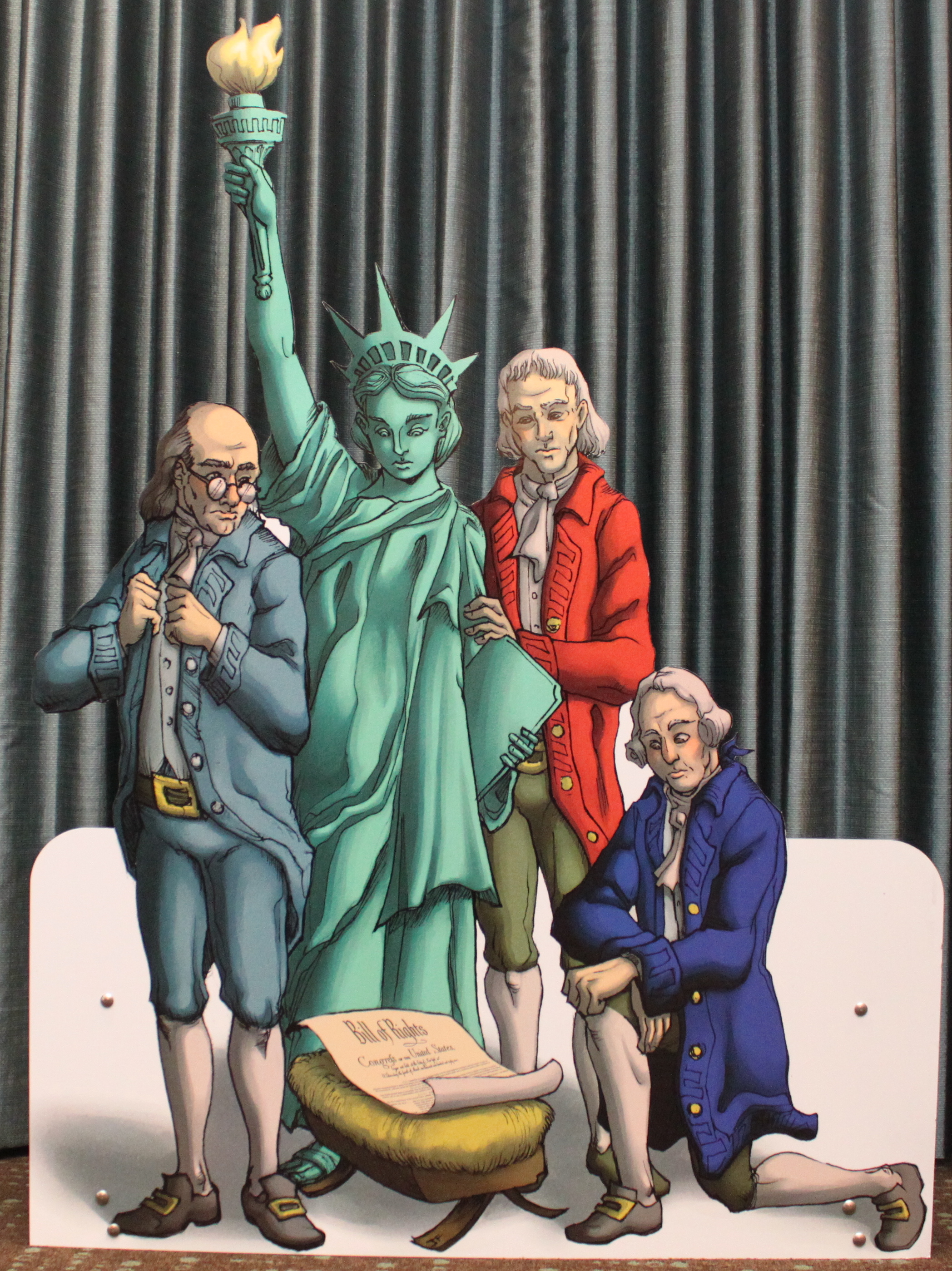 The Freedom From Religion Foundation filed a federal lawsuit on February 25, 2016, challenging the remove of its approved Bill of Rights "nativity" display from the Texas State Capitol by Texas Governor Greg Abbott. FFRF had a permit and a legislative sponsor for its display. Abbott, as chair of the Texas State Preservation Board, ordered the display taken down only three days after it was erected on Dec. 18, 2015, lambasting it as indecent and mocking and contributing to public immorality.
The whimsical exhibit, designed by artist Jake Fortin, commemorates the "birth" of the Bill of Rights (which was adopted on Dec. 15, 1791), depicting the founding fathers and the Statue of Liberty crowded adoringly around a manger scene containing the constitutional document. FFRF placed the display to counter a Christian nativity display placed at the Capitol in 2014 and 2015. The display also featured a sign celebrating the Winter Solstice.
In its complaint, FFRF charged that Abbott and the other defendants violated the free speech, equal protection, and due process rights of FFRF. FFRF also charged that Abbott's action was motivated by animus toward FFRF and its non-theistic message, following "a history of hostility directed at FFRF" by Abbott. The complaint asked for Abbott to be held personally liable for his actions in censoring FFRF's speech.
On October 13, 2017, Judge Sam Sparks ruled that the State Preservation Board violated FFRF's free speech rights when it removed FFRF's display from the Capitol as a matter of law. FFRF then voluntarily dismissed its other, unresolved claims in order to secure a final judgment against Governor Abbott and the Board, which was entered on June 19, 2018.
Abbott appealed the district court's ruling to the 5th Circuit in July 2018, where he argued that the district court entered an impermissible declaration that doesn't properly constrain the Board's future conduct. Abbott did not challenge the district court's ruling that he and the Board engaged in viewpoint discrimination by removing FFRF's display. FFRF filed a cross-appeal, arguing that it is entitled to an injunction and that the Board's "public purpose" requirement is unconstitutional on its face. The arguments on appeal are now fully briefed and the parties are awaiting oral argument.
FFRF is represented by Associate Counsel Sam Grover and Senior Counsel Patrick Elliott in the case, with attorney Rich Bolton of Boardman and Clark LLP serving as litigation counsel. The case currently before the 5th Circuit is Appeals Docket # 18-50610.
In April 2020 a three-judge panel of the 5th Circuit Court of Appeals released a unanimous opinion in favor of FFRF. This judgement remanded the case to the Western District of Texas, who previously ruled in FFRF's favor, in order to fashion a remedy. This will better protect the right to place displays in the future, as well as ensure similar constitutional violations cannot happen to other organizations.
Documents on Appeal