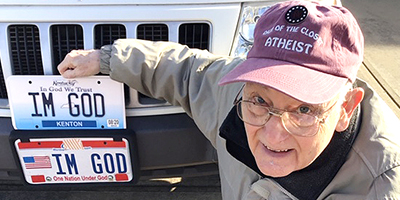 FFRF and the ACLU of Kentucky filed suit on November 22, 2016 on behalf of Ben Hart, who was denied a personalized license plate by the State of Kentucky. Hart's request for a personalized license plate reading "IM GOD" was rejected by Kentucky DMV officials who claimed the message was "obscene or vulgar," but then later said that it was because the plate was "not in good taste."
The lawsuit challenges certain portions of the regulations governing personalized license plates as unlawful, namely those that allow government officials to deny plates based on vague notions of "good taste" as well as those barring personalized plates from communicating religious, anti-religious or political messages.
Hart seeks approval of his license plate application, and a finding that certain provisions are invalid to the extent they allow government officials to deny personalized plates solely because they communicate messages about politics or religion.
The case (No. 3:16-cv-00092) is before the U.S. District Court for the Eastern District of Kentucky.
Case Documents:
On April 15, 2019 FFRF and the ACLU of Kentucky filed a motion for summary judgment. On November 13, 2019 the Eastern District Court of Kentucky found in favor and granted summary judgment.
The plaintiff will now be able to choose their own personalized license plate.