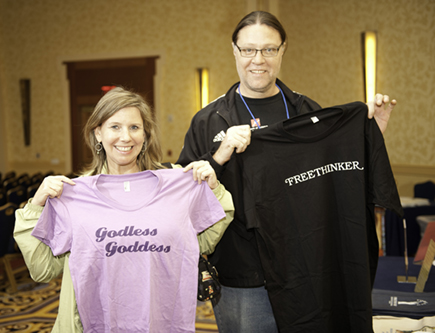 Holly Huber and Mitch Kahle at the 2011 FFRF annual convention in Hartford, Conn., where Kahle received the Freethinker of the Year Award.
New Hope Church agreed to pay $775,000 to settle a lawsuit filed by Hawaii FFRF members Holly Huber and Mitch Kahle. Three branches of the international megachurch apparently were getting sweetheart deals for years on rentals of school space from the state.
The suit was filed under the state's False Claims Act, which rewards whistle-blowers for exposing fraudulent billing.
The payments were disclosed in court filings by New Hope's parent organization, the International Church of the Foursquare Gospel, Hawaii News Now reported in early February.
Most of the money will go to the state Department of Education, but as much as $200,000 will go to the plaintiffs, who allege that New Hope shortchanged the state $4.6 million over six years.
Kahle noted that state rules setting rent amounts were undermined by Board of Education Chairman Donald Horner.
Honolulu Civil Beat reported Feb. 14 that Horner declined to comment except to say the board was not a party to the case. Horner is a licensed pastor with ties to New Hope, the paper reported.
The plaintiffs' attorneys plan to file an amended suit against One Love Ministries and Calvary Chapel Oahu, alleging that the two churches' underpayments total about $1.1 million. An earlier claim was dismissed in January.