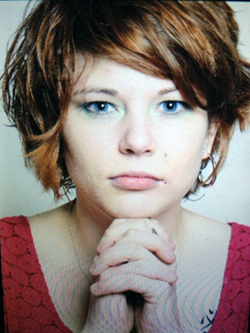 Name: Lauryn Seering.
Where and when I was born: Wausau, Wis., July 28, 1989.
Education: B.S. in professional communications and emerging media, double minors in journalism and international studies, University of Wisconsin-Stout in Menomonie; study abroad at Nagasaki University of Foreign Studies, Nagasaki, Japan(長崎外国語大学 — Nagaski Gaikokugo Daigaku) .
What I do at FFRF: I'm the publicist and assistant editor. I manage our online social media presence and work with news outlets by writing and distributing press releases.
What I like best about FFRF: The staffers I work alongside. They are intelligent and well-read people with a great sense of humor. I adore managing our Facebook and participating in office shenanigans. Most of all, I'm really taking advantage of the upstairs library.
What I like least about it: Reading the crank mail can be a little disheartening. I feel like FFRF's mission is so terribly important and often misunderstood and misrepresented by the media.
I spend a lot of time thinking about: How crazy it is that humans have advanced so much and so little. On the one hand, through science, we have begun to understand the world around us. We have accurate maps of our entire beautiful world and have the capability of actually protecting this planet that gave us life.
On the other hand, there is so much blatant ignorance and superstition. I also spend a lot of time thinking about astronomy, astrophysics, space flight missions, the Hubble telescope and how awesome the invention of writing is.
These three words sum me up:
Artistic, cheerful and opinionated.
My religious upbringing was:
Catholic.
My doubts about religion started: I grew up with Japanese culture, starting with "Sailor Moon" and Hayao Miyazaki films. I knew much more about Shintoism and Buddhism before I was truly exposed to Christianity. I realized I identified as atheist after I read a George Smith book, Atheism: The Case Against God. Then everything clicked.
Things I like: Watercolors, Prismacolor markers, turtles, coffee, reading old books, studying vocabulary words, watching really cliché Korean dramas and writing anime- and manga-related fan fiction [stories written by fans of the original work, not by the original creator].
Things I smite: Organized intolerant ignorance. Homophobia. Nuclear weapons. And I don't 'smite' but still find a majority of television programs distasteful.
Favorite authors: Carl Sagan, Haruki Murakami, Jane Austen, Oscar Wilde, Chris Hitchens, Sylvia Plath, Douglas Adams, Shungiku Nakamura and Stieg Larsson.
What is the answer to life, the universe and everything? Enjoy and appreciate every last moment as they are right now, because anyone who tells you differently is a lying, conniving jerk. Oh, and of course, 42. [Familiarity with The Hitchhiker's Guide to the Galaxy is the key to fully appreciating this last Q&A.]