FFRF President Emerita Anne Nicol Gaylor was the recipient Sept. 27 of the second annual Dr. George Tiller Memorial Award by NARAL Pro-Choice Wisconsin. The "wine, cheese and chocolate" reception was held in the beautiful condominium home (with a spectacular view of the Capitol) of state Sen. Fred Risser and his wife, Nancy. Fred is the longest-serving state legislator in U.S. history. He was first elected to the Assembly in 1956 and advanced to the Senate in 1962.
FFRF board member and community activist Nora Cusack nominated Anne for the honor.
Anne Nicol Gaylor has been helping Wisconsin women and girls access abortion care for over 40 years. She is co-founder and administrator of the Women's Medical Fund Inc. (WMF), which has helped over 19,000 Wisconsin women and girls pay for abortions.
In the spring of 1970, after Wisconsin's anti-abortion law was declared unconstitutional, she began referring women to doctors in Wisconsin and elsewhere. On Aug. 12, 1970, she placed an ad in the classified "Personal Interest" section of Madison's two daily papers that read: "ABORTION is legal and available in Wisconsin. If your doctor won't help, contact the Zero Population Growth Referral Service." The ad included the ZPG post office box and her home phone number. The response was immediate. By the end of the month, she had received 93 calls and the phone has not stopped since.
In 1976, Anne co-founded the Women's Medical Fund as a 501(c)(3) nonprofit. WMF's mission is to help ensure that the legal right to reproductive choice is not denied due to lack of money.
WMF is now the largest continuously operating independent all-volunteer abortion fund in the nation. Overhead is less than 0.5%. Almost 100% of donations go directly to pay for abortion care.
WMF is a resource of last resort when all other sources of funds have been exhausted. WMF is frugal and strategic with its assistance, walking the fine line between helping with enough financial aid to enable individual women and girls to receive abortions, while helping as many as possible.
In 2010, WMF helped 735 Wisconsin women and girls with an average of $225 each. Anne, who usually works from her kitchen table, talked with every one of these women.
In 1989, she and WMF filed and won a suit against the Wisconsin attorney general (for exceeding his statutory authority in joining a brief in the U.S. Supreme Court urging that Roe v. Wade be overturned in the Webster case).
Anne is a role model for me and many others. She is selfless, fearless, compassionate, kind, focused, determined and effective, and deserves to receive the Dr. George Tiller Memorial Award.
Donations in Anne's honor may go to Women's Medical Fund, PO Box 248, Madioson, WI 53701.
Atheists run charities (and staff foxholes)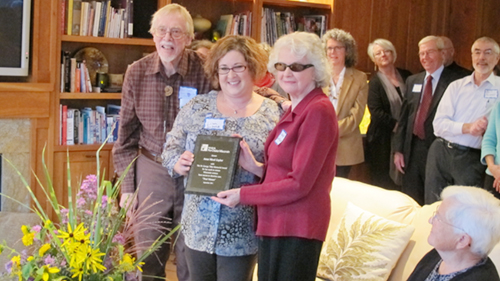 NARAL Pro-Choice Wisconsin director Lisa Subeck (center) presents the George Tiller Award to FFRF President Emerita Anne Nicol Gaylor (right). At left is Professor Robert West, a co-founder of the Women's Medical Fund FFRF Lifetime Member. FFRF Board Member Nora Cusack is at right behind Anne.