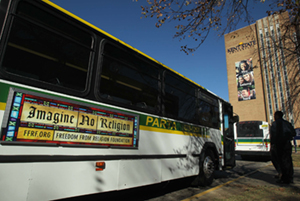 FFRF, working with a nontheist student club at Kent State University, took its irreverent bus signs to Ohio for the month of November. Four different exterior ads on buses serving the campus read: "The United States is not founded on the Christian religion. — President John Adams"; "Keep Religion Out of Government"; "Imagine No Religion"; and the humorous "Sleep in on Sundays."
Twenty interior designs featured evolutionary biologist Richard Dawkins, author of the blockbuster, The God Delusion, saying: "The God of the Old Testament is arguably the most unpleasant character in all fiction." The other inside ad featured atheist actress Katharine Hepburn's quote: "I'm an atheist and that's it. I believe that there is nothing we can know except that we should be kind to each other and do what we can for other people." Hepburn's quote was tailored to the university's famous Katharine Hepburn fashion exhibit.
"We thank Lifetime Member Dianne Centa for underwriting the cost of the interior advertisements," said FFRF spokeswoman Annie Laurie Gaylor, "and the student Freethinkers Association for joining our campaign and making this possible." The bus signs were prominently pictured with a page one story in the Nov. 13 Akron Beacon Journal.