Truth in Advertising?
"I'm enclosing a photo of a church sign--one of those that leaves you scratching your head trying to figure out the meaning!"--Elaine Dasher, Ga.
O'Reilly Factor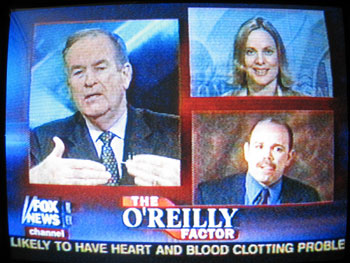 Bill O'Reilly, Annie Laurie Gaylor, and MentorKids "counsel."
"We're not objecting to children having mentors," Gaylor told O'Reilly. "We're objecting to MentorKids forcing mentors to have to be Christian, churchgoing and be a presence of Christ in the lives of this captive audience of young children."
O'Reilly surprisingly predicted on the Dec. 9 show: "If Mentor USA is exclusionary in the sense that somebody tries to join but can't because they're a Muslim, Ms. Gaylor may win in the courts."
"