Mildred Perpigna
1914-2005
Mildred Perpigna, a nonagenarian, longtime member and a Life Member of the Freedom From Religion Foundation from Washington State, died on Nov. 11, 2005.
Mildred, who lived a frugal life, was the benefactor behind the Foundation's Emperor Has No Clothes Award. She gave the original grant and came up with the idea to create the statuette to award public figures who speak out as nontheists. Mildred had asked to stay anonymous, but consented to be thanked publicly at the FFRF Seattle Mini-Convention in July 2004, which she attended in her wheelchair.
Millie dreamed up the award, based on the Hans Christian Andersen fairy tale of a child "telling it like it is" about a deluded emperor, when she was watching George Carlin on an HBO special. Millie asked that Carlin be the first recipient. Carlin's weekend schedule in Las Vegas precluded his accepting in person, but FFRF sent him the statuette. The first official recipient of the award in 1999 was Steven Weinberg, a Nobel Laureate in Physics and outspoken atheist.
Millie was born in New York City in 1914, and found that books and music were as much as a staple to her as food. She made good use of all that New York City has to offer. She was unable to attend college during the Depression but became a "drop-in" at the Julliard School of Music, and eventually drifted into actuarial and accounting work.
She retired in 1979 with what she called a "six million dollar view" of the Pacific. She eventually moved to a nursing home. In a "Getting Acquainted" piece written for Freethought Today in 1991, Mildred noted:
"My journey to freedom from religion was brief. By the time I was eight I had mentally excommunicated the pope, knew prayer was useless, that nuns and priests were not-very-bright bigots, and had a natural aversion to groveling." She did take confirmation at 12, but told a friend shortly after, "I'm not going to church anymore. The more I go, the less I believe."
"The Foundation will always be grateful to Mildred Perpigna for proposing the Emperor Award, and she will be missed," said Annie Laurie Gaylor, Foundation co-president.
Laura Rogan
1919-2005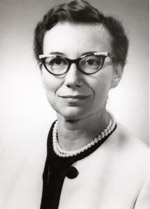 Freethought Today is sorry to report the death of longtime Life Member Laura Elizabeth Lehtinen-Rogan, 86, a nationally-known educator, of Illinois, on Dec. 14, 2005. Laura is survived by her husband, Marvin, also a Life Member. They were together for 42 years.
Laura's mother used to tell people, "I'm here because I missed the Titanic!" Nursing a cold and aware that passing through Ellis Island immigration hinged on good health, Laura's mother delayed her voyage and came on a later ship, the Carpathia, ironically one of the rescue vessels of the Titanic.
Laura received her B.S. in special education from Wayne State University in Detroit, her M.A. in psychology from the University of Michigan and her Ph.D. in psychology from Northwestern University.
She taught an experimental class for exogenous mentally-handicapped children in the research department at Wayne County Training School, Northville, Mich. Those experiences contributed to her book, Psychopathology and Education of the Brain-Injured Child.
With another doctor, she cofounded the Cove School in 1947, and served as its clinical director until 1984. The Cove School's philosophy was to never give up on teaching an individual child. She coauthored The Other Child, a book for parents, with Richard S. Lewis and Dr. Alfred Strauss.
Laura was instrumental in assisting several school districts in establishing programs for learning disabled students. She directed and coauthored The Cove School Phonics Workbook Series, beginning reading material widely used for students with learning disabilities and for beginning readers in regular classes.
At the Cove Foundation she also directed and developed instructional materials, and conducted research in learning disabilities, and educated professionals and parents.
Laura and Marvin had attended several of the Foundation's past national conventions.
"Laura was a lifelong atheist, as were her parents of Finnish descent," Marvin writes.
Laura suffered from declining health and failing vision in the past two years while at a nursing home, and died of a pneumococcus infection. Her cremated remains were scattered at sea.
Robert J. Stupka, 21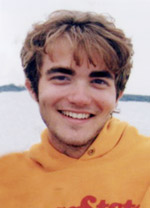 The Foundation office is sad to report the tragic death on Nov. 30 of student member Robert J. Stupka, 21. After disembarking from a bus, he crossed the street between a bus and a car, and was struck by a charter bus on the way to classes in Ames, Iowa. At his family's request, Rob was airlifted to Regions Hospital in St. Paul, where he died. Rob was double-majoring in genetics and biochemistry, and planned to pursue a Ph.D. He was president of the University's biochemistry club.
His death was reported by the Minneapolis Star Tribune (Dec. 2, 2005), which quoted his father, Bob Stupka of St. Paul:
"When he was four or five years old, you'd ask him what he wanted to do and he wanted to help people. He wanted to find cures to disease. Now he was 21 years old and he was still thinking that way. It's just a travesty. It's such a shame that he won't get a chance to pursue that dream. We really think that he would have made a difference."
Rob had visited the national office of the Freedom From Religion Foundation over his Thanksgiving break.
"During his short visit, he managed to make such an impact on all of us, as an energetic, determined and very engaging person. Rob announced his intention to become a Life Member when he could, and to promote freethought as well as science," said Annie Laurie Gaylor, Foundation co-president.
His Catholic family held religious services for him.
His fiance, Claire Kruesel, a Foundation member, wrote the Foundation office that Dan Barker's book, Losing Faith in Faith, was "definitely the most marked book ever on our bookshelf."
We send our condolences and best wishes to Claire.
Dillard Henderson, 76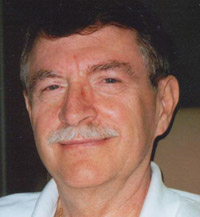 We are sorry to report the death of Foundation Life Member Dillard Henderson, a former industrial engineer for General Motors Corp., who died of prostate cancer on Nov. 26, 2005, at the Arbor Hospice, Mich.
Dill was born in East St. Louis, Ill., and graduated in 1947 from Washington High School in Indianapolis. He served in the Air Force during the Korean conflict, and was stationed stateside. He attended Indiana University and received a bachelor's degree in business administration in 1955, graduating in three years on the GI Bill.
A former professor at Mott College in Flint, Mich., Dill taught courses in math and algebra. He then worked at General Motors, AC Spark Plug Division, in Flint for 30 years before retiring in 1992.
A resident of Royal Oak, his interests included flying--he had his commercial pilot's license--as well as motorcycles and boating.
Dill was an active participant in Gilda's Club, a support group for cancer victims and their families.
He is survived by his wife, Marilyn, of 48 years, two daughters, Lisa Maznio and Tami Hoffman, and one grandchild.
Dill attended Freedom From Religion Foundation events until recent years, and knew and corresponded with many Foundation members. He had regularly supplied both the Foundation office and its chapter, the Alabama Freethought Association, with "clean" (pre-"In God We Trust") currency, used for fundraisers and awards.