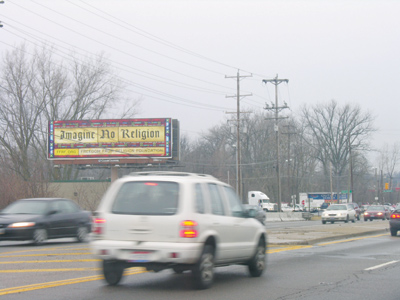 A 14x48-foot billboard went up in February at the southeast corner of East Broad Street and Lancaster Avenue, Reynoldsburg, Ohio (suburban Columbus).
The billboard commanded TV coverage on the CBS news affiliate, with longtime Foundation member Richard Markle interviewed on camera.
The Columbus Dispatch (Feb. 8) ran a feature story and photograph, interviewing Foundation member David Russell, who was one of three Columbus-area benefactors who generously paid to place the billboard.
The Dispatch reported:
"Part of Russell's motivation to shoulder part of the cost was Gov. Ted Strickland's decision last year to allow nativity displays in state parks. Efforts by Zoroastrians and pagans to erect displays alongside the nativity scenes were rejected."