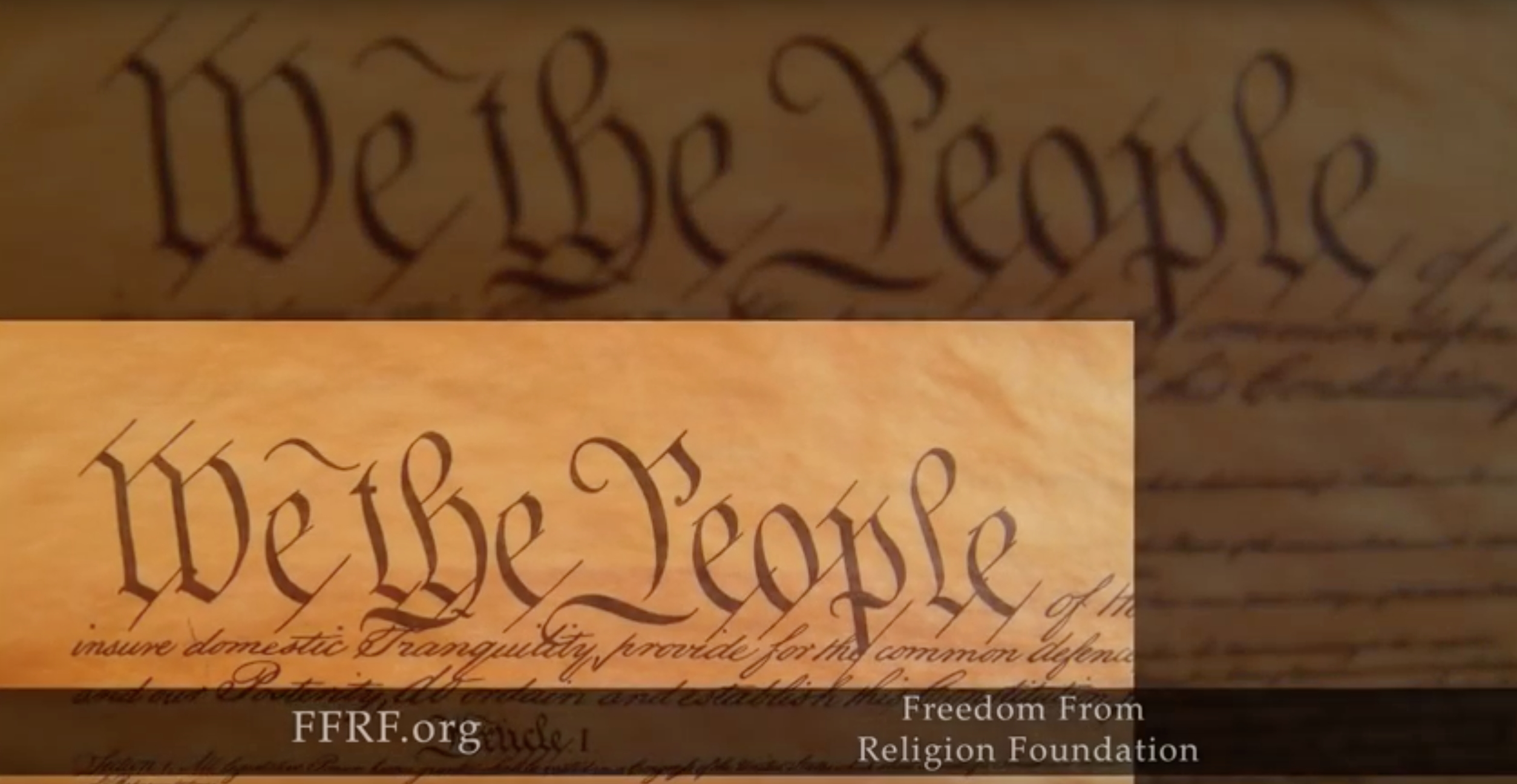 Click here to watch the ad.

The Freedom From Religion Foundation is launching a new ad campaign on the "Rachel Maddow Show."
The spot starts airing tonight, Tuesday, Feb. 9, and will be running periodically as funds allow on the popular talk show, which is broadcast weekdays at 9 p.m. Eastern time.
The commercial depicts the famous lines delivered by presidential candidate John F. Kennedy to the Greater Houston Ministerial Association in 1960: "I believe in an America where the separation of church and state is absolute . . . where no religious body seeks to impose its will directly or indirectly on the general populace."
FFRF urges viewers to "restore respect for America's secular roots." The ad makes this appeal: "Help the Freedom From Religion Foundation defend the wall of separation between state and church. Join us at FFRF.org. Freedom depends on freethinkers."
"In this election year, we want to remind America that to be elected in the past, presidential candidates had to pledge allegiance to our secular Constitution," says FFRF Co-President Annie Laurie Gaylor. "Today, unfortunately, there seems to be a de facto religious test for public office."
The 30-second spot is accompanied by a piano rendition of "America the Beautiful" recorded by FFRF Co-President Dan Barker. The ad concludes with the strains of "Let freedom ring" and the image of a Lincoln penny with "In Reason We Trust" replacing "In God We Trust."
FFRF debuted the TV ad in 2012 on MSNBC and CBS.
Buzz Kemper narrates the commercial, and it's produced for FFRF by John Urban Productions.
Freedom From Religion Foundation is urging Kentucky Gov. Matthew Bevin to cancel a Governor's Prayer Breakfast scheduled for Tuesday, Feb. 16.
The event is problematic in many ways.
The First Amendment prohibits government sponsorship of religious occasions. Yet, the breakfast and a link to sign up appear on the governor's webpage, and the state seal is seen on the invitation. Moreover, Bevin sent out an official email on Jan. 29 inviting all state employees for the gathering.
"By sponsoring a Prayer Breakfast, which calls Kentucky citizens to prayer, you abrogate your duty to remain neutral," says FFRF Co-President Annie Laurie Gaylor in a Feb. 5 letter to the governor. "This event sends a message that the governor of Kentucky prefers and endorses religion over nonreligion and more specifically the Christian faith."
Gaylor points out that this alienates a significant portion of Kentuckians who are nonreligious (400,000, according to a 2008 survey) and non-Christian.
The framers of the U.S. Constitution didn't pray during the four-month constitutional convention that adopted the godless and entirely secular document whose only references to religion are exclusionary. FFRF calls religion divisive, especially when mixed with government. As James Madison wrote in the Federalist Papers, "A zeal for different opinions concerning religion ... have, in turn, divided mankind into parties, inflamed them with mutual animosity, and rendered them much more disposed to vex and oppress each other than to cooperate for their common good."
The Kentucky governor is also misappropriating his power, FFRF avers. Alexander Hamilton wrote that the Constitution gives the executive "no particle of spiritual jurisdiction." Yet, Bevin is utilizing executive authority to organize a religious assembly. His deployment of official email for a prayer violates the state's own guidelines, which prohibit emails "advocating religious or political opinions."
"It is unconstitutional to use government resources, such as the Kentucky.gov website, official state email, and the state seal, to endorse religious rituals and solicit attendance by state employees," says Gaylor. "This not only lends the imprimatur of the governor's office to prayer and a Christian event, but it also abuses your civil and administrative authority. State employees will feel they must support a religious event, regardless of their personal thoughts or reservations, to get ahead or stay on the good side of their boss."
FFRF is urging the Kentucky governor to immediately cancel the gathering. The organization is calling on Bevin to remove the breakfast from the governor's website, and to delete any official mention in the event's promotion. It is also asking for an apology to go out to all state employees.
FFRF has a national enrollment of 23,000 nonreligious members, including in Kentucky.
More...