14 Ways to Get Active, Right Now!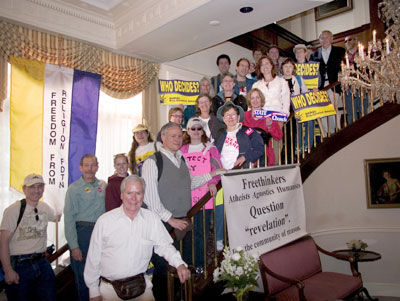 Monitor local state/church abuses

Work with the Foundation to protest clear-cut violations of the separation between church and state, such as prayers or religious instruction in public schools. Contact the Foundation office promptly with pertinent facts, names and addresses. You may mail or fax materials to FFRF's staff attorney:

FFRF, Inc.
PO Box 750
Madison WI 53701
Fax: (608) 204-0422
Online: State/Church Violation Form

If it's an emergency violation (taking place soon at a school, for example), phone our office at:
(608) 256-8900

It it not easy to end violations where there is no established law or Supreme Court precedent to invoke. But a prompt complaint by a local citizen at the very least helps to educate about the importance of state/church separation, and may prevent a future or worse abuse.

Write a letter to the editor

This remains one of the cheapest and most effective ways to affect public opinion. Succinct letters (typed if sent by regular mail) with a clear focus, responding to timely issues, have the best chance of publication. Most newspapers prefer to print letters written directly to their editorial page editor (rather than photocopies or open letters addressed at large). Many Foundation members have been successful in having letters published which also publicize the Foundation's name, or even website or address.

Not to be overlooked: letters or emails praising newspapers, TV or radio shows for featuring secular viewpoints or guests. It takes courage to publish or include controversial opinions, to provide equal time for freethought. Positive feedback is always appreciated, and shows newspapers or talkshows such views have an audience.

Join the campaign to pressure Boy Scouts of America

The Boy Scouts of America has expelled or refused admittance to nonreligious boys, while relying on public handouts and support. In 2000, the Boy Scouts won a lawsuit before the U.S. Supreme Court, which ruled it a private group that is free to discriminate. The case in question involved gays, but the ruling leaves nonreligious Boy Scouts with little chance of legal redress. Local troops in the past have traditionally met for free at public schools and relied on public school teachers to recruit. If this is happening in your area, you can help combat BSA bigotry by contacting your local school board and neighborhood schools, asking them to stop supporting or giving preferential aid to an openly discriminatory group. You can also contact your local United Way, which is not supposed to fund groups which discriminate on the basis of religion. If they grant BSA troops financial assistance, ask them to stop. If you have been a regular United Way contributor, be sure to let them know. Nationally, United Way has traditionally provided at least a quarter of BSA's financial assistance. Write:

United Way
President Brian Gallagher
United Way of America
701 N Fairfax St.
Alexandria VA 22314





For the record, you may wish to complain to the Boys Scouts of America directly:

Robert J. Mazzuca
National Scout Executive
Boy Scouts of America
1325 Walnut Hill Lane
Irving TX 75015

Don't vote in a church!

In many places, one-third to one-half of all polling places are churches. Citizens should not have to fulfill their most civil function of all--voting--in a church or religious school. These days the cross is increasingly used as a symbol of political intimidation and many churches are not neutral on election issues. If you have to vote in a church, complain! Usually your city or county representative has the authority to suggest changes to polling places. A local rep is more apt than a bureaucrat to respond to a citizen complaint. Suggest secular alternatives (particularly those with handicapped access): libraries, public schools (it's so educational for students to witness Election Day), fire stations, malls, etc. Even if this abuse does not affect you personally, you may still wish to complain to your city clerk or registrar if this is a growing trend in your area. Polling sites are published in newspapers prior to local elections. In some states, polling sites receive public compensation, making this a more serious entanglement.

Suggest the Foundation for talkshows

There may be radio talkshows in your area that regularly feature out-of-town guests by long distance. Foundation staff can field questions from the Foundation office in Madison, Wisconsin. This is a good way to educate the public and reach other freethinkers. Talkshow hosts and producers are usually appreciative of guest suggestions—especially from their regular listeners—and if they have recently featured a religionist or religious topic, they may be open to a suggestion for balance.

Make sure your local library carries freethought books

Request your favorite freethought books for your library. Fill out a request card for Foundation-published books, including:

Losing Faith in Faith: From Preacher To Atheist by Dan Barker
One Woman's Fight by Vashti McCollum
The Born Again Skeptic's Guide to the Bible by Ruth Green
Women Without Superstition: 'No Gods - No Masters' by Annie Laurie Gaylor
Woe To The Women: The Bible Tells Me So by Annie Laurie Gaylor
American Infidel: Robert G. Ingersoll by Orvin Larson
Just Pretend: A Freethought Book for Children by Dan Barker




If you are kind enough to donate books to libraries, please note that all libraries do not necessarily accept such donations, so it is wise to check with them first, then follow up to make sure they make it on the shelf!

Request that your local library carry Freethought Today

At least 5% - 10% of the people where you live are freethinkers, according to almost all polls, and as many as one third of them may be freethinkers if you live in the West. More than 15% of American adults are "nonreligious." There is every reason for your public library to carry a periodical catering to freethinkers.

Offer Foundation CDs to local alternative radio stations

Can you have a proper social movement without music? It's out there. Suggest your favorite freethought songs or bands, or try to interest your local alternative radio station or listener-sponsored radio station to play selections from the Foundation's two music CDs featuring Dan Barker: "Friendly Neighborhood Atheist," a double CD with 34 traditional, contemporary and original freethought songs, and "Beware of Dogma," with 15 timely and timeless songs.

Complain about TV evangelism

Complain to your local cable TV provider about excessive religious programming. If your "cable package" includes a lot of religious programming, complain to your local cable provider each time you pay a bill!

Sponsor a debate or public appearance

College kids love debates and media often cover them! Staff member Dan Barker, a former fundamentalist minister who is ideal for debating religionists, would do a debate a month if he had the chance. If you have a connection with your local university, try to get a student group or department to sponsor a debate. Dan gives many freethought concerts at local UU and Ethical Culture congregations, colleges, etc., as well as speeches about the Foundation, freethought and the separation of church and state.

Advertise freethought!

Don't let religionists win by default! The Foundation often receives mail from a lone freethinker claiming to be the "only freethinker in Montana," the "only atheist in Utah, " or the "only agnostic in my hometown." Many freethinkers feel isolated because other freethinkers don't speak up. Let sympathetic friends and family know there is a group representing freethought and working for state/church separation. If you enjoy really advertising your views, the Foundation has produced bumperstickers, "nontracts," buttons, solstice cards, T-shirts, and sweatshirts with educational freethought messages. The best source for finding new members of the Foundation is you—the existing member.

Promote the Foundation's annual student essay contests

One of the most important services provided by the Foundation is outreach to freethinking young people. Since 1979, the Foundation has sponsored an annual essay competition, awarding cash scholarships to freethinking youths. Today, the Foundation sponsors two essay competitions, one for currently enrolled college students and one for high school seniors who will be college-bound. The essays are announced in Freethought Today and online every February. Tell the students in your life, or the public schools or universities in your area, about this unique opportunity.

Challenge friends and family to take the FFRF quizzes

A fun way to learn about the harm of using the bible in government functions or invoking it in our laws is by taking the Foundation's online bible quiz. (Even believers may learn to look at the bible more critically by taking our quiz.) What Do You Really Know About The Bible? Even more important, every citizen should understand the secular nature of the U.S. Constitution and What Do You Know About State/Church Separation? is an entertaining way to learn more about the First Amendment.

Sign up for "FFRF News" and "Action Alerts"

If you are a member of the Freedom From Religion Foundation, you are eligible to be placed on the Foundation's FFRF News/Action Alerts email list. To sign up, log into your FFRF account, and then check your email preferences.