FFRF Chapters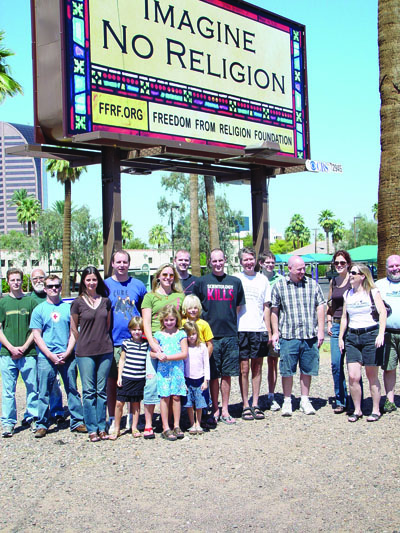 FFRF chapters are created for the purpose of providing local activities for area FFRF members, as well as to further FFRF's purposes of educating about nontheism and protecting the separation between church and state at the local level. Under FFRF bylaws, all members of FFRF chapters must be members of the national Freedom From Religion Foundation. FFRF rebates dues to chapters, so your national membership supports local chapter work. If you are not already a member of the national Foundation, join here.
Arizona
FFRF Valley of the Sun
President: Zenaido Quintana
Mailing Address: PO Box 26903, Phoenix, AZ 85022
This email address is being protected from spambots. You need JavaScript enabled to view it.
Facebook
Meetup
California
President: Judy Saint
Mailing Address: PO Box 2883, Rocklin, CA 95677
This email address is being protected from spambots. You need JavaScript enabled to view it.
Colorado
Colorado Springs Chapter FFRF
President: Bonnie Buth
Mailing Address: PO Box 1051, Colorado Springs, CO 80901-1051
This email address is being protected from spambots. You need JavaScript enabled to view it.
President: Claudette StPierre
Mailing Address: PO Box 460234, Denver, CO 80246
This email address is being protected from spambots. You need JavaScript enabled to view it.
Meetup
Delaware
First State Freedom Chapter of FFRF
President: Arden Wellington
Mailing Address: PO Box 520, Camden-Wyoming, DE 19934
This email address is being protected from spambots. You need JavaScript enabled to view it.
Florida
President: David Williamson
Mailing Address: PO Box 621123, Oviedo, FL 32762
Phone: 321-804-3373
This email address is being protected from spambots. You need JavaScript enabled to view it.
Facebook
Meetup
Monthly educational meetings at the University Club of Winter Park
Georgia
President: Mark Banks
Mailing Address: PO Box 4937, Canton, GA 30114
This email address is being protected from spambots. You need JavaScript enabled to view it.
Facebook
Meetup
Illinois
President: Tom Cara
Mailing Address: PO Box 480283, Niles, IL 60714
Phone: 847-331-7984
This email address is being protected from spambots. You need JavaScript enabled to view it.
Facebook
Indiana
Central Indiana Chapter of FFRF
President: Ryan Cadwell
This email address is being protected from spambots. You need JavaScript enabled to view it.
Facebook
Kentucky
FFRF Kentucky
President: Edwin Hensley
Mailing Address: PO Box 6171, Louisville, KY 40206
Phone: 502-939-9275
This email address is being protected from spambots. You need JavaScript enabled to view it.
Facebook
Maine
President: Tom Waddell
Phone: 207-613-7080
This email address is being protected from spambots. You need JavaScript enabled to view it.
Meetup
Youtube
Meetings held every month, second Saturday, 9:30 AM to Noon at Curtis Memorial Library, 23 Pleasant St, Brunswick, ME 04011
Meetings are social and informal, most members go out for lunch afterwards.
Minnesota
President: Bill Guse
Mailing Address: 664 Old North Shore Road, Two Harbors, MN 55616
This email address is being protected from spambots. You need JavaScript enabled to view it.
Facebook
President: Ken Eck
Mailing Address: 24662 County Rd. 62, Cohasset, MN 55721
Phone: 218-360-3353
This email address is being protected from spambots. You need JavaScript enabled to view it.
Facebook
Meetup
North Carolina
President: Sue Kocher
Mailing Address: 11010 Lake Grove Blvd, Ste 100 Box 335, Morrisville, NC 27560
Phone: 919-322-8371
This email address is being protected from spambots. You need JavaScript enabled to view it.
Facebook
Meetup
Ohio
Co-Presidents: This email address is being protected from spambots. You need JavaScript enabled to view it. and This email address is being protected from spambots. You need JavaScript enabled to view it. and This email address is being protected from spambots. You need JavaScript enabled to view it.
Mailing Address: PO Box 16671, Rocky River, OH 44116
Meetup
Oregon
President: Cheryl Kolbe
Mailing Address: PO Box 3583, Portland, OR 97208
This email address is being protected from spambots. You need JavaScript enabled to view it.
Facebook
Meetup
Meetups are currently held on the second Monday of the month. Check the Meetup page for details and location.
Pennsylvania
President: Steven Neubauer
This email address is being protected from spambots. You need JavaScript enabled to view it.


Tennessee
President: Aleta Ledendecker
Mailing Address: FFRF-ETC, PO Box 50542, Knoxville, TN 37950
Phone Number: 865-724-5273
This email address is being protected from spambots. You need JavaScript enabled to view it.
Facebook
Bi-monthly meetings held 3rd Wednesday of alternate months beginning in January, 6:00 PM at Earth Fare (10903 Parkside Dr, Knoxville, TN 37934).
Texas
DFW Freedom From Religion
President: Randall Theo
Facebook
Twitter
Instagram
Washington
(Northern Idaho and Eastern Washington)
President: Jim Hudlow
This email address is being protected from spambots. You need JavaScript enabled to view it.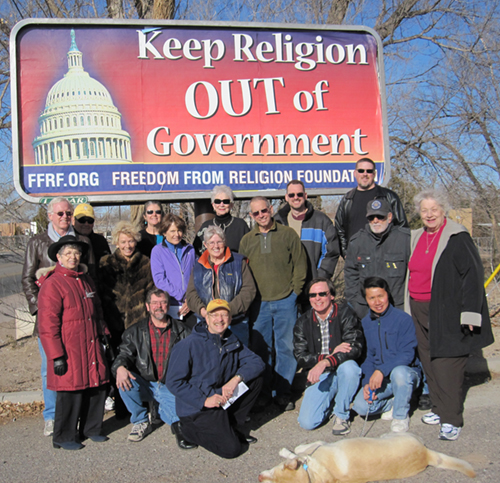 Unfettered Freethinkers of South Sound
President: Darrell Barker
Phone: 360-463-7934
This email address is being protected from spambots. You need JavaScript enabled to view it.
Wisconsin
FFRF-SEW/ Kenosha Racine Atheists & Freethinkers (KRAFt)
President: Rob Moore
Mailing Address: PO Box 762, Kenosha, WI 53141
This email address is being protected from spambots. You need JavaScript enabled to view it.
Facebook
Meetup
Twitter