Upcoming Events and Appearances
November 1 -- Secular Day of the Dead (Virtual Event)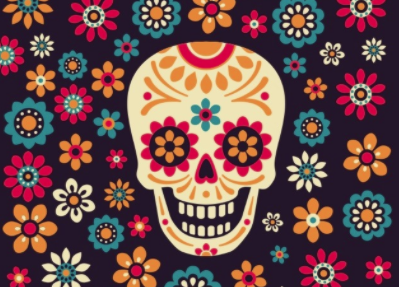 The traditional Day of the Dead celebration for 2020 is taking on a decidedly nonreligious atmosphere this year! Due to the current COVID-19 health crisis, the 2020 Secular Day of the Event/Dia de los Muertos event is being offered as an online event beginning at 2:45 p.m. (EDT) Sunday, November 1, 2020.
FFRF co-president Dan Barker's dedication, "Adios a dios" will be available in both English and Spanish, and Annie Laurie Gaylor will share a remembrance of her mother and FFRF principal founder Anne Nicol Gaylor. The Honoring Ceremony will open with dedications from actor Jon Huertas, writer Sasha Sagan, sculptor Zenos Frudakis, author Fernando Alcántar, and John Davidson. Participants are encouraged to share a photograph or portraits of a deceased loved one during the Honoring Ceremony portion of the event. Prizes will be awarded for best decore and costume. A Spanish speaker's Zoom room will be available with a mirrored schedule. See full details at ftsociety.org. Advance registration is requested, register here. To reserve a 3 to 5 minute time slot to celebrate a deceased loved one, email [email protected] Informacion en Espanol
November 1 -- Lake Superior Freethinkers (Virtual Event)

Hosted by the Lake Superior Freethinkers chapter of FFRF, Staff Attorney and Strategic Response Attorney Ryan Jayne will speak on Sunday, November 1st at 10:00 a.m. CST (don't forget to set your clocks back!). Ryan will focus on current court challenges and some of the Freedom From Religion Foundation's recent efforts in defending the Establishment Clause, and also dive into 2020 Minnesota legislation pertaining to religious intrusion into public policy. He will also give a refresher on historical legal challenges to the Establishment Clause, and a glimpse into likely challenges in the near future. Ryan will make himself available for a Q&A session following his presentation. This free virtual event will be hosted on Zoom, click here to join as early as 9:45 a.m.
November 4 -- Aging Without Wrinkles Radio
FFRF co-president Dan Barker, author of numerous books including "Losing Faith in Faith" will be appearing on the Aging Without Wrinkles podcast hosted by Harriet Tramer on Wednesday, November 4, at 7:00 p.m. CST. More information and a link to the event can be found here.