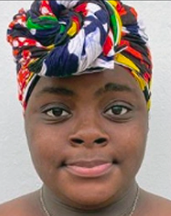 The Forward Freethought Tuition Relief Scholarships is funded by generous FFRF benefactor Lance Bredvold. This year, the students were selected by Black Skeptics Los Angeles, an African-American humanist-atheist community-based organization.
FFRF has previously partnered with BSLA in its annual "first in the family" humanist scholarships for outstanding secular students of color. This year, the tuition relief was doubled to $5,000, thanks to the fund Bredvold has endowed for FFRF.
India Quick, 17, Fayetteville State University (business major) received $5000 to support their college education and expenses.