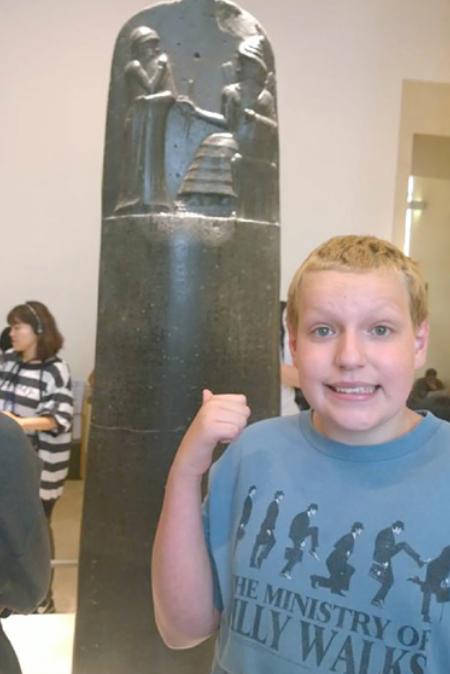 Ewan is the recipient of a new FFRF student activist award, which includes a $1,000 cash scholarship. The generous donor, who prefers anonymity, writes: "In the 21st century, with so much scientific advancement, I hope all humans are able to reason and think critically. We don't need an invisible 'super being' to tie up our freedom of thought."
By Ewan McCartney
My name is Ewan McCartney. I'm in the eighth grade. I attend public school in Seattle. I am an atheist and I also have autism.
I would like to thank the Freedom from Religion Foundation for helping me. I have sat out the Pledge of Allegiance since the fourth grade. I have several issues with it. Among my issues: I think the "under God" part violates the separation of church and state, and I don't like saying "liberty and justice for all" when we still oppress so many groups of people in our country.
The principal at my school caught me sitting out the pledge and was adamant that everyone should participate. She said it was disrespectful not to participate. I did a bunch of research and wrote her a letter explaining why it is every student's right to decide for him/herself if they want to participate in the pledge.
The principal was uncooperative and condescending to me, so my mom and I contacted FFRF. Attorney Andrew Seidel helped me a lot and we got the situation resolved (with a letter from the school district's lawyer saying that I am correct and the principal is wrong — yay!). I cannot thank Mr. Seidel enough for his help.
When I am not arguing about my right to free speech in school, I am active in local politics, mostly with regard to education and human rights. I testify every chance I can get in the state legislature (and complain to any elected official I can convince to listen to me) about better funding for public education and closing the achievement gap in our schools.
I have also volunteered extensively on various "freedom to marry" campaigns. I am an ordained minister with the Universal Life Church and am available for all your gay wedding needs!