Jim McCollum, FFRF Life Member and previous "Champion of the First Amendment" recipient, spoke at FFRF's 36th national convention Sept. 28, 2013, in Madison, Wis. McCollum talked about his role in the landmark McCollum v. Board of EducationSupreme Court decision (1948) in its 65th anniversary year. The suit was filed in July 1945 by his mother, Vashti McCollum, on behalf of Jim in Champaign, Ill.
My brothers and I had the good fortune to be raised in a nurturing, stable family setting, with the added bonus of not being burdened by God and the trappings that accompany it!
My father was a principled, quiet atheist, a scientist, who grew up with 10 siblings on a farm in south Arkansas. His parents and grandfather Daniel placed a premium on education and saw to it that all 11 children, all of whom were born by 1920, including five girls, got a full college education.
My mother was raised in a liberal family that encouraged her and her sister to seek the truth freely. Her father, raised a Presbyterian, was well-read — especially books by freethought authors such as Spinoza, Thomas Paine, Clemens and Robert Green Ingersoll — and became what I would call a bible-pounding atheist. Mom described herself as an agnostic humanist.
So what about this plucky lady, my mother "The Sarge," who stuck to her guns with what became a landmark case all the way to the Supreme Court, losing all the way up, but winning when it counted?
If all that can be said of my mother, Vashti Cromwell McCollum, was the important contribution she made to U.S. constitutional law in the late '40s, she would still be a shining light in the 20th century. For the 8-1 decision she won set the precedent that applied the strictures of the prohibition of the Establishment Clause of the First Amendment to the Constitution to the several states by virtue of the Due Process Clause of the 14th Amendment.
Albeit that decision, written by Justice Hugo L. Black, is currently under intense attack by the radical Christian right, it still stands as a beacon in the annals of U.S. constitutional law to this day, for all cases involving purely sectarian practices in public schools and use of taxpayer money, by states and their municipalities, to fund religious activities, projects, monuments and displays, descend from McCollum v. Board of Education.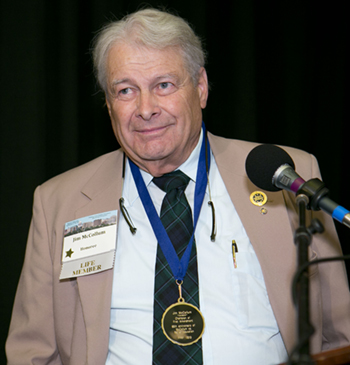 In her later years, Mom became an avid world traveler and an accomplished amateur photographer, winning salons at the Champaign County Camera Club on a regular basis. She was in great demand to present her informative and entertaining slide shows to all kinds of audiences, including at the Inman, the assisted care facility in Champaign, where she spent her last years.
Her travels took her to all seven of the world's continents. She traveled on whatever conveyance was available — ferries, like the ones we read about in Third World countries that turn over and sink, trains and buses filled with peasants and their variety of livestock and worldly belongings, and puddle-jumping airlines, sometimes barely clearing the mountaintops. She was even trapped in the Amazon jungle for a period, while pursuing an adventure on an historic railroad that, unbeknownst to her, had been discontinued shortly before she arrived.
She traveled to places that no longer exist and to others, now too unsafe for tourists. Upon hearing stories of some of her exploits and travails, my father was heard to exclaim, "The woman is fearless!"
It was sometimes difficult to keep up with her, as she was always coming up with another trip to one exotic place or another, many of which were on the spur of the moment. Indeed, I can remember on several occasions where my first wife and I would wake up to a knock on the door early in the morning to find her on a surprise visit or just passing through on another of her excursions.
Mom was clearly her mother's daughter and knew how to divine the bargains and travel on the cheap. I still remember spending a tortuous night at London's Heathrow Airport, with her, just to save a £40 hotel bill. That two-week excursion to Scotland cost the two of us less than $4,000 (including roundtrip airfare). Most of her travels were on a shoestring.
Most important of all, she was the best mother one could have. She and my father, John Paschal McCollum, her husband of over 50 years, managed to raise three boys and put them through college, (a lawyer, a historian and a successful businessman), two with advanced degrees and all having made positive contributions to society. A finer tribute cannot be given to anyone!
'Fair to a fault'
Why did I entitle this talk "My Mother, the Sarge?" Well, she was the disciplinarian in the family — fair to a fault, but there was no mistaking when she was displeased with something we said or did. While I can remember an occasional acquaintance with a flyswatter, generally all she needed to do was to give us the evil eye and that was that. More importantly, she was a consummate feminist and not one to back away from what she held dear — hence the "Sarge" moniker.
Albeit she made heavy weather at being a mother, she was an extremely effective one, never missing the opportunity to guide her sons carefully along the straight and narrow. In the last hours of her time with us, she was still correcting my English if I had the temerity to utter the phrase, "it's me" instead of "it is I" or similar egregious grammatical transgressions.
She also admonished me to lose weight and get rid the rubber tire around my middle. Maybe feeble, but she still had her edge!
Her moral credentials were impeccable and unimpeachable, and she didn't need a supreme being looking over her shoulder to "keep her in line." She and my father made sure that my brothers and I were on the same page.
After the family became embroiled in her famous lawsuit, she would often admonish us to do nothing that would bring discredit to ourselves or the family, as "our detractors are watching." However, we didn't really need that admonishment, because our parents were the epitome of good role models.
I often chuckle to myself, remembering her choice comment, "I hope it's not trivial," when a prominent demagogue would be outed for some moral or ethical transgression.
Her memorial marker, in a southern Arkansas Missionary Baptist cemetery, proudly proclaims, beneath her name, the citation of the decision of her landmark case: 333 US 203 (1948).
Upon my retirement from the practice of law and move to Arkansas and her retirement from her world travels, we saw to it that one of us would call the other at least once a week, usually on Saturday morning. Her last travels, with the exception of a final one to help her older sister Helen celebrate her 95th birthday, were to visit us in Arkansas to see her "daffy down lilies," which each February and March pave our front yard in a sea of yellow. In January she would ask us if the jonquils were blooming yet and then find a way to get here to see them, usually by catching a bus by herself to Bloomington and then the Texas Eagle Amtrak to Texarkana, where we would pick her up.
She was avidly independent in life, and even in her declining years, to the extent she could manage, she remained such. On her return trips to Champaign, she would insist we leave her at the Amtrak station in Texarkana in the early evening, where she would wait by herself several hours for the train. In spite of our reluctance, she was adamant about it.
The indelible mark she left behind, both on her three sons and grandchildren, as well on American jurisprudence, lives on!
Jim McCollum received his B.S. in geology and his J.D. in law from the University of Illinois. He served two years' active duty as an officer in the U.S. Army and another six in the Army Reserve. He retired as an attorney after 34 years of practice and lives with his wife Betty in Arkansas, where he, appropriately, teaches constitutional law.
Vashti McCollum died in 2006 at age 93. Her story, One Woman's Fight, is available at: ffrf.org/shop/books