The Freedom From Religion Foundation hosted a "thank you" dinner party in La Crosse, Wis., on June 15, 2005, in honor of the many La Crosse-area residents who courageously signed on as plaintiffs to challenge a Ten Commandments monument in a public park in the Wisconsin town.
The case ended last year in a partial victory. After FFRF filed suit, the city sold a tiny plot of public park on which the bible marker sits, to the Fraternal Order of Eagles, who originally had donated it. The Foundation contested the "sweetheart" sale as a sham, and won two decisions at the federal level. The 7th U.S. Circuit Court of Appeals, however, approved the sale this spring. It was the Foundation's second challenge of the marker. The first lawsuit, with plaintiff Phyllis Grams, was brought in the 1980s.
Plaintiffs attending the dinner party were surprised with a "Friend of Freedom" award, a replica of the Statue of Liberty, with their name inscribed on it.
As plaintiffs received their award, they all said something at the mike about the case. Most vowed, "I would do it again."
Maureen Freedland said that being part of the lawsuit had "changed my life."
Several plaintiffs, who had known Phyllis Grams, the plaintiff in the original lawsuit, noted how pleased they were to have a chance to participate in the second round.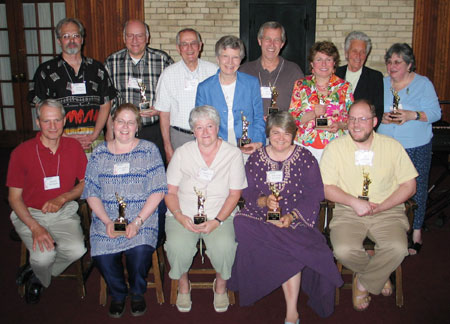 Special thanks to primary plaintiff Sue Mercier, to Hank Zumach, who recruited many of the additional plaintiffs when it looked like FFRF would have to drop the lawsuit, and to Maureen Freedland, "archivist."
Photos by Dan Barker