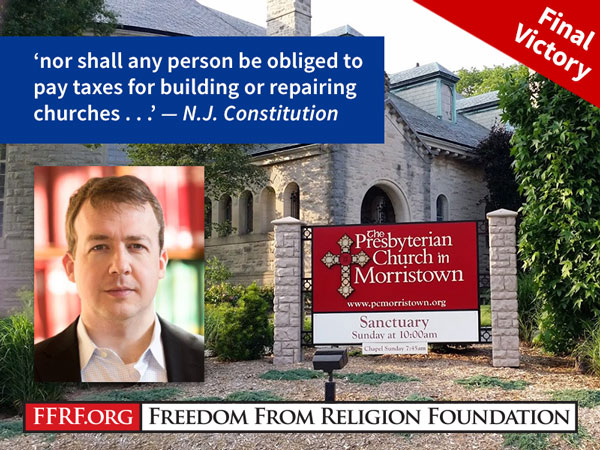 The Freedom From Religion Foundation is taking legal action to preserve its 2018 New Jersey Supreme Court win that halted unconstitutional official funding of church repairs.
The state/church watchdog filed a motion today, on behalf of itself and New Jersey taxpayer David Steketee, to intervene as a party to a recently filed lawsuit seeking to overturn its court victory ending Morris County's practice of funneling taxpayer money to churches. FFRF secured a unanimous decision from the New Jersey Supreme Court in April 2018 declaring the county's practice of funding church restorations unconstitutional under the Religious Aid Clause of the New Jersey Constitution. The U.S. Supreme Court declined to review that decision in March 2019, which should have brought finality to FFRF's legal victory.
However, a new lawsuit, brought by First Liberty Institute (a Christian nationalist outfit) on behalf of two New Jersey churches in the U.S. District Court of New Jersey, seeks to overturn the New Jersey Supreme Court ruling, arguing that the state's Religious Aid Clause violates the U.S. Constitution's Free Exercise Clause. The two churches are asking a trial court to strike down this provision meant to protect taxpayers from having to fund religious institutions.
"The legal claims being advanced by these churches are identical to arguments already heard and rejected by the New Jersey Supreme Court," explains FFRF Associate Counsel Sam Grover. "These plaintiffs are attempting to relitigate the case that FFRF won five years ago, and they're attempting to do it without FFRF's involvement."
The defendant in the new lawsuit is Morris County, which is put in the position of defending the prior ruling, despite its prior vigorous attempts to overturn it. FFRF's motion to intervene explains why the county's defense of that ruling would be inadequate to protect FFRF's court victory and the rights of all New Jersey taxpayers.
FFRF and its local member David Steketee had filed suit in December 2015 seeking to stop Morris County from issuing further historic preservation grants to churches after it awarded $4.6 million in tax dollars to repair 12 churches. More than half of its total trust fund assets had been bestowed on churches, including $1.04 million in allocations to the Presbyterian Church in Morristown to allow "continued use by our congregation for worship services.

The complicated case, with many judicial maneuverings, resulted in a strong unanimous decision by the New Jersey Supreme Court in April 2018, ruling the public funding of churches unconstitutional. FFRF's win potentially saved New Jersey taxpayers many millions of dollars, since the grants to churches may have proceeded in a similar vein in all 21 counties.
Now, two New Jersey churches are seeking to undo this public benefit — and FFRF is determined to stymie their machinations.
"We will act to preserve the rights and interests of New Jersey taxpayers," says FFRF Co-President Annie Laurie Gaylor. "We won't merely sit by and watch while religious entities maneuver to get the official funding spigot opened again."
FFRF and Steketee are represented by local counsel Paul S. Grosswald and Richard Bolton of Boardman Clark. FFRF Associate Counsel Sam Grover and Senior Policy Counsel Ryan Jayne also represent the intervenors.
The Freedom From Religion Foundation is a state/church watchdog with mostly nonreligious 40,000 members nationwide, including almost 800 members in New Jersey.