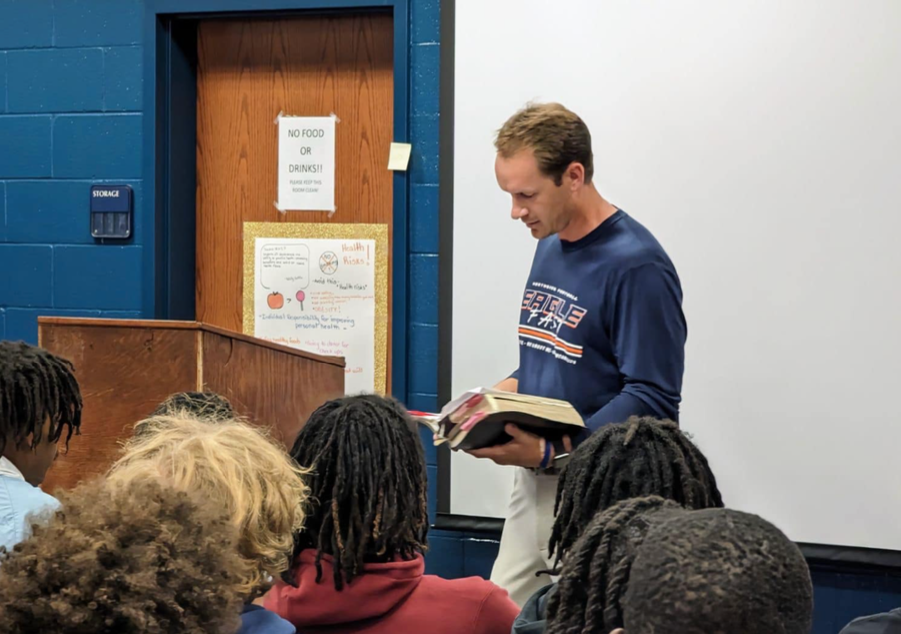 The Freedom From Religion Foundation is insisting that the Georgia-based Houston County School District forbid its football coaches from leading students in bible study.
FFRF has been informed by multiple concerned district community members that Northside High School's new head football coach, Ben Bailey, has been using his position to promote his personal religious beliefs to players. The coach has led the team in bible study and prayed with students. The team's official Facebook page shows Bailey preaching to the students from the bible, and has included posted New Testament verses.
"We ask that the district immediately investigate these reports and ensure that Coach Bailey is not using his position to preach to students, pray with students, or otherwise promote his personal religious beliefs to students," FFRF Staff Attorney Chris Line writes to Superintendent Mark Scott.
Coach Bailey is free to express his religious beliefs however he wishes outside of his role as a public school football coach, but he cannot use his position to foist his personal religious beliefs onto students, FFRF emphasizes. It is illegal and unconstitutional for public school coaches to lead their teams in prayer or religious instruction. In the photos posted to the team's official Facebook page, Bailey appears to have transformed the football program into a religious ministry focused on providing religious instruction to students.
Religious coercion occurring within the district's football program is particularly troubling for parents and students who are not Christian or do not subscribe to any religion; nearly half of students (those born after 1996) are nonreligious.
FFRF is asking the district to investigate the matter and take immediate action to protect students. Coach Bailey must be directed to cease including coercive religious activities and practices in the football program. All district coaches must be reminded that they may not push personal religious beliefs onto students while acting in their official capacity.
"Schools exist to educate, not indoctrinate," says FFRF Co-President Annie Laurie Gaylor. "The football coach's job is to coach students in football — not about the tenets of Christianity."
You can read the full FFRF letter here.
The Freedom From Religion Foundation is a national nonprofit organization with over 41,000 members and several chapters across the country, including more than 600 members and a local chapter in Georgia. Our purposes are to protect the constitutional principle of separation between state and church, and to educate the public on matters relating to nontheism.