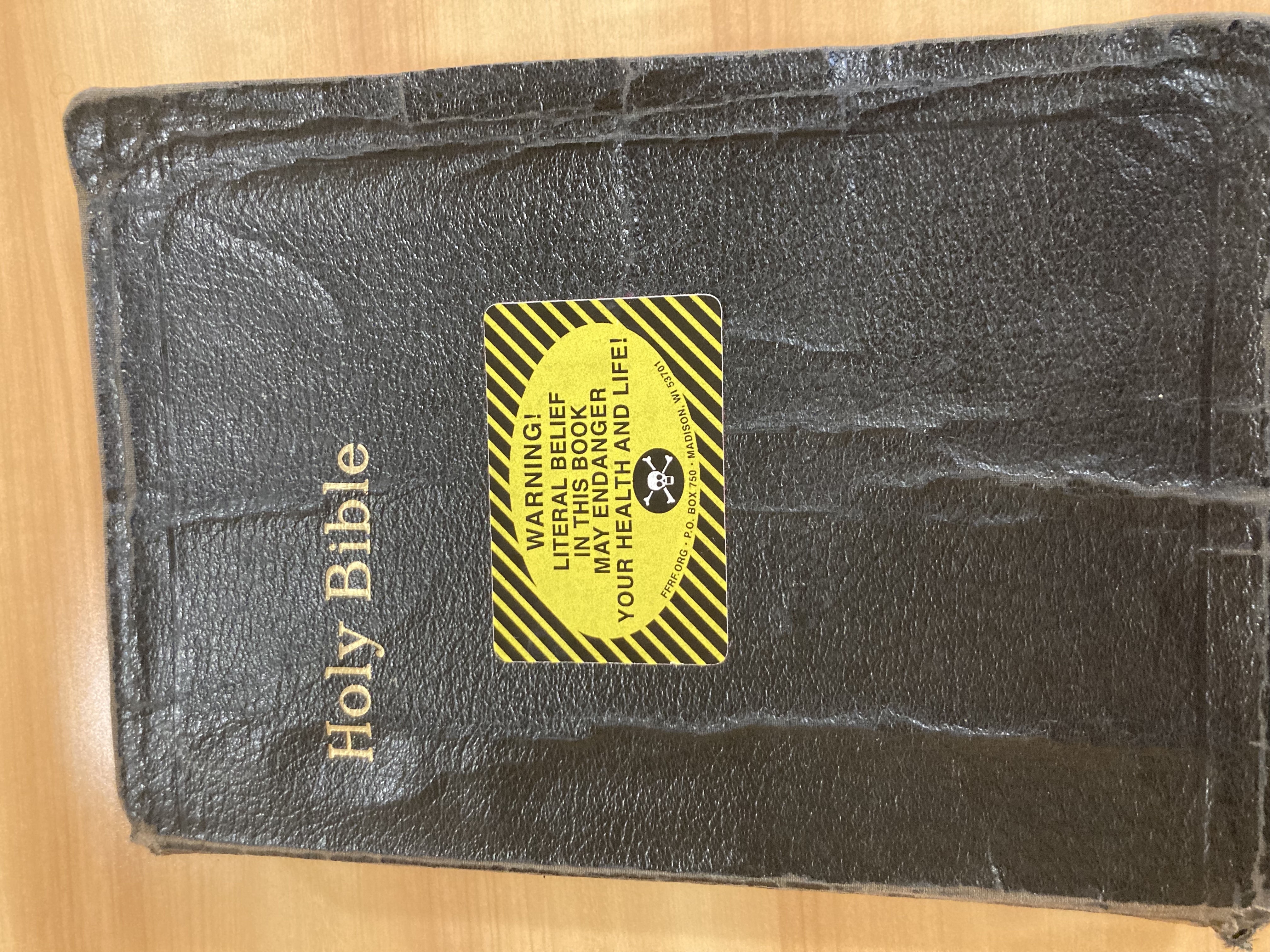 The Freedom From Religion Foundation has contacted a Utah school district that has prohibited at least 33 books to back up a local parent's request to also ban the bible.
After the Davis School District in Farmington, Utah, began purging books containing so-called "pornographic or indecent material" under a state law passed last year, an anonymous parent in December contacted the district to point out that the bible likewise needs to be removed, since it contains "inappropriate and pornographic" material. The law considers something to be indecent if it includes explicit sexual arousal, stimulation, masturbation, intercourse, sodomy or fondling, according to the Salt Lake Tribune.
"Incest, onanism, bestiality, prostitution, genital mutilation, fellatio, dildos, rape, and even infanticide," said the parent in the official request. "You'll no doubt find that the bible, under Utah Code Ann. § 76-10-1227, has 'no serious values for minors' because it's pornographic by our new definition."
FFRF has come to a similar conclusion.
"The parent rightly noted in their petition that, 'If the books that have been banned so far are any indication for way lesser offenses, [the bible] should be a slam dunk.' We agree," writes FFRF Attorney Chris Line to Liz Mumford, president of the Davis School District Board of Education. "The district must enforce the law equally and may not extend a 'get out of jail free card' to books in violation of the law simply because they are religious."
Line rebuts an April 24 letter sent to the district by First Liberty, a Christian nationalist legal outfit, which warned that if the school removes the bible from libraries, it would present "serious constitutional concerns." First Liberty erroneously claims that removal of the bible would "constitute hostility toward Christianity," FFRF charges. "The district must hold religious texts to the same standards it holds all other library books, review them, and, if they contain the same inappropriate content as the bible, must also remove them under the district's standards. Removing the bible for its obscenity or graphic sexual content based on neutral criteria is not religious discrimination and First Liberty's specious concerns can easily be alleviated."
Among the purged books is Nobel Literature Laureate Toni Morrison's The Bluest Eye, a sensitive portrayal of a Depression-era child enduring racism, incest and other abuse. FFRF contends that the bible's references to sex abuse, racism and incest are not at all sensitive by contrast.
FFRF's letter documents several bible verses displaying a pornographic view of sex and women, lewdness, depravity and sexual violence often ordered or countenanced by the biblical deity. These include sordid tales of victims forced to marry their rapists, graphic sexual depictions, and countless references to sperm, intercourse, menstruation, homosexuality, bestiality, adultery and "whores." Among one of many descriptions inappropriate for the eyes of children is a bible story about a prostitute who "lusted after her lovers, whose genitals were like those of donkeys and whose emission was like that of horses," who "longed for the lewdness of your youth, when . . . [her] bosom was caressed and your young breasts fondled." (Ezekiel 23:20-21)
"We want to make it clear that we are adamantly opposed to banning books," says FFRF Co-President Annie Laurie Gaylor. "But the religious zealots can't have it both ways. They can't scour books looking for sexual references or content to offend them — regardless of literary or social value and context — then say that the true obscenity found in the bible must be judged differently."
FFRF urges the district to return the banned books to library shelves and instead devote its energies to lobbying the Utah Legislature to repeal a statute that is creating much chaos and censorship. "History never looks kindly on book censors and burners," the state/church watchdog concludes.
You can read the full FFRF letter here.
The Freedom From Religion Foundation is the largest national association of freethinkers, representing 40,000 atheists, agnostics, and others (including hundreds of members in Utah) who form their opinions about religion based on reason, rather than faith, tradition or authority.