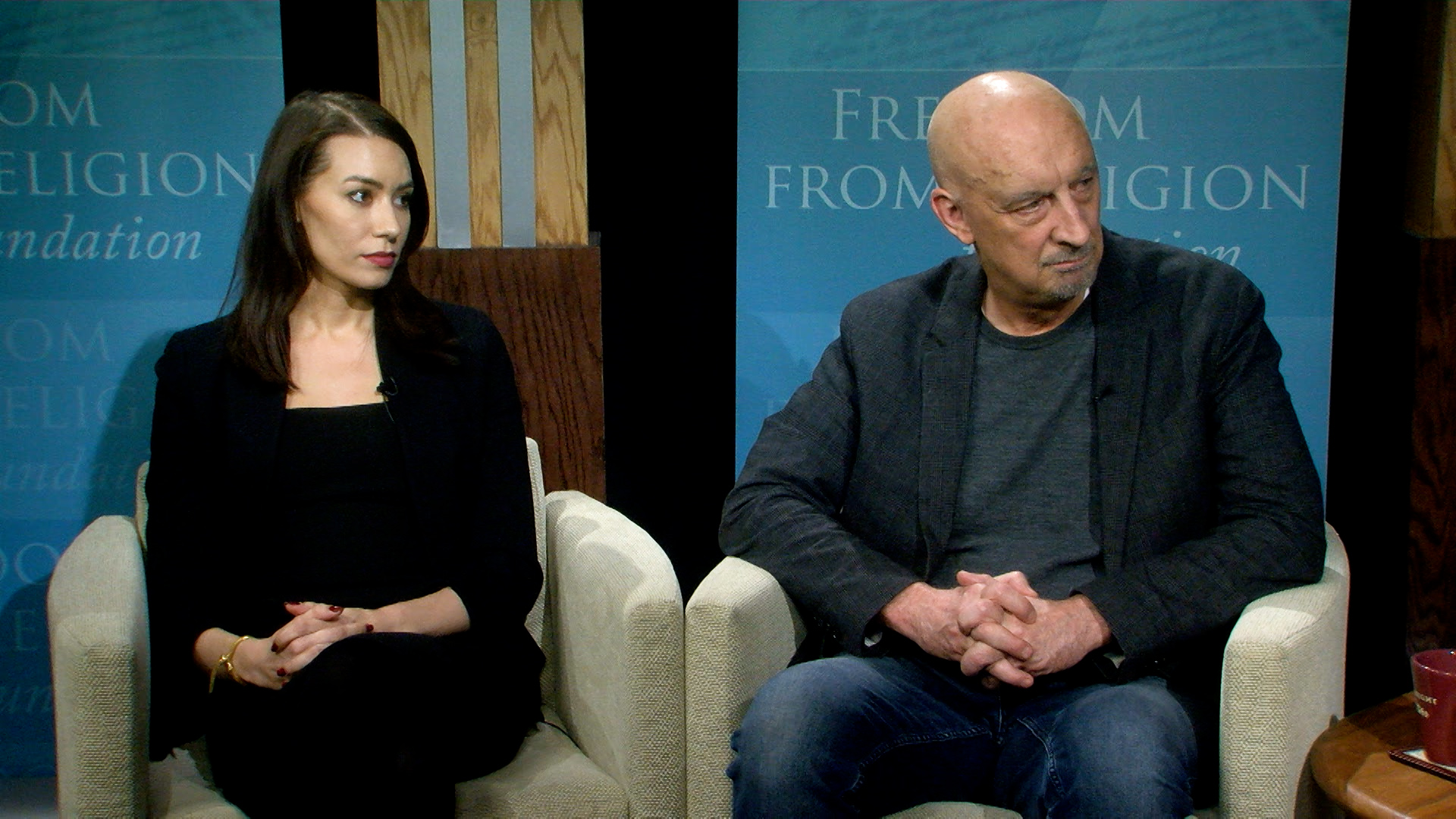 The guests on the Freedom From Religion Foundation's Sunday "Freethought Matters" TV show have dedicated their lives to helping survivors of clergy child abuse obtain justice.
Peter Isley, an advocate against priest abuse and a survivor of childhood sexual assault by a Wisconsin priest, is a founding member of SNAP: Survivors Network of those Abused by Priests. A graduate of Harvard Divinity School and a psychotherapist in private practice, Isley has established and directed the nation's only in-patient program for victims of clergy sexual trauma. Sarah Pearson, the deputy director of Nate's Mission, is likewise a survivor of abuse and a recent grad of Harvard Divinity School. She is the director of a film previewed on the show titled "Manufacturing the Clerical Predator."
Isley relates how his abuse started at a Catholic boarding school when he was 13, how he confronted the church about the crime in his late 20s and then co-founded SNAP in 1989.
"We didn't know how we're going to stop it, but we knew that no one else was going to," Isley tells "Freethought Matters" host Annie Laurie Gaylor. "And then we found each other and came together. It's amazing the power that survivors have when they come together."
If you don't live in the quarter-plus viewership of the nation where the show broadcasts on Sunday, you can already catch the interview on FFRF's YouTube channel. New shows go up every Thursday.

"Freethought Matters" airs in:
Chicago, WPWR-CW (Ch. 50), Sundays at 9 a.m.
Denver, KWGN-CW (Ch. 2), Sundays at 7 a.m.
Houston, KIAH-CW (Ch. 39), Sundays at 11 a.m.
Los Angeles, KCOP-MY (Ch. 13), Sundays at 8:30 a.m.
Madison, Wis., WISC-TV (Ch. 3), Sundays at 11 p.m.
Minneapolis, WFTC-29, Sundays at 7:30 a.m.
New York City, WPIX-IND (Ch. 11), Sundays at 10 a.m.
Phoenix, KASW-CW (Ch. 61, or 6 or 1006 for HD), Sundays at 8:30 a.m.
Portland, Ore., KRCW-CW (Ch. 32), Sundays at 9 a.m. Comcast channel 703 for High Def, or Channel 3.
Sacramento, KQCA-MY (Ch. 58), Sundays at 8:30 a.m.
San Francisco, KICU-IND (Ch. 36), Sunday at 10 a.m.
Seattle, KONG-IND (Ch. 16 or Ch. 106 on Comcast). Sundays at 8 a.m.
Washington, D.C., WDCW-CW (Ch. 50 or Ch. 23 or Ch. 3), Sundays at 8 a.m.
Upcoming guests include atheist and actor Madison Arnold, PRRI CEO Robert Jones and researcher Ryan Burge, author of The Nones. You can catch interviews from past seasons here, including the fall 2022 season with author John Irving, actor John "Q" de Lancie and Washington Post columnist Kate Cohen. Previous interviews include Julia Sweeney and Reps. Jared Huffman, Jamie Raskin, Hank Johnson and Eleanor Holmes Norton, among many other notable authors, activists and freethinkers.
Please tune in to "Freethought Matters" . . . because freethought matters.
P.S. Please tune in or record according to the times given above regardless of what is listed in your TV guide (it may be listed simply as "paid programming" or even be misidentified). To set up an automatic weekly recording, try taping manually by time or channel. And spread the word to freethinking friends, family or colleagues about a TV show, finally, that is dedicated to providing programming for freethinkers — your antidote to religion on Sunday morning!