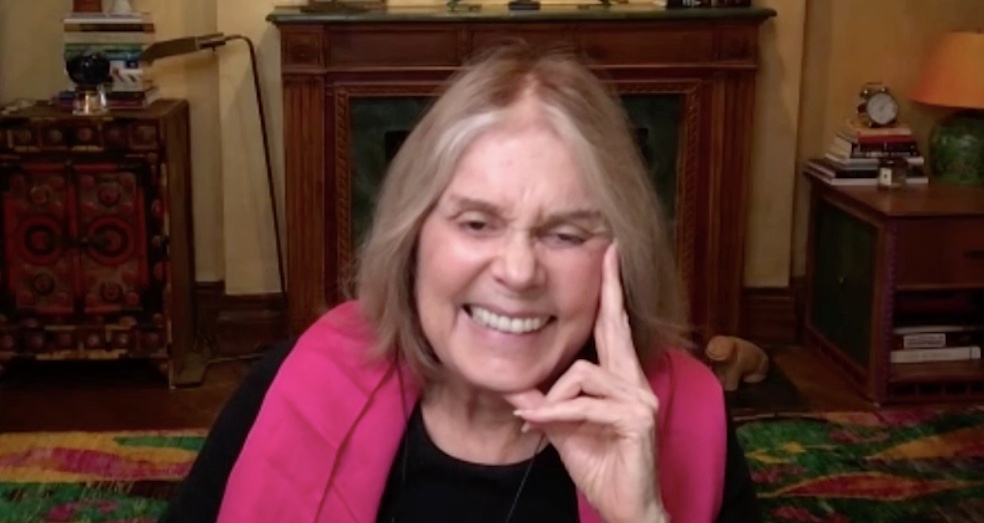 Gloria Steinem is the spectacular guest on Sunday's episode of "Freethought Matters," FFRF's weekly talk show.
FFRF Co-President Annie Laurie Gaylor interviewed the world's most famous feminist at FFRF's 2021 national convention in Boston. Steinem, the embodiment of someone who has moved society forward, was presented with FFRF's Forward Award.
Steinem recounted how one of her most famous quotes came into being, during a feminist speaking tour with Floryence Kennedy:
"We were in the back of a taxi in Boston being driven by an older woman, which itself was rare for a taxi driver," Steinem said. "We were talking about abortion and the struggle with laws. It was the wonderful old Irish woman taxi driver who turned around to us and said, 'Honey, if men could get pregnant, abortion would be a sacrament.'"
Steinem talks candidly about having an abortion in the 1950s, her humanist views and rejection of the afterlife, and why, in the face of so many of today's challenges, she remains a "hope-a-holic." The show originally aired in early 2022, and is being broadcast again as an encore performance.
If you don't live in the quarter-plus of the nation where the show broadcasts on Sunday, you can watch the interview on the "Freethought Matters" playlist on FFRF's YouTube channel.
"Freethought Matters" airs in:
Chicago, WPWR-CW (Ch. 50), Sundays at 9 a.m.
Denver, KWGN-CW (Ch. 2), Sundays at 7 a.m.
Houston, KIAH-CW (Ch. 39), Sundays at 11 a.m.
Los Angeles, KCOP-MY (Ch. 13), Sundays at 8:30 a.m.
Madison, Wis., WISC-TV (Ch. 3), Sundays at 11 p.m.
Minneapolis, WFTC-29, Sundays at 7:30 a.m.
New York City, WPIX-IND (Ch. 11), Sundays at 10 a.m.
Phoenix, KASW-CW (Ch. 61, or 6 or 1006 for HD), Sundays at 8:30 a.m.
Portland, Ore., KRCW-CW (Ch. 32), Sundays at 9 a.m. Comcast channel 703 for High Def, or Channel 3.
Sacramento, KQCA-MY (Ch. 58), Sundays at 8:30 a.m.
San Francisco, KICU-IND (Ch. 36), Sundays at 10 a.m.
Seattle, KONG-IND (Ch. 16 or Ch. 106 on Comcast). Sundays at 8 a.m.
Washington, D.C., WDCW-CW (Ch. 50 or Ch. 23 or Ch. 3), Sundays at 8 a.m.
You can catch interviews from past seasons here, including the fall 2022 season with author John Irving, John "Q" de Lancie and Washington Post columnist Kate Cohen. Previous interviews include Ron Reagan, Julia Sweeney and Reps. Jared Huffman, Jamie Raskin, Hank Johnson and Eleanor Holmes Norton, among many other notable authors, activists and freethinkers.
Please tune in to "Freethought Matters" . . . because freethought matters.
P.S. Please tune in or record according to the times given above regardless of what is listed in your TV guide (it may be listed simply as "paid programming" or even be misidentified). To set up an automatic weekly recording, try taping manually by time or channel. And spread the word to freethinking friends, family or colleagues about a TV show, finally, that is dedicated to providing programming for freethinkers — your antidote to religion on Sunday morning!