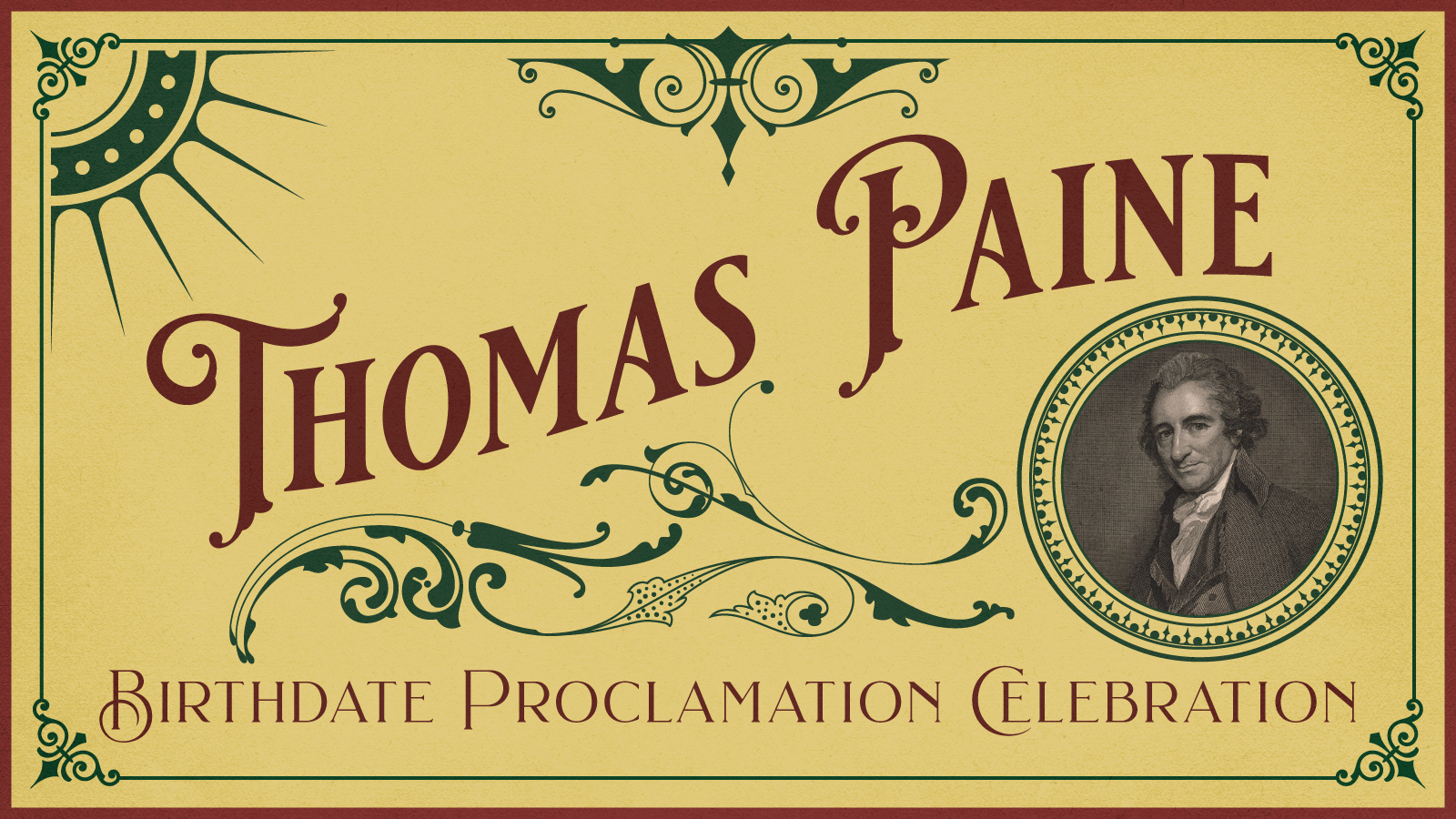 The Freedom From Religion Foundation will be celebrating the congressional passage of a bill to create a Thomas Paine memorial in D.C., on the upcoming anniversary of the revolutionary's birth.
The "Thomas Paine Birthdate Proclamation Celebration," also cosponsored by the Thomas Paine Memorial Association (TPMA), The Freethought Society, Center For Inquiry and the Secular Student Alliance, will take place on Sunday, Jan. 29, at 2 p.m. Central. The celebration will be accessible via Zoom. More information and a registration link can be found here.
FFRF and its allies have been working hard to pass the Thomas Paine Memorial Bill (HR 3720), which President Biden signed into law on Dec. 27, 2022. It authorizes the construction of a monument in the District of Columbia dedicated to the "Forgotten Founder."
The two-hour event entitled "Proclamation Celebration," will celebrate this important legislative milestone, and will include an update from Congressman Jamie Raskin, who championed the bill and is a Paine aficionado. Congresswoman Victoria Spartz, a Republican who provided bipartisan support, will also deliver a welcome address. The keynote will be by University of London Professor Emeritus of History Greg Claeys. Musical selections will come from a new musical, "The Crossing," which places Thomas Paine and his American Crisis front and center.
TMPA Board members will read Thomas Paine Day proclamations that have been given around the country by government bodies or officials. Those participating in the program include comedian and celebrity Julia Sweeney, "Cosmos" writer and producer Ann Druyan, "Black Freethinkers" author Professor Chris Cameron, FFRF Co-President Annie Laurie Gaylor and TMPA President Margaret Downey, who is the event organizer.
"Were Thomas Paine alive today, he would surely be saying 'These are the times that try men's and women's souls,'" says Gaylor, who serves as TMPA board secretary. "Thomas Paine's pro-liberty, democratic vision is the antidote for our fractured nation."
Last year, Todd Stiefel, president and founder of the Stiefel Freethought Foundation, made magnificent matching pledges that now ensure the D.C. monument will be fully funded. TMPA continues to seek donations for related projects to honor Paine and spread his Enlightenment ideals.
Register for the celebration here. Read full details here.
The Freedom From Religion Foundation is a national nonprofit organization with more than 39,000 members across the country. Our purposes are to protect the constitutional principle of separation between state and church, and to educate the public on matters relating to nontheism.