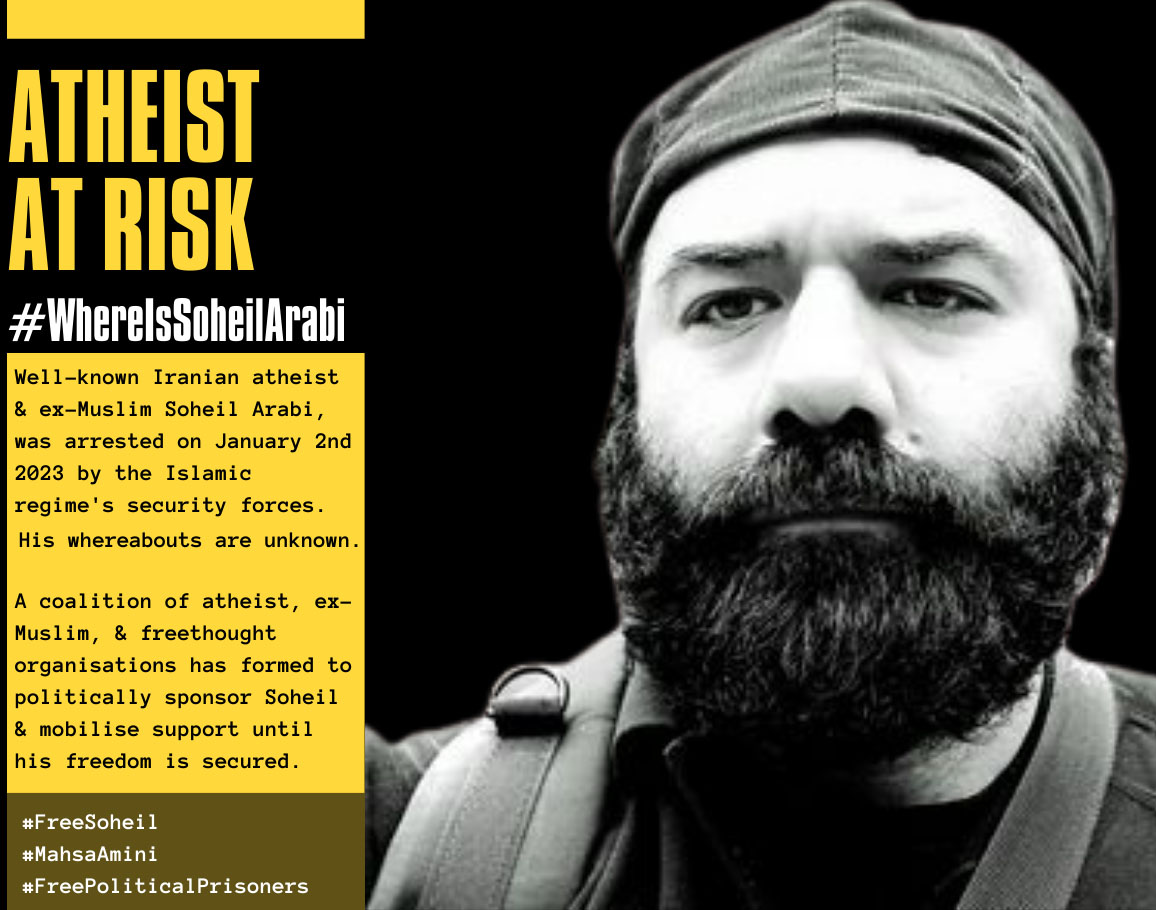 The Freedom From Religion Foundation is joining with secular organizations around the world to demand the safety and release of Iranian atheist Soheil Arabi.
FFRF is one of more than 40 organizations calling for the immediate and unconditional release of Arabi, a well-known Iranian atheist and ex-Muslim. Political sponsorships have shown to be effective in protecting Iranian prisoners from further harm, according to Maryam Namazie of the Council of Ex-Muslims of Britain, who is organizing the campaign.
On Jan. 2, Arabi was reportedly re-arrested, violently beaten and denied medicine in his own home. His location is currently unknown, and with violence against critics of the Iranian government on the rise, FFRF is greatly concerned about his safety.
Arabi has been a fierce critic of the Islamic Republic of Iran, using multiple blogs and Facebook pages to spread information critical of the government. He was previously arrested and sentenced to death for his work. After being freed, he was sentenced to two years in exile in an attempt to silence his efforts.
FFRF is working to bring awareness to Arabi's imprisonment through social advocacy with other groups dedicated to protecting the rights of nonreligious individuals worldwide. These groups include the Atheist Republic, Council of Ex-Muslims of Britain, Center for Inquiry, FEMEN, Giordano Burno Foundation, Kazimierz Lyszczynski Foundation, National Secular Society and Richard Dawkins Foundation for Reason & Science, among many others. Supporters are adopting the hashtags :#WhereIsSoheilArabi #FreeSoheil
Iran to date has publicly executed four protesters, at least 516 have been killed during protests and 19,000 people have been arrested over anti-Islamic Republic demonstrations spurred by the death of Mahsa Amini, 22, for showing a little hair under her hijab. Last week prominent Iranian actress Taraneh Alidoosti, who appeared in an Oscar winning-film, was released after three weeks in jail for criticizing the crackdown of anti-government protests.
"The persecution and imprisonment of atheists or others accused of apostasy or blasphemy is abhorrent," says FFRF Co-President Annie Laurie Gaylor. "It's vital for freethinkers around the globe to stand together to protest prosecution of nonbelievers and demand freedom of conscience."
The Freedom From Religion Foundation is a Wisconsin-based nonprofit with more than 39,000 members across the country. FFRF's purposes are to protect the constitutional principle of separation between state and church, and to educate the public on matters related to nontheism.