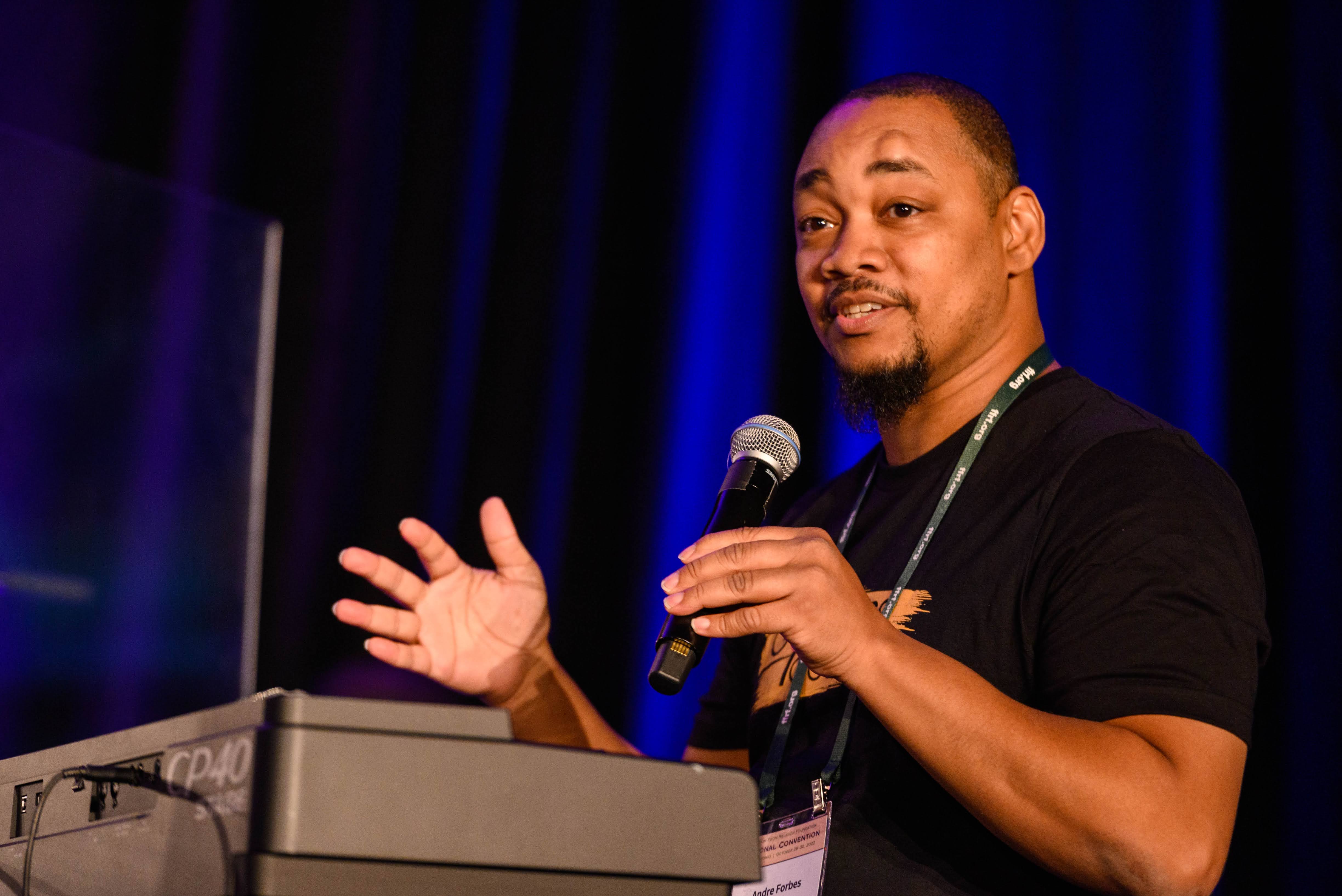 A former gospel producer-turned-nonbeliever is the guest on this Sunday's episode of "Freethought Matters," the weekly public interest TV show produced by the Freedom From Religion Foundation.
Andre Forbes has worked with many gospel artists, including the Clark Sisters, Donald Lawrence, Byron Cage, Kim Burrell, the Georgia Mass Choir, Troy Sneed, FAMU Gospel Choir and the Wardlaw Brothers, just to name a few. Andre has also made several appearances on BET, Word Network and the Trinity Broadcasting Network.

But today, he is an open nonbeliever. In fact, Forbes is producer of FFRF's Godless Gospel, a singing group that received standing ovations at FFRF's 2022 national convention. It featured songs by Andre Forbes, including "Never Be Ashamed," which is aired on the program, and "I Believe in Honesty," as well as some songs by FFRF Co-President Dan Barker, who serves as executive producer.

Younger generations "understand that there's something that's not right with the church. There's something that's not right about the beliefs," Forbes told host Barker. Despite lack of support for his growing doubts, Forbes added, "I had to be true to myself and just be honest about it."
If you don't live in the quarter-plus of the nation where the show broadcasts on Sunday, you can watch the program on FFRF's YouTube channel. New shows go up every Thursday. You can also receive notifications when we post new episodes of "Freethought Matters" by subscribing to the playlist on FFRF's YouTube channel.

The 2022 fall season already includes must-see interviews, including with bestselling award-winning author John Irving, "Star Trek" actor John "Q" de Lancie, acclaimed thinker Professor Daniel Dennett, Texas iconoclast Jim Hightower, leading constitutional abortion rights expert Professor Geoffrey Stone and atheist Washington Post columnist Kate Cohen.

"Freethought Matters" airs in:
Chicago, WPWR-CW (Ch. 50), Sundays at 9 a.m.
Denver, KWGN-CW (Ch. 2), Sundays at 7 a.m.
Houston, KIAH-CW (Ch. 39), Sundays at 11 a.m.
Los Angeles, KCOP-MY (Ch. 13), Sundays at 8:30 a.m.
Madison, Wis., WISC-TV (Ch. 3), Sundays at 11 p.m.
Minneapolis, WFTC-29, Sundays at 7:30 a.m.
New York City, WPIX-IND (Ch. 11), Sundays at 10 a.m.
Phoenix, KASW-CW (Ch. 61, or 6 or 1006 for HD), Sundays at 8:30 a.m.
Portland, Ore., KRCW-CW (Ch. 32), Sundays at 9 a.m. Comcast channel 703 for High Def, or Channel 3.
Sacramento, KQCA-MY (Ch. 58), Sundays at 8:30 a.m.
San Francisco, KICU-IND (Ch. 36), Sundays at 10 a.m.
Seattle, KONG-IND (Ch. 16 or Ch. 106 on Comcast). Sundays at 8 a.m.
Washington, D.C., WDCW-CW (Ch. 50 or Ch. 23 or Ch. 3), Sundays at 8 a.m.
You can catch interviews from past seasons here, including with Ron Reagan, Julia Sweeney and Reps. Jared Huffman, Jamie Raskin, Hank Johnson and Eleanor Holmes Norton.
Please tune in to "Freethought Matters" . . . because freethought matters.
P.S. Please tune in or record according to the times given above regardless of what is listed in your TV guide (it may be listed simply as "paid programming" or even be misidentified). To set up an automatic weekly recording, try taping manually by time or channel. And spread the word to freethinking friends, family or colleagues about a TV show, finally, that is dedicated to providing programming for freethinkers — your antidote to religion on Sunday morning!