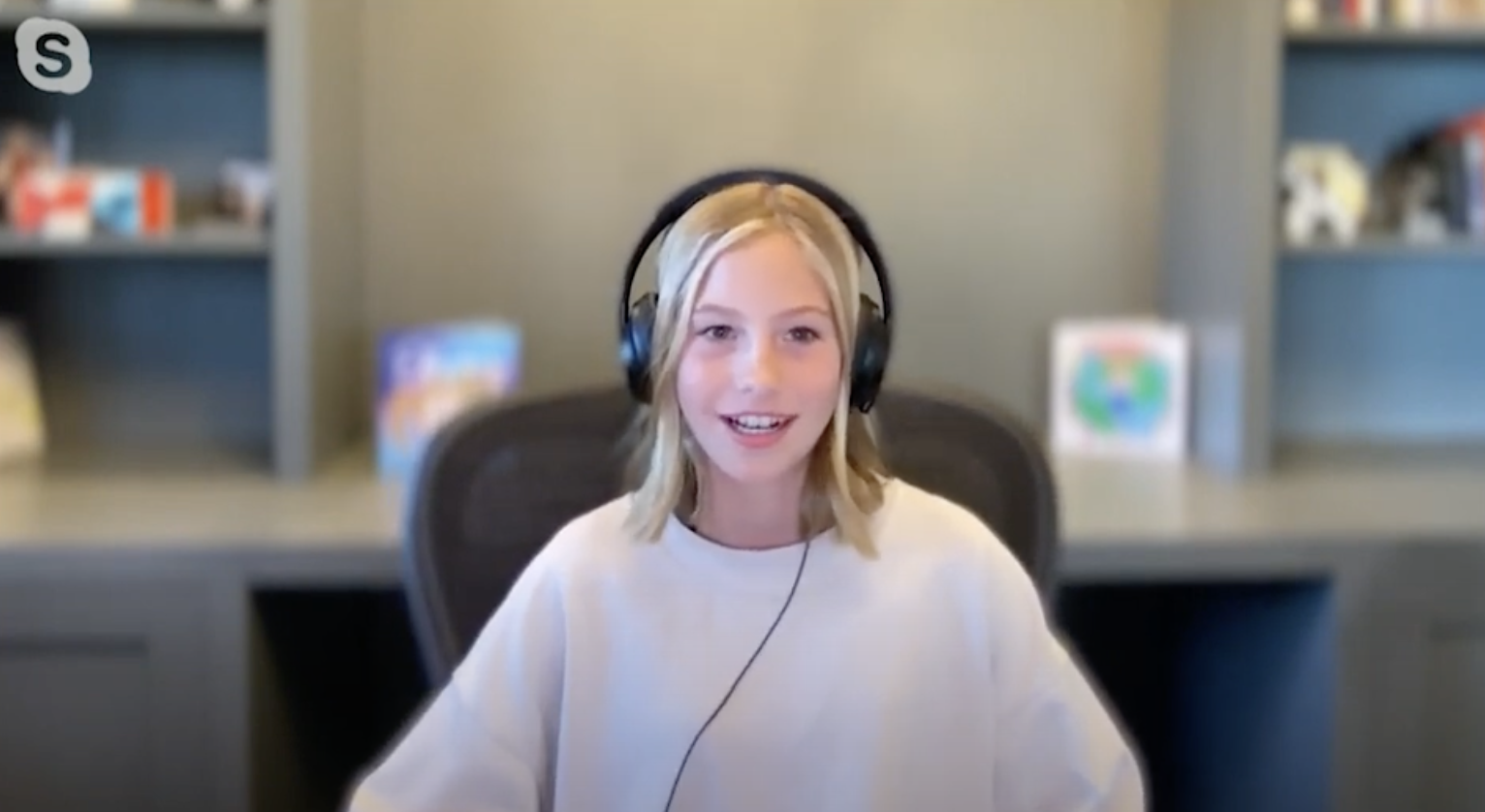 The Freedom From Religion Foundation "Freethought Matters" television show presents to its viewers this Sunday two inspirational grassroots secularists — one of them all of 11 years old.
Elle Harris is a sixth grader who comes from a family of freethinkers and with her dad, Douglas Harris, has written a book called Elle the Humanist to introduce humanist ideas and ethics to other children. Elle is following in the footsteps of her older sister, Bailey Harris, interviewed some years ago on "Freethought Matters," who wrote the Stardust series to explain evolution and the solar system. Elle received the debut Out of God's Closet scholarship of $5,000 at FFRF's recent national convention in San Antonio.

"One of my friends, Penny, asked me what church I go to," she recounts to "Freethought Matters" co-hosts Dan Barker and Annie Laurie Gaylor a conversation she had as an 8 year old. "I told her, 'I don't go to any church.' She didn't even know that was possible. She said I was the first person she knew who wasn't religious."

Adrienne Martin has been fighting religiously motivated book banning, advocating against discrimination and organizing for people's equality in her conservative rural Texas district. A very moving video that went viral shows her telling off her local school board over its book bans and its promotion of Christianity. Very befittingly, Martin received FFRF's first Strong Backbone award at its San Antonio convention.

"In Texas, the results of our election are pretty dire," Martin says on the show. "So I suspect there's going to be lots of organizing and fighting on the way this next legislative session. And I would just encourage people that regular people like you do have a voice."

The show also excerpts Harris' and Martin's speeches at the convention, as well as the video that's gone viral of Martin's school board talk.

If you don't live in the quarter-plus of the nation where the show broadcasts on Sunday, you can watch the program on FFRF's YouTube channel. New shows go up every Thursday. You can also receive notifications when we post new episodes of "Freethought Matters" by subscribing to the playlist on FFRF's YouTube channel.

Upcoming "Freethought Matters" shows include an interview with former gospel director and musician Andre Forbes, who is pivotal to the debut of the Godless Gospel singing group. This fall season already contains must-see interviews with bestselling award-winning author John Irving, "Star Trek" actor John "Q" de Lancie, acclaimed thinker Professor Daniel Dennett, Texas iconoclast Jim Hightower, leading constitutional abortion rights expert Professor Geoffrey Stone and atheist Washington Post columnist Kate Cohen.

"Freethought Matters" airs in:
Chicago, WPWR-CW (Ch. 50), Sundays at 9 a.m.
Denver, KWGN-CW (Ch. 2), Sundays at 7 a.m.
Houston, KIAH-CW (Ch. 39), Sundays at 11 a.m.
Los Angeles, KCOP-MY (Ch. 13), Sundays at 8:30 a.m.
Madison, Wis., WISC-TV (Ch. 3), Sundays at 11 p.m.
Minneapolis, WFTC-29, Sundays at 7:30 a.m.
New York City, WPIX-IND (Ch. 11), Sundays at 10 a.m.
Phoenix, KASW-CW (Ch. 61, or 6 or 1006 for HD), Sundays at 8:30 a.m.
Portland, Ore., KRCW-CW (Ch. 32), Sundays at 9 a.m. Comcast channel 703 for High Def, or Channel 3.
Sacramento, KQCA-MY (Ch. 58), Sundays at 8:30 a.m.
San Francisco, KICU-IND (Ch. 36), Sundays at 10 a.m.
Seattle, KONG-IND (Ch. 16 or Ch. 106 on Comcast). Sundays at 8 a.m.
Washington, D.C., WDCW-CW (Ch. 50 or Ch. 23 or Ch. 3), Sundays at 8 a.m.
You can catch interviews from past seasons here, including with Gloria Steinem, Ron Reagan, Julia Sweeney and Reps. Jared Huffman, Jamie Raskin, Hank Johnson and Eleanor Holmes Norton.
Please tune in to "Freethought Matters" . . . because freethought matters.
P.S. Please tune in or record according to the times given above regardless of what is listed in your TV guide (it may be listed simply as "paid programming" or even be misidentified). To set up an automatic weekly recording, try taping manually by time or channel. And spread the word to freethinking friends, family or colleagues about a TV show, finally, that is dedicated to providing programming for freethinkers — your antidote to religion on Sunday morning!