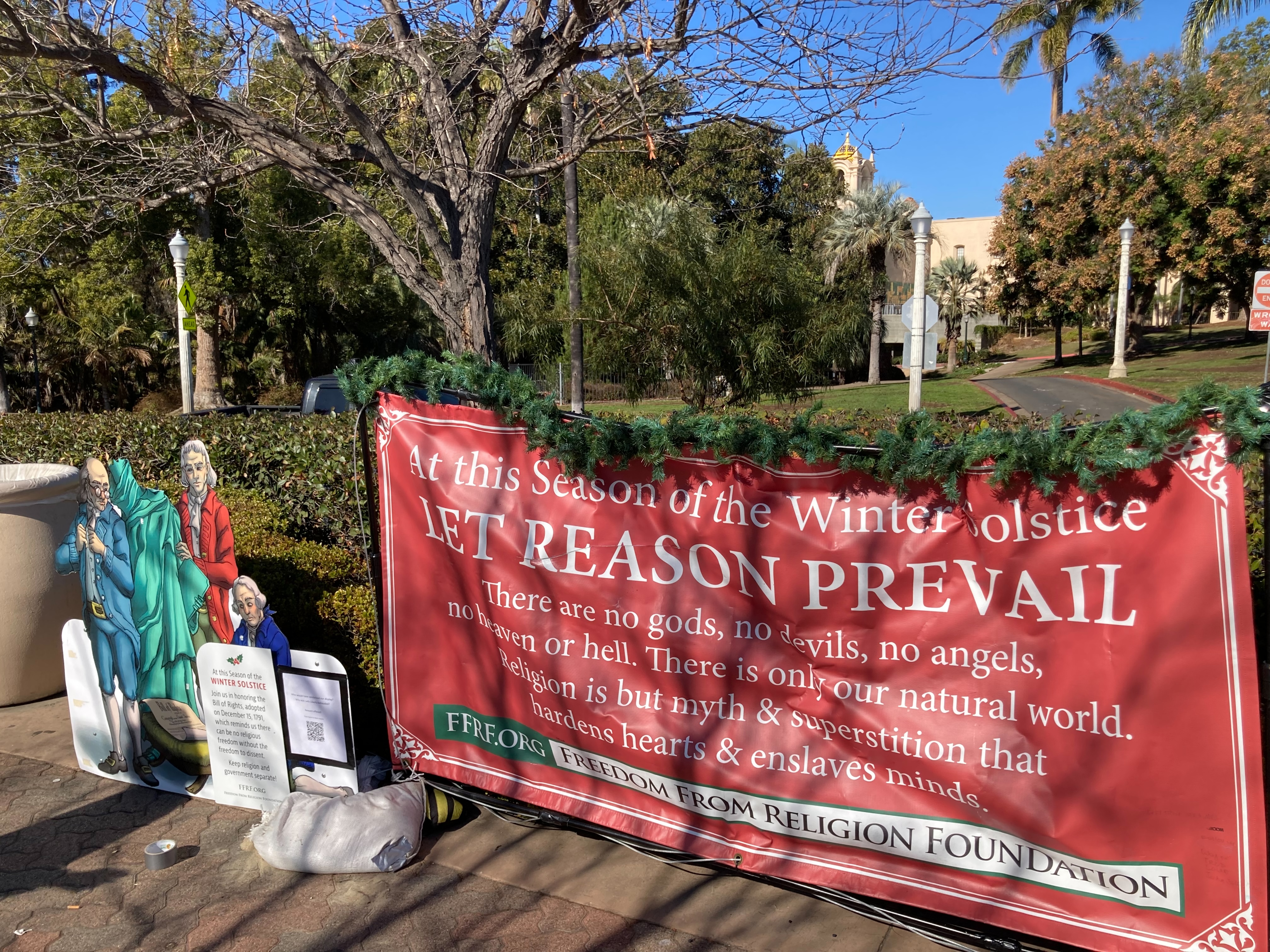 The Freedom From Religion Foundation's Winter Solstice banner and Bill of Rights "nativity" in San Diego have both been vandalized less than two weeks after being put up.
The solstice exhibits, which are scheduled to be displayed in Balboa Park until Jan. 3, were erected by San Diego freethinking volunteers. The banner was torn down in the vandalism incident, but volunteers were able to resurrect it. In the Bill of Rights display, the arm and torch were torn off of Lady Liberty and were unable to be located. The text of that display reads:
At this season of the Winter Solstice, join us in honoring the Bill of Rights, adopted on December 15, 1791, which reminds us that there can be no religious freedom without the freedom to dissent.
This is the second time that the exhibits have been mutilated. Early this year, the word "reason" was slashed through on the banner, and Lady Liberty was viciously beheaded. FFRF and member Katie D. erected the displays again this season to ensure secular representation for the 27 percent of adult California "Nones" who have no religious affiliation.
"It's very sad that the Balboa Park 'slasher' is vandalizing a depiction of the Bill of Rights and our call for reason, even as the ultraextremist majority on the Supreme Court slashes protections in our Bill of Rights," comments Annie Laurie Gaylor, FFRF co-president.
The freethinking displays counter Christian nativity displays annually placed in Balboa Park, which is deemed a public forum at this time of year. But there is no true forum if nonreligious views are vandalized.
The initial cost of the displays were $1,000 in total. FFRF is offering a $2,000 award for information leading to the arrest and conviction of the culprit(s). A police report has also been filed.
FFRF has a "resurrection fund," whereby every time one of its signs, displays or billboards is defaced, individuals may donate to help replace the damaged displays. You may donate to replace these exhibits at ffrf.org/donate by selecting the "Resurrection Fund" dropdown.
The Freedom From Religion Foundation is a national nonprofit organization with more than 38,000 members and several chapters across the country, including nearly 5,000 members and a chapter in California. Its purposes are to protect the constitutional principle of separation between state and church, and to educate the public on matters relating to nontheism.