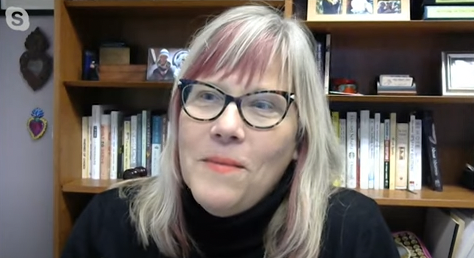 An activist in the forefront of the national battle for reproductive rights is the guest on the Freedom From Religion Foundation's "Freethought Matters" TV show Sunday.
Amy Hagstrom Miller is founder of Whole Woman's Health, a series of clinics providing abortion and gynecological services in many parts of the country, and the Whole Woman's Health Alliance, which exists to remove the stigma around providing quality abortion care. She also won the lawsuit Whole Woman's Health v. Hellerstedt before the U.S. Supreme Court in 2016, in which she successfully challenged abortion regulations that create an undue burden on the patient. And in 2021, Hagstrom Miller was the lead plaintiff in a challenge of the infamous Texas bill SB 8, the first abortion ban tied to a civil bounty law. To acknowledge her steadfast commitment to reproductive rights, FFRF recently gave Hagstrom Miller its Forward Award.
She spoke about the chaos and denial of rights created by the Supreme Court's Dobbs ruling, as well as religion's role in banning abortion.
"Many of the women that we care for in our clinics come with a lot of angst that comes from their religion," she informs "Freethought Matters" co-hosts Dan Barker and Annie Laurie Gaylor. "Instead of it being comforting and supporting to them, they feel very shamed and judged not only for seeking an abortion, but around their sexuality in general. This comes from a very rigid and extreme branch of Christianity that I think does a disservice on many levels to the majority of people who profess to be Christian in this country."
If you don't live in the quarter-plus of the nation where the show broadcasts on Sunday, you can watch the interview on FFRF's YouTube channel. New shows go up every Thursday. You can also receive notifications when we post new episodes of "Freethought Matters" by subscribing to the playlist on FFRF's YouTube channel.

Upcoming shows will feature 11-year-old Elle Harris, author of Elle the Humanist, and some seasonal solstice-related programming. This fall season already contains must-see interviews with bestselling award-winning author John Irving, "Star Trek" actor John "Q" de Lancie, acclaimed thinker Professor Daniel Dennett, Texas iconoclast Jim Hightower, leading constitutional abortion rights expert Professor Geoffrey Stone and atheist Washington Post columnist Kate Cohen.

"Freethought Matters" airs in:
Chicago, WPWR-CW (Ch. 50), Sundays at 9 a.m.
Denver, KWGN-CW (Ch. 2), Sundays at 7 a.m.
Houston, KIAH-CW (Ch. 39), Sundays at 11 a.m.
Los Angeles, KCOP-MY (Ch. 13), Sundays at 8:30 a.m.
Madison, Wis., WISC-TV (Ch. 3), Sundays at 11 p.m.
Minneapolis, WFTC-29, Sundays at 7:30 a.m.
New York City, WPIX-IND (Ch. 11), Sundays at 10 a.m.
Phoenix, KASW-CW (Ch. 61, or 6 or 1006 for HD), Sundays at 8:30 a.m.
Portland, Ore., KRCW-CW (Ch. 32), Sundays at 9 a.m. Comcast channel 703 for High Def, or Channel 3.
Sacramento, KQCA-MY (Ch. 58), Sundays at 8:30 a.m.
San Francisco, KICU-IND (Ch. 36), Sundays at 10 a.m.
Seattle, KONG-IND (Ch. 16 or Ch. 106 on Comcast). Sundays at 8 a.m.
Washington, D.C., WDCW-CW (Ch. 50 or Ch. 23 or Ch. 3), Sundays at 8 a.m.
You can catch interviews from past seasons here, including with Gloria Steinem, Ron Reagan, Julia Sweeney and Reps. Jared Huffman, Jamie Raskin, Hank Johnson and Eleanor Holmes Norton.
Please tune in to "Freethought Matters" . . . because freethought matters.
P.S. Please tune in or record according to the times given above regardless of what is listed in your TV guide (it may be listed simply as "paid programming" or even be misidentified). To set up an automatic weekly recording, try taping manually by time or channel. And spread the word to freethinking friends, family or colleagues about a TV show, finally, that is dedicated to providing programming for freethinkers — your antidote to religion on Sunday morning!