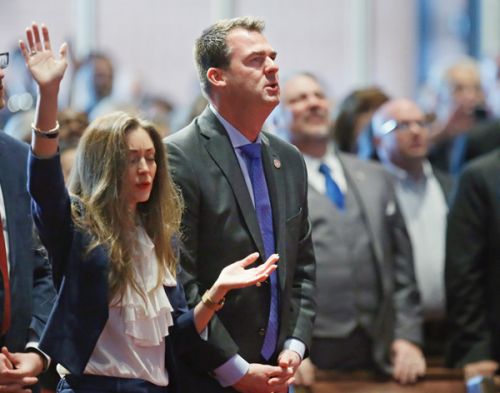 The Freedom From Religion Foundation is strongly objecting to Oklahoma Gov. Kevin Stitt's recent over-the-top sectarian religious remarks.
In a prayer rife with Christian nationalist rhetoric, Stitt claimed "every square inch" of Oklahoma for Jesus:
Father, we just claim Oklahoma for you. Every square inch, we claim it for you in the name of Jesus. Father, we can do nothing apart from you. We don't battle against flesh and blood but against principalities and darkness.
And Father, we just come against that, we just loose your will over our state right now in the name of Jesus. We just thank you and we claim Oklahoma for you as the authority that I have as governor and the spiritual authority and the physical authority that you give me.
I claim Oklahoma for you that we will be a light to our country and to the world. We thank you that your will was done on Tuesday and Father, that you will have your way with our state, with our education system, with everything within the walls behind me.
Lord, we pray that you will root out corruption and bring the right people into this building.
Contrary to his prayer, the United States of America was not founded as a Christian nation, FFRF reminds the governor. Rather, it was founded on a godless Constitution and Enlightenment values that run directly counter to the religious values Christian nationalists claim.
"The United States was the first nation to adopt a secular Constitution, investing sovereignty in 'We the People,' not a divine entity," FFRF Co-Presidents Dan Barker and Annie Laurie Gaylor write to Stitt. "In our nation, citizens can be any religion they like or none at all. Non-Christians and nonbelievers are not second-class citizens and our government and its representatives may not take sides on religious matters."

That's why there's plenty of legal precedent going against Stitt's lordly assertions.

"The First Amendment of the Bill of Rights to our secular Constitution wisely prohibits the kind of Christian theocracy you are promoting," FFRF states. "The Supreme Court has long held that the Establishment Clause 'mandates government neutrality between religion and religion, and between religion and nonreligion.' As an elected representative of the people, you violate both constitutional mandates when you suggest that you have 'claimed' the state for the Christian God, an implication that Christian are favored over non-Christians and the nonreligious in Oklahoma."

Stitt's continued promotion of Christianity is insulting and exclusionary to nonreligious and non-Christian citizens, FFRF emphasizes. Nonreligious Americans are the fastest-growing segment of the U.S. population by religious identification. In Oklahoma, 18 percent are unaffiliated with religion and another 2 percent belong to non-Christian faiths. LINK 2 When Stitt claims "every square inch" of the state for Jesus, he turns Oklahoma nonbelievers and non-Christians into second-class citizens — and that is not OK.
Stitt has been elected governor, not preacher, and took an oath of office to uphold the secular U.S. Constitution. Imagine the fury of Christians, and rightly so, were an elected official to claim Oklahoma for Allah or Satan. Stitt's remarks as the state's highest-ranking elected official are equally inflammatory and inappropriate. Stitt owes an apology to all non-Christian and nonreligious citizens of Oklahoma, FFRF concludes.
The Freedom From Religion Foundation is a national nonprofit association with almost 40,000 members across the country, including many members in Oklahoma. FFRF protects the constitutional separation between state and church and educates about nontheism.