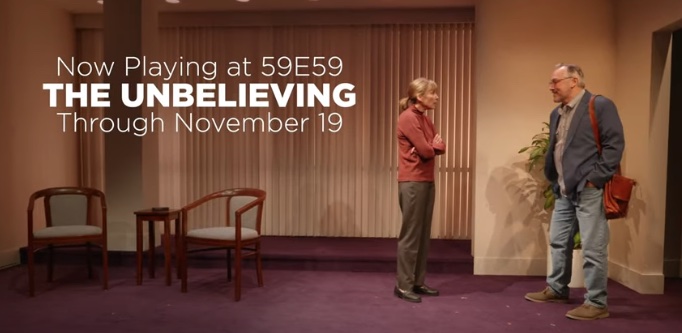 A new off-Broadway play about clergy who have stopped believing in God is currently playing in New York City accompanied by plaudits from the "paper of record."
The New York Times calls it a "smart and slender play [that] listens to its characters without judgment."
The play, "The Unbelieving," is inspired by interviews with clergy conducted for the book Caught In The Pulpit: Leaving Belief Behind, by philosopher and writer Daniel Dennett and researcher Linda LaScola. "The play is drawn almost entirely verbatim from Linda's astonishing interviews with these brave, lonely, good folks," Dennett tells FFRF.
Dennett and LaScola, who are both FFRF members, are founders, along with Richard Dawkins and FFRF Co-President Dan Barker, of The Clergy Project. The project creates a safe, secure online community composed entirely of religious leaders or former leaders who no longer hold supernatural beliefs. The Clergy Project now boasts more than 1,000 members, most of whom are "out of God's closet" and serve as support for those still "caught in the pulpit."
"The Unbelieving," being performed at 59E59 Theater, opened on Oct. 20 and runs through Saturday, Nov. 19. The play was written by Marin Gazzaniga, is directed by Steve Cosson and produced by La Scola and Dennett. LaScola herself is represented in the play interviewing clergy who find themselves in the dilemma of no longer believing.
"In the classic tale of religious conversion, finding God holds the promise of a life filled with purpose and meaning," the play's website says. "But what happens when this transformation occurs in reverse, and a faith you have built your life around begins to fall away? 'The Unbelieving' takes a penetrating look into the lives of practicing clergy members — Catholics, Episcopalians, evangelicals, fundamentalists, Jews, Mormons, Muslims — who have stopped believing in God."
The play is staged by New York City's acclaimed downtown theater company The Civilians, which specializes in documentary-style plays. "The Unbelieving" relates the intimate stories of clergy "showing the struggles, courage and humor of these 'unbelievers' as they face the hardest decision of their lives — whether to continue living in secret or to risk everything by telling the truth," according to the website.
Dan Barker will be taking part in a "talk back" after the matinee show this Saturday, Nov. 5. He personally knows most of the clergy portrayed in the play and has, in fact, referred many of them to The Clergy Project. Barker was an ordained evangelical preacher with a largely musical ministry, who "lost faith in faith" in his early 30s. He has written several books about his experiences, including Losing Faith in Faith: From Preacher to Atheist and Godless.
"I know exactly what it feels like to throw out the bathwater and find there's no baby there," Barker quips. "It's an amazing gift to see our collective experiences portrayed so truthfully on stage."
Watch the trailer of the play here. And purchase tickets (only $40) or get more information here.