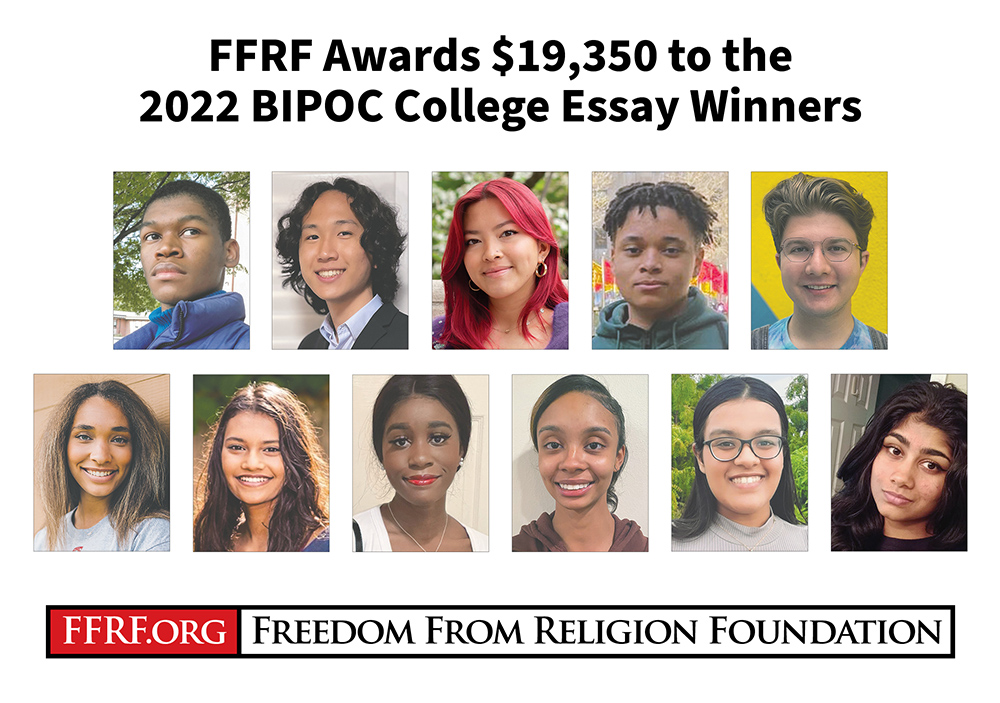 The Freedom From Religion Foundation proudly announces $19,350 in prize money to the winners of the 2022 David Hudak Memorial Black, Indigenous and Persons of Color Student Essay Competition.
There were 11 top winners and 18 honorable mentions. BIPOC students were asked to write a personal persuasive essay about "How atheism/humanism makes me a better person."
The winners, their ages, the colleges or universities they are attending and the award amounts are listed below.
FIRST PLACE
Jujuan Lawson, 18, Loyola University, $3,500.
SECOND PLACE
Aiden Kong, 18, University of Toronto, $3,000.
THIRD PLACE
Sylvie Leyerle, 18, University of Illinois, $2,500.
FOURTH PLACE
Marcus Brown, 17, Rensselaer Polytechnic Institute, $2,000.
FIFTH PLACE
Luke Ortiz-Grabe, 19, Colorado College, $1,500.
SIXTH PLACE
Claudia Moses, 19, Stanford University, $1,000.
SEVENTH PLACE
Elayna Whiteman, 19, University of Chicago, $750.
EIGHTH PLACE
Mary Musa, 19, University of Delaware, $500.
NINTH PLACE
Torrie Boykins, 17, Michigan State University, $400.
TENTH PLACE (tie)
Riya Bhargava, 19, Yale University, $300.
Vaishnavi Nayak, 18, Ohio State University, $300.
HONORABLE MENTIONS ($200 each)
Anika Becker, 20, University of San Francisco.
Vanessa Bien-Aime, 19, University of Maryland.
Alexandria Calloway, 18, Duke University.
Tenaya Coward, 19, Portland State University.
Austin De Nijs, 18, Savannah College of Art and Design.
Dystanee Foy, 18, University of Denver.
Landsay Frankoer, 19, Stockton University.
Whisper Johnson, 21, Bowling Green State University.
Jordyn Jones, 20, Kennesaw State University.
Elayna Kash, 19, University of Michigan.
Tiffany Lin, 18, University of Michigan.
Zyon Loiseau, 18, University of Wisconsin.
Mary Membreno, 19, Roanoke College.
Daniel Ogunwale, 18, Swarthmore College.
Christopher Rodriguez, 20, Texas A&M.
Amani Turner, 17, University of Texas-Austin.
Jordan Wilson, 18, UC-Santa Cruz.
Liam Wisner, 18, Oklahoma State University.
FFRF also thanks Lisa Treu for managing the details of this and FFRF's other student essays competitions. And we would like to express our appreciation for our "faithful faithless" volunteer and staff readers and judges, including: Dan Barker, Bill Dunn, Kate Garmise, Annie Laurie Gaylor, Ricki Grunberg, Dan Kettner, Gloria Marquardt, Brent Messer, April O'Leary, Andrea Osburne, George Pevarik, PJ Slinger, Mandisa Thomas, Karen Lee Weidig and Casandra Zimmerman.
This contest is named for the late David Hudak, an FFRF member who left a bequest to generously fund a student essay contest.
FFRF has offered essay competitions to college students since 1979, high school students since 1994, grad students since 2010, one geared explicitly for students of color since 2016 and a fifth contest for law students since 2019.
The Freedom From Religion Foundation is a national nonprofit organization with more than 37,000 largely nonreligious members across the country, including members in all 50 states and in the District of Columbia. FFRF works to protect the constitutional separation between state and church and to educate about nontheism.