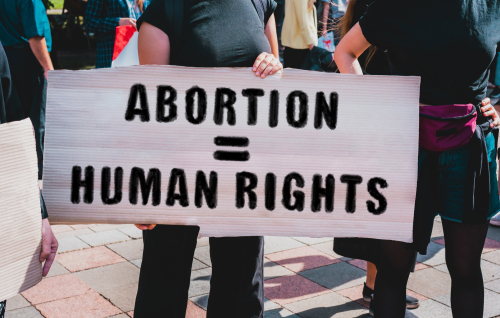 The White House must do much more than the baby steps it has recently taken to safeguard abortion access, contends the Freedom From Religion Foundation.
"This is a national health emergency," says Annie Laurie Gaylor, FFRF co-president, "and President Biden needs to act accordingly. The Supreme Court's cruel reversal of Roe v. Wade has thrown our nation into crisis and turmoil and is the equivalent of a national disaster."
At least eight states already ban abortion and half the states are expected to do imminently. Meanwhile, ever more bans and restrictions are being introduced at the state level.
Biden on Sunday indicated that he is weighing calling a public health emergency, adding, "Keep protesting, keep making your point, it's critical." Biden's "playbook" has already been provided by 23 U.S. senators led by Sens. Elizabeth Warren and Patty Murray, who urged the president to adopt a national plan to defend fundamental reproductive rights even before Roe v. Wade was overturned.
Some of their suggestions have been adopted or promoted by Biden, including increasing access to medication abortion. However, Biden has yet to create a health ombudsperson at the Department of Health and Human Services. Another urgent need is to clarify protections on sensitive health and location data that could be used against women ordering pills online or crossing state borders for abortion care.
The most controversial but meaningful executive action Biden could take would be to use federal property — VA hospitals and clinics — as oases of abortion care in states with bans. Utilizing the more than 150 VA medical centers and over 1,400 community-based outpatient clinics would ensure that citizens in all states would have access to abortion care.
FFRF nevertheless commends the Biden administration's steps to date to protect abortion care. Last week, Biden signed an executive order directed toward the Department of Health and Human Services that broadens access to abortion pills, defends people who are seeking or providing abortion care, and expands birth control coverage in the Affordable Care Act. To be clear, this measure does not restore abortion access to millions of women throughout the country who are without this essential health care. But the order affirms that abortion care is health care.
The Freedom From Religion Foundation also applauds the Biden administration's insistence that hospitals provide abortion services if the life of the pregnant person is at risk — no matter what the state law says. The administration indicates that federal law on emergency treatment guidelines supercedes state laws banning abortion without any exceptions. This is vital because states that ban abortion with exceptions for "the life of the woman" often impose stringent requirements on this exception.
For example, doctors in Tennessee must prove that "the abortion is necessary to prevent the death of the pregnant woman or to prevent serious risk of substantial and irreversible impairment of a major bodily function." Medical professionals in Arizona and Oklahoma face similar situations. Essentially, doctors are forced to put women's lives in jeopardy. Notably, mental health is almost never considered an excusable exception.
As such, the Biden administration's directive is a necessary move, since the forced-birth crowd is aiming for a future where abortion is illegal in all circumstances. In fact, some candidates for governor, such as in Georgia, Pennsylvania and Wisconsin, are campaigning on that cruel clause.
The passage of the Women's Health Protection Act would ensure abortion rights are protected nationwide, since it would codify abortion access in all 50 states and territories. It is being voted on again in the House, which approved it last fall, as a symbolic gesture but is blocked in the Senate. Use FFRF's automated system to contact your members of Congress now.
"Ultimately, we need court reform," Gaylor remarks. "The federal judiciary and Supreme Court were captured by Trump on behalf of Christian nationalism, and no individual liberty is safe." That's another reform the president should finally get behind.
The Biden administration's actions are welcome — but not nearly enough.