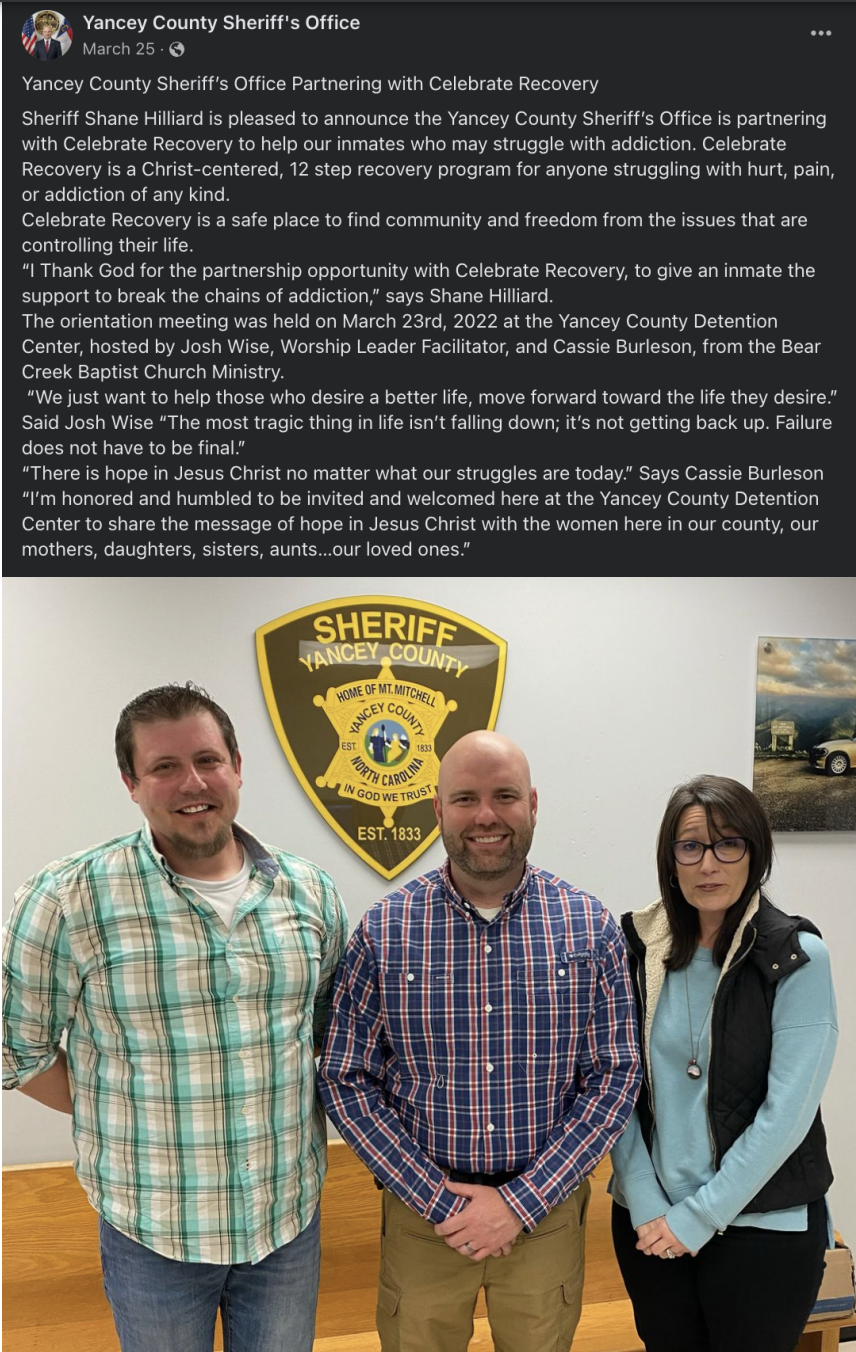 The Freedom From Religion Foundation is calling out Yancey County Sheriff's Office for partnering with Celebrate Recovery, a self-described "Christ-centered, 12-step recovery program."

Back in March, the sheriff's office's announced the partnership on its official Facebook page, quoting Sheriff Shane Hilliard: "I Thank God for the partnership opportunity with Celebrate Recovery, to give an inmate the support to break the chains of addiction." The announcement also included details of an orientation meeting for the program led by religious leaders invited by the office to speak at the Yancey County Detention Center. One of the religious leaders stated:

I'm honored and humbled to be invited and welcomed here at the Yancey County Detention Center to share the message of hope in Jesus Christ with the women here in our county…

Celebrate Recovery requires "each group to be accountable to Christ, the local church, and the model of Celebrate Recovery established at Saddleback Church," and the most important aspect of the program is that "Jesus Christ is the one and only Higher Power." While most AA groups claim anyone, including atheists, agnostics, and members of minority religions can participate in their program, Celebrate Recovery's program explicitly requires adherence to and belief in Christianity. It explicitly excludes all non-Christians.

The Yancey County Sheriff's Office must terminate its current partnership with Celebrate Recovery and refrain from partnering with or supporting any religious-based addiction programs in the future, FFRF insists.

"Required attendance in religious-based substance abuse treatment by a county sheriff's office, like the Yancey County Sheriff's Office, violates the First Amendment as the Establishment Clause guarantees that the 'government may not coerce anyone to support or participate in religion or its exercise,'" writes FFRF Staff Attorney Chris Line in a letter to Sheriff Hilliard.

"Religious-based programs should not be the only options for those in need and cannot be supported by the government," comments FFRF Co- president Annie Laurie Gaylor.

FFRF acted upon a complaint from a Yancey County citizen about the violation. Read FFRF's complaint letter here

The Freedom From Religion Foundation is a nationwide educational nonprofit association with more than 36,000 nonreligious members and several chapters across the country, including nearly 800 North Carolina members and a chapter in the state. Its purposes are to protect the constitutional separation between state and church and to educate the public on matters related to nontheism.