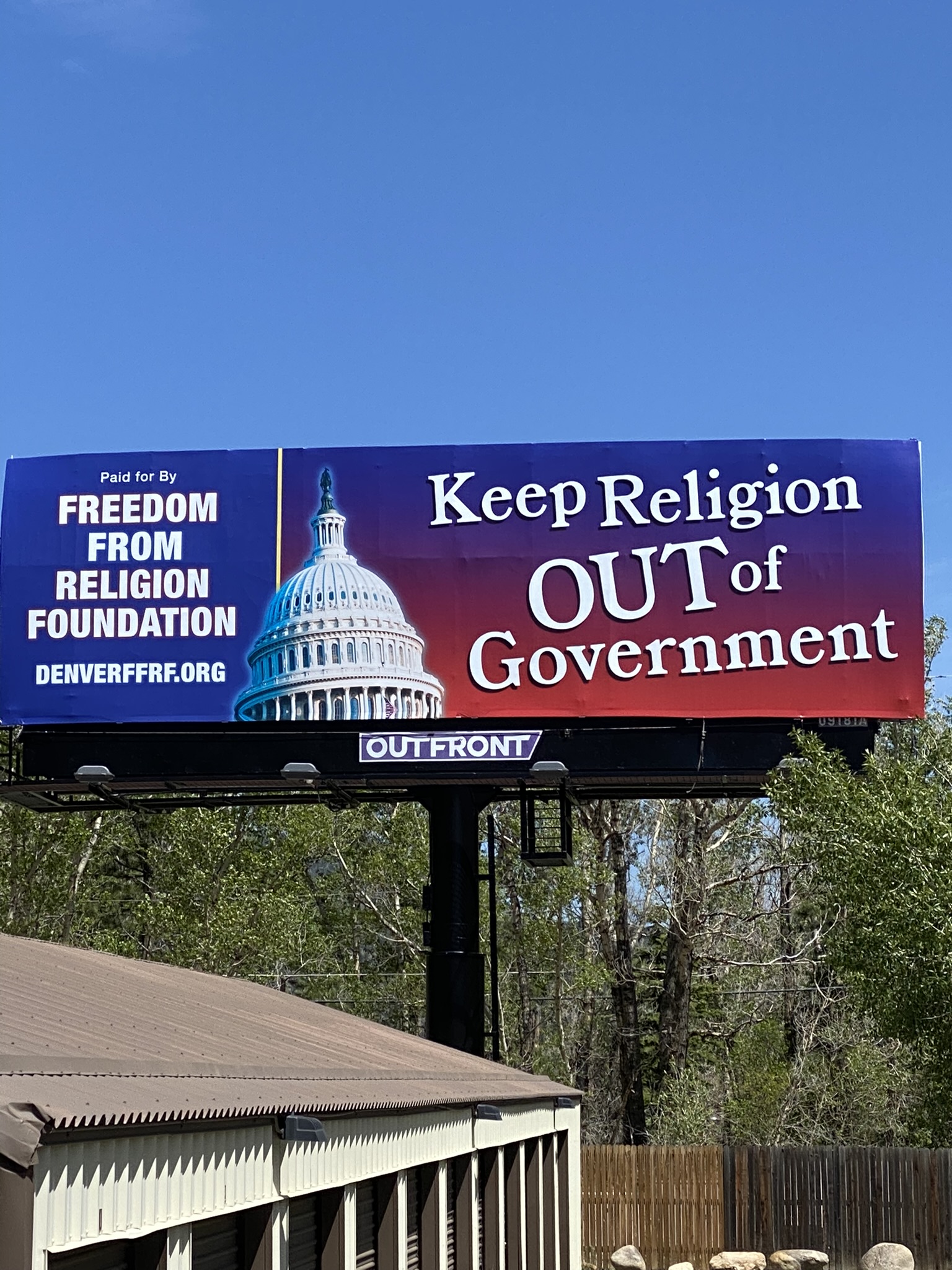 A new billboard message boldly proclaiming "Keep Religion OUT of Government" has just gone up on Interstate 70 in Denver.

The billboard can be seen by cars traveling eastbound between the Downieville (exit 234) and Dumont (exit 235) exits. It sits on the north side of the highway next to a storage unit facility. The message is brought to you by the Freedom From Religion Foundation and its active Denver chapter. FFRF thanks the chapter for helping fund the prominent billboard and FFRF Metro Denver Chapter President Claudette StPierre for spreading secularism in Colorado.

"Our democracy is in peril if we don't continue to fight for the separation of state and church," says StPierre. "Theocracy has no place in our government. Let's keep it secular, as it was intended by our Founders."

Freedom From Religion Foundation is a nationwide organization composed of more than 36,000 nonreligious Americans that also works diligently as a state/church watchdog. Its attorneys typically end more than 200 entanglements between religion and government every year, and the organization sues over First Amendment infractions. In addition, FFRF educates the public about the views of individuals like StPierre who are personally free from religion and now comprise 29 percent of the U.S. adult population.

"With a Supreme Court tilting sharply to the right, the billboard is a timely reminder that our nation was founded on the uniquely American principle that religion should stay out of government," says FFRF Co-President Annie Laurie Gaylor. "The framers of our godless Constitution were wise to realize that strife, persecution, war and terrorism go hand in hand when religion is united with government."

The Freedom From Religion Foundation is a national nonprofit organization with more than 36,000 members and several chapters across the country, including over 1,100 members and two chapters in Colorado, one of which is in Denver. Our purposes are to protect the constitutional principle of separation between state and church, and to educate the public on matters relating to nontheism.