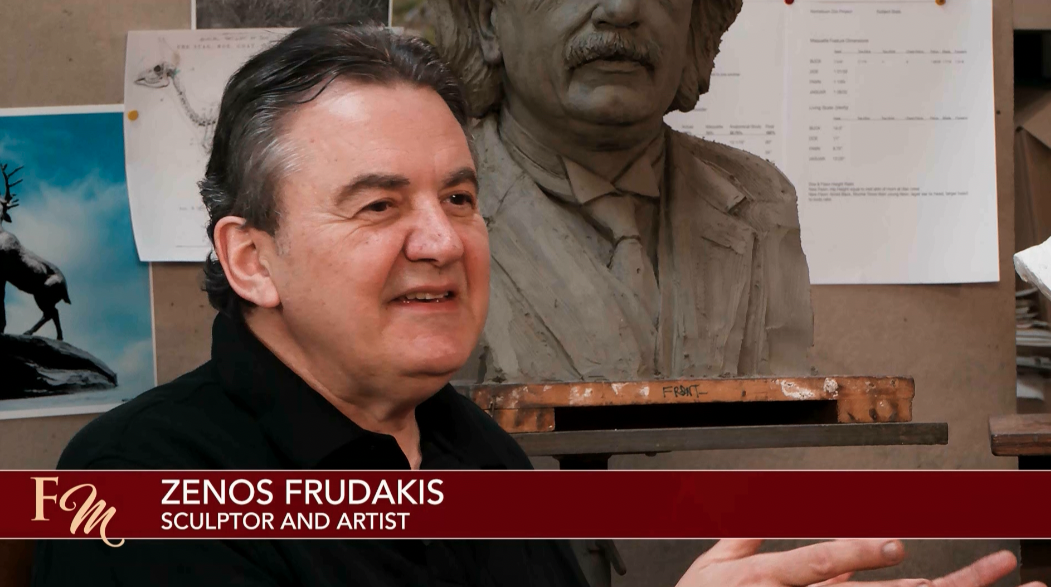 Click here to watch the teaser.
The Freedom From Religion Foundation ventures on a special visit to an acclaimed sculptor's studio for its last "Freethought Matters" TV show of the season this Sunday.
Zenos Frudakis is an internationally renowned sculptor and artist. More than 100 of his works are displayed throughout the United States, Europe, Australia, Japan, South Africa and other countries. His sculpture, "Freedom," has been listed in the top 10 public art exhibits worldwide by The (London) Independent newspaper. Frudakis, whose father was born on Crete, was raised in a Greek Orthodox family that boasts a number of other artistic individuals. He is now nonreligious. Frudakis lives in a quiet suburb outside of Philadelphia where he works on his art in a historic carriage house in his backyard.
"So I made a piece that if people drive by, they would see a very large motion of getting free, struggling to break free, because freedom is a struggle, I think, for most people," Frudakis explains his "Freedom" sculpture to "Freethought Matters" co-hosts Dan Barker and Annie Laurie Gaylor. "It's about the universal desire for freedom, freedom on a personal level, from large geopolitical events and governments and freedom from religion."
You'll see during the tour busts of Frederick Douglass, God Delusion author Richard Dawkins and even a very poignant clay bust Frudakis is completing of Ukraine President Volodymyr Zelensky.
If you don't live in the quarter-plus viewership of the nation where the show broadcasts on Sunday, you can already catch the interview on the "Freethought Matters" playlist on FFRF's YouTube channel. (This show is the last of the season before it goes on hiatus until the first Sunday in September.) You can also receive notifications when we post new episodes of "Freethought Matters" by subscribing to FFRF's YouTube channel.
"Freethought Matters" airs in:
Chicago, WPWR-CW (Ch. 50), Sundays at 9 a.m.
Denver, KWGN-CW (Ch. 2), Sundays at 7 a.m.
Houston, KIAH-CW (Ch. 39), Sundays at 11 a.m.
Los Angeles, KCOP-MY (Ch. 13), Sundays at 8:30 a.m.
Madison, Wis., WISC-TV (Ch. 3), Sundays at 11 p.m.
Minneapolis, KSTC-IND (Ch. 45, Digital Channel 5.5), Sundays at 9:30 a.m. (Digital channel 5.2 has been dropped.)
New York City, WPIX-IND (Ch. 11), Sundays at 10 a.m.

Phoenix, KASW-CW (Ch. 61, or 6 or 1006 for HD), Sundays at 8:30 a.m.
Portland, Ore., KRCW-CW (Ch. 32), Sundays at 9 a.m. Comcast channel 703 for High Def, or Channel 3.
Sacramento, KQCA-MY (Ch. 58), Sundays at 8:30 a.m.
San Francisco, KICU-IND (Ch. 36), Sundays at 10 a.m.
Seattle, KONG-IND (Ch. 16 or Ch. 106 on Comcast). Sundays at 8 a.m.
Washington, D.C., WDCW-CW (Ch. 50 or Ch. 23 or Ch. 3), Sundays at 8 a.m.
"Freethought Matters" is now ending its sixth season. To watch earlier shows, including an interview with freethinker and feminist icon Gloria Steinem, visit the "Freethought Matters" playlist on FFRF's YouTube channel. Please tune in to "Freethought Matters" . . . because freethought matters.
P.S. Please tune in or record according to the times given above regardless of what is listed in your TV guide (it may be listed simply as "paid programming" or even be misidentified). To set up an automatic weekly recording, try taping manually by time or channel. And spread the word to freethinking friends, family or colleagues about a TV show, finally, that is dedicated to providing programming for freethinkers!