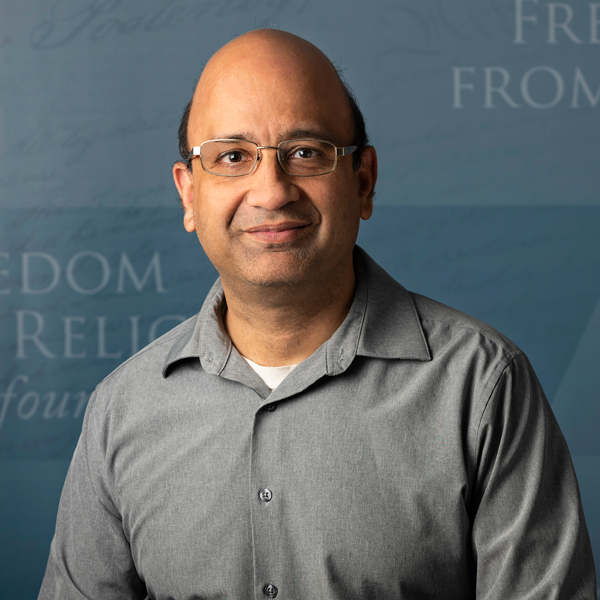 The Freedom From Religion Foundation's communications director has written a widely read column excorating the Russian Orthodox Church's enthusiastic backing of the Ukraine invasion.
In a piece for The Progressive magazine's op-ed service, Amitabh Pal dissects the various specious justifications that the church has offered for the Russian aggression. Pal explains in "God is not on Russia's side in invasion" that the bond between the government and the church in Russia goes back a long way — exemplified by the closeness of the individuals leading these entities.
"The Russian Orthodox Church and its head, Patriarch Kirill, have appallingly defended President Vladimir Putin's invasion of Ukraine and are urging Russians to support the war as well," begins his op-ed, distributed by the Tribune News Service to numerous media outlets in the United States and abroad and published in several papers.
The piece continues:
Kirill has actively promoted Russian warmongering, bizarrely describing the nation's mandatory military service as "an active manifestation of evangelical love for neighbors." He also seems to have fully bought into the Russian government's propaganda about a genocidal Ukrainian campaign to wipe out separatists in the country's Donbass region.
Indeed, Kirill is completely in agreement with Putin's stated rationale for the invasion — that Ukraine is a part of greater Russia. He has asserted that Russians and Ukrainians "come from one Kievan baptismal font … and share common historical fate."
Kirill has also helped spread conspiracy theories, declaring that pro-Russian factions in Donbass, Ukraine, are being persecuted due to a "fundamental rejection of the so-called values that are offered today by those who claim world power." He claims this world power is posing a "test for the loyalty" of other countries by demanding that they hold gay pride parades.
Pal outlines the various ways Putin has made public showings of his faith, even quoting from the bible at a pro-war rally. The Russian leader has also installed gargantuan Christian structures near the Kremlin.
"The tight bond between Putin's government and the Russian Orthodox Church has manifested itself all the way from the Kremlin to Ukraine, with horrible results," Pal's op-ed concludes.
Read the full piece on the website of Hawaii's Big Island newspaper (one of the many to have published the piece) and please share it on your social media.