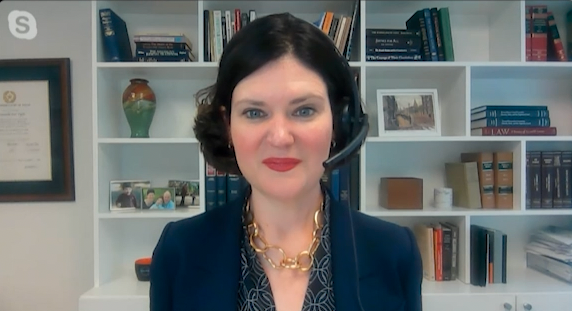 Click here to watch the teaser.
The head of a Baptist group that crafted a landmark joint report on the Jan. 6 insurrection with the Freedom From Religion Foundation is the guest on FFRF's "Freethought Matters" Sunday TV show.
Amanda Tyler, executive director of the Baptist Joint Committee for Religious Liberty and leader of Christians Against Christian Nationalism, gives a powerful overview of the dangers of white Christian nationalism and affirms the historic support by many Baptist denominations for strict separation between religion and government. Tyler helped oversee a blockbuster joint report (to which she contributed a chapter) that the Baptist Joint Committee and FFRF issued on Christian nationalism's role in the Jan. 6 attack on the U.S. Capitol.
"We had seen examples of violent Christian nationalism even before Jan. 6, like at Mother Emanuel AME Church in Charleston in 2015 and the Tree of Life Synagogue shooting in 2018. That really urged us to put this project forward," she tells "Freethought Matters" co-hosts Dan Barker and Annie Laurie Gaylor. "People who had maybe not noticed or been concerned about Christian nationalism after seeing those instances of Christian nationalism at the Capitol were looking for resources. They wanted to understand it — and we were there ready to provide those resources to help them understand Christian nationalism."
If you don't live in the quarter-plus viewership of the nation where the show broadcasts on Sunday, you can already catch the interview on the "Freethought Matters" playlist on FFRF's YouTube channel. New shows go up every Thursday. You can also receive notifications when we post new episodes of "Freethought Matters" by subscribing to FFRF's YouTube channel.
"Freethought Matters" airs in:
Chicago, WPWR-CW (Ch. 50), Sundays at 9 a.m.
Denver, KWGN-CW (Ch. 2), Sundays at 7 a.m.
Houston, KIAH-CW (Ch. 39), Sundays at 11 a.m.
Los Angeles, KCOP-MY (Ch. 13), Sundays at 8:30 a.m.
Madison, Wis., WISC-TV (Ch. 3), Sundays at 11 p.m.
Minneapolis, KSTC-IND (Ch. 45, Digital Channel 5.5), Sundays at 9:30 a.m. (Digital channel 5.2 has been dropped.)
New York City, WPIX-IND (Ch. 11), Sundays at 10 a.m.

Phoenix, KASW-CW (Ch. 61, or 6 or 1006 for HD), Sundays at 8:30 a.m.
Portland, Ore., KRCW-CW (Ch. 32), Sundays at 9 a.m. Comcast channel 703 for High Def, or Channel 3.
Sacramento, KQCA-MY (Ch. 58), Sundays at 8:30 a.m.
San Francisco, KICU-IND (Ch. 36), Sundays at 10 a.m.
Seattle, KONG-IND (Ch. 16 or Ch. 106 on Comcast). Sundays at 8 a.m.
Washington, D.C., WDCW-CW (Ch. 50 or Ch. 23 or Ch. 3), Sundays at 8 a.m.
Upcoming shows will include interviews with U.S. Rep. Jamie Raskin, illustrious illustrator Edward Sorel and freethinker and sculptor Zenos Frudakis, who is creating a memorial to "Forgotten Founder" Thomas Paine. "Freethought Matters" is now in its sixth season. To watch earlier shows, including an interview with freethinker and feminist icon Gloria Steinem, visit the "Freethought Matters" playlist on FFRF's YouTube channel. Please tune in to "Freethought Matters" . . . because freethought matters.
P.S. Please tune in or record according to the times given above regardless of what is listed in your TV guide (it may be listed simply as "paid programming" or even be misidentified). To set up an automatic weekly recording, try taping manually by time or channel. And spread the word to freethinking friends, family or colleagues about a TV show, finally, that is dedicated to providing programming for freethinkers!