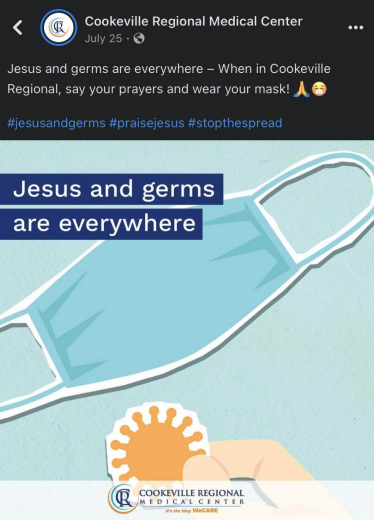 A city-owned hospital in Tennessee has taken down religious social media posts after the Freedom From Religion Foundation strenuously objected.

A local citizen contacted the state/church watchdog due to concern about the endorsement of Christianity on the Cookeville Regional Medical Center official Facebook page. A prayer for front-line workers was posted that included "Heavenly and Almighty God, who has all power and might to heal and protect … Lord, there are many heroes in this battle, although none greater than you. For we have no power to face this virus and its impacts on our own." Another post advised: "Jesus and germs are everywhere — when in Cookeville Regional, say your prayers and wear your mask!"

The Cookeville Regional Medical Center must refrain from endorsing religion, FFRF emphasized.

"The Supreme Court has long held that the Establishment Clause 'mandates government neutrality between religion and religion, and between religion and nonreligion,'" FFRF Legal Fellow Karen Heineman wrote to Cookeville Regional Medical Center CEO Paul Korth. "A hospital suggesting that its interventions have no power without the Lord's contributions is especially concerning given that your health care facility is obligated to remain secular."

The Cookeville Regional Medical Center serves a diverse population that consists not only of Christians, but also nonreligious and minority religious citizens, FFRF reminded the facility. Religious endorsements alienate the non-Christian and nonreligious citizens in the Upper Cumberland region in Tennessee, suggesting that they will not be treated equally at the facility. As a governmental entity, the Cookeville Regional Medical Center is bound by the requirements of the Establishment Clause. And our Constitution's Establishment Clause, which protects the religious freedom of all Americans by ensuring the continued separation of religion and government, dictates that the government cannot endorse religion.

FFRF's plea to maintain the health of the U.S. Constitution received a patient hearing from the Cookeville Regional Medical Center.

"Both of the postings that you referenced were removed shortly after receipt of your letter," the hospital's legal counsel replied in a recent email.

FFRF is always glad to be available for consultation.

"Governmental entities should be careful about not inserting religious sectarianism into their outreach to patients and the public," says FFRF Co-President Annie Laurie Gaylor. "You don't want to make people feel like outsiders at such fraught moments in their lives."

The Freedom From Religion Foundation is a national nonprofit organization with over 36,000 members and several chapters across the country, including more than 400 members and a chapter in Tennessee. Our purposes are to protect the constitutional principle of separation between state and church, and to educate the public on matters relating to nontheism.