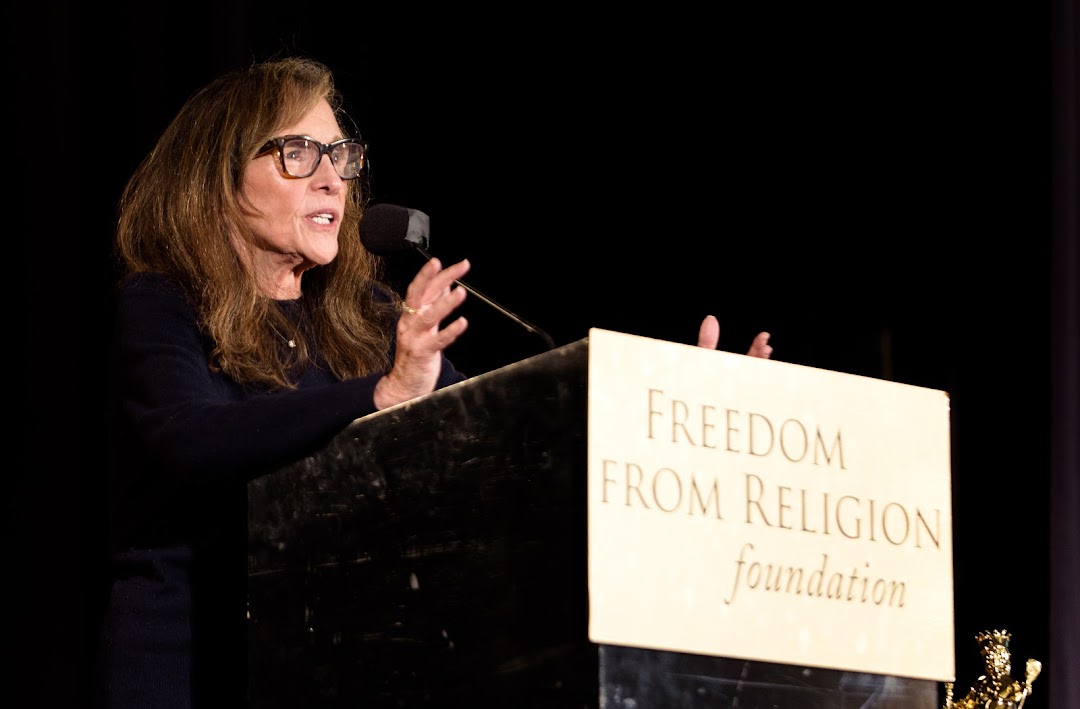 The Freedom From Religion Foundation is delighted to announce that it is launching a joint mission with Ann Druyan.

Druyan is, of course, the co-creator along with her husband Carl Sagan of "Cosmos," one of the most renowned TV series ever. The couple co-authored bestsellers such as Comet, Shadows of Forgotten Ancestors and The Demon-Haunted World. After Sagan's death, Druyan went on to win the Emmy and Peabody awards for two additional seasons of "Cosmos." Now, FFRF and the acclaimed producer, director and author are all set to explore how to promote a humanistic and democratic vision of space exploration that harnesses the best instincts of humanity, compassion, kindness, reason and altruism instead of greed, white supremacy and religious conquest.

FFRF, a state/church watchdog, has had a long relationship with Ann Druyan. She was its 1997 Freethought Heroine Award recipient. Very recently, she graced FFRF's 2021 convention in Boston, along with her daughter Sasha Sagan. She has also appeared on FFRF's "Freethought Radio" over the years and on its "Freethought Matters" TV show.

Druyan was a guest speaker at a 2021 meeting with the Congressional Freethought Caucus. As an outgrowth of that meeting, FFRF Governmental Affairs Director Mark Dann and Druyan are now working closely together to see where in the NASA budget a humanistic vision of space exploration can be strengthened, particularly in early stage and innovation partnerships that develop new technologies and values driving space exploration. FFRF and Druyan will also be combining efforts to serve as a counterweight to space exploration currently owned and dominated by a few billionaires.

FFRF is elated at setting off on this joint journey.

"We're delighted that we'll be collaborating with Ann to try and redefine space exploration from a more humanistic perspective," says FFRF Co-President Annie Laurie Gaylor. "We look forward to working with her on this important project."

FFRF Governmental Affairs Director Mark Dann expresses his pleasure to be his organization's point person in working with Druyan.

"Anyone who meets Ann is always struck by her kindness, humanity, generosity, and humanistic vision for space exploration," Dann comments. "I fell in love with Ann's work at an early age, and to work with someone who I have such great admiration for is truly a life's honor."

The Freedom From Religion Foundation will keep the planet updated on the results of this expedition.

The Freedom From Religion Foundation is a national nonprofit organization with more than 36,000 members and several chapters all across the country. FFRF's purposes are to protect the constitutional principle of separation between state and church, and to educate the public on matters relating to nontheism.