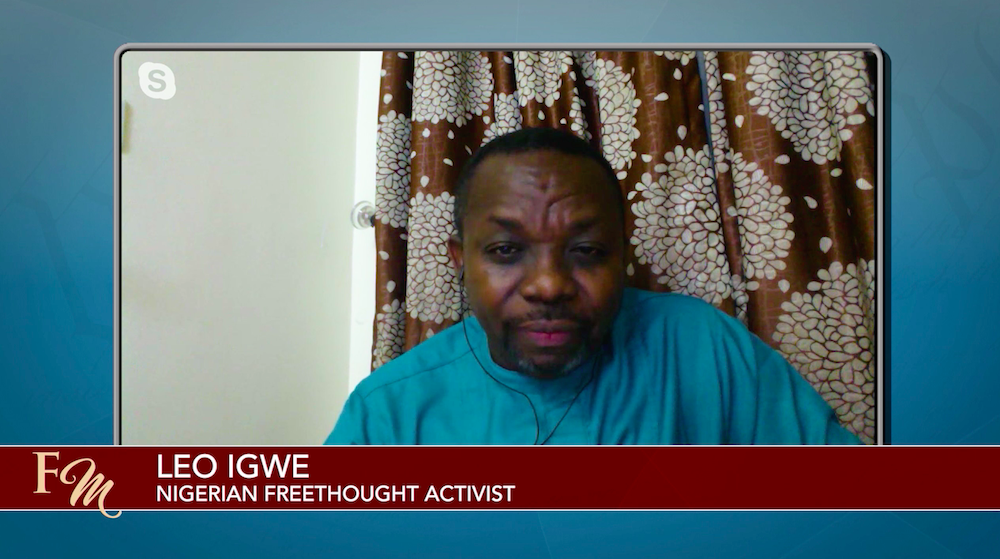 Click here to watch the teaser.
The Freedom From Religion Foundation's "Freethought Matters" TV show and YouTube podcast this week spotlight humanism and its risks in Nigeria and other African nations.
Joining FFRF from Nigeria to talk about how humanism is often persecuted in parts of Africa is Leo Igwe, the founder of the Humanist Association of Nigeria who himself has been jailed for his work on "witchcraft." Igwe has multiple degrees in philosophy and a doctorate in religious studies from the University of Bayreuth in Germany. His research focuses on witchcraft, religion and atheism in Nigeria, Ghana, Kenya and Zambia, and he strives to foster critical thinking in schools. He's recently been busy campaigning for the release of Mubarak Bala, a Nigerian freethinker who is in detention for alleged blasphemy.
"Many pastors thrive on imputing witchcraft or making witchcraft allegations," Igwe explains to "Freethought Matters" co-hosts Dan Barker and Annie Laurie Gaylor why he got into trouble. "So if you try to challenge this, you are actually challenging what the church has used to establish its credibility among all gullible, desperate members of the population. Of course, they'll go after you."
If you don't live in the quarter-plus viewership of the nation where the show broadcasts on Sunday, you can already catch the interview on the "Freethought Matters" playlist on FFRF's YouTube channel. New shows go up every Thursday. You can also receive notifications when we post new episodes of "Freethought Matters" by subscribing to FFRF's YouTube channel.
"Freethought Matters" airs in:
Chicago, WPWR-CW (Ch. 50), Sundays at 9 a.m.
Denver, KWGN-CW (Ch. 2), Sundays at 7 a.m.
Houston, KIAH-CW (Ch. 39), Sundays at 11 a.m.
Los Angeles, KCOP-MY (Ch. 13), Sundays at 8:30 a.m.
Madison, Wis., WISC-TV (Ch. 3), Sundays at 11 p.m.
Minneapolis, KSTC-IND (Ch. 45, Digital Channel 5.5), Sundays at 9:30 a.m. (Digital channel 5.2 has been dropped.)
New York City, WPIX-IND (Ch. 11), Sundays at 10 a.m. Note time change!

Phoenix, KASW-CW (Ch. 61, or 6 or 1006 for HD), Sundays at 8:30 a.m.
Portland, Ore., KRCW-CW (Ch. 32), Sundays at 9 a.m. Comcast channel 703 for High Def, or Channel 3.
Sacramento, KQCA-MY (Ch. 58), Sundays at 8:30 a.m.
San Francisco, KICU-IND (Ch. 36), Sundays at 10 a.m.
Seattle, KONG-IND (Ch. 16 or Ch. 106 on Comcast). Sundays at 8 a.m.
Washington, D.C., WDCW-CW (Ch. 50 or Ch. 23 or Ch. 3), Sundays at 8 a.m.
Upcoming shows will include an interview with Hector Garcia, author of Alpha God: The Psychology of Religious Violence and Oppression and a speaker at FFRF's November convention in San Antonio, and Cynthia McDonald, a civil rights activist and atheist who will be part of the convention's "Godless Gospel Choir" and a conference panel of Black freethought activists. "Freethought Matters" is now in its sixth season. To watch earlier shows, including an interview with freethinker and feminist icon Gloria Steinem, visit the "Freethought Matters" playlist on FFRF's YouTube channel. Please tune in to "Freethought Matters" . . . because freethought matters.
P.S. Please tune in or record according to the times given above regardless of what is listed in your TV guide (it may be listed simply as "paid programming" or even be misidentified). To set up an automatic weekly recording, try taping manually by time or channel. And spread the word to freethinking friends, family or colleagues about a TV show, finally, that is dedicated to providing programming for freethinkers!