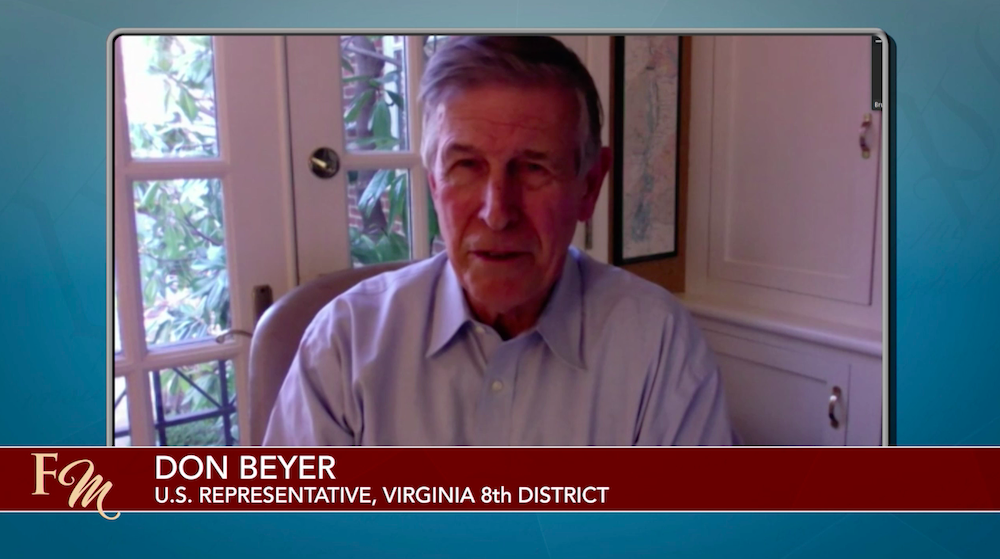 Click here to watch the teaser.
Congressional Freethought Caucus member and supporter Rep. Don Beyer is this week's distinguished guest on "Freethought Matters," the Freedom From Religion Foundation's weekly public interest TV show.
Beyer, a former lieutenant governor of his state, represents Virginia's 8th congressional district, and is chair of the Congressional Joint Economic Committee. Beyer spoke with hosts Dan Barker and Annie Laurie Gaylor about his support of the caucus, the upcoming Religious Freedom Day on January 16 commemorating Virginia's statute for religious freedom, and how abortion rights are being endangered.
Beyer explained that he joined the Congressional Freethought Caucus in part because he's "been so dismayed over the last 40 years of my political engagement by the way people's religious beliefs have interfered with other people's beliefs, religious or not."
"Most of history," he added, "we see really awful things coming out when one person imposes his religious or her religious beliefs on another."
If you don't live in the quarter-plus of the nation where the show broadcasts on Sunday, you can already catch the interview on the "Freethought Matters" playlist on FFRF's YouTube channel. New shows go up every Thursday. You can also receive notifications when we post new episodes of "Freethought Matters" by subscribing to FFRF's YouTube channel.
Upcoming guests on the 2022 spring season will include Ellery Schempp, a champion of the First Amendment whose high school protest of bible reading and prayer brought about a landmark Supreme Court decision freeing students from such indoctrination.
"Freethought Matters" airs in:
Chicago, WPWR-CW (Ch. 50), Sundays at 9 a.m.
Denver, KWGN-CW (Ch. 2), Sundays at 7 a.m.
Houston, KIAH-CW (Ch. 39), Sundays at 11 a.m.
Los Angeles, KCOP-MY (Ch. 13), Sundays at 8:30 a.m.
Madison, Wis., WISC-TV (Ch. 3), Sundays at 11 p.m.
Minneapolis, KSTC-IND (Ch. 45, Digital Channel 5.5), Sundays at 9:30 a.m. (Digital channel 5.2 has been dropped.)
New York City, WPIX-IND (Ch. 11), Sundays at 10:00 a.m.
Phoenix, KASW-CW (Ch. 61, or 6 or 1006 for HD), Sundays at 8:30 a.m.
Portland, Ore., KRCW-CW (Ch. 32), Sundays at 9 a.m. Comcast channel 703 for High Def, or Channel 3.
Sacramento, KQCA-MY (Ch. 58), Sundays at 8:30 a.m.
San Francisco, KICU-IND (Ch. 36), Sundays at 10 a.m.
Seattle, KONG-IND (Ch. 16 or Ch. 106 on Comcast). Sundays at 8 a.m.
Washington, D.C., WDCW-CW (Ch. 50 or Ch. 23 or Ch. 3), Sundays at 8 a.m.
Watch earlier shows on the "Freethought Matters" playlist on FFRF's YouTube Channel.
Please tune in to "Freethought Matters" . . . because freethought matters.
P.S. Please tune in or record according to the times given above regardless of what is listed in your TV guide (it may be listed simply as "paid programming" or even be misidentified). To set up an automatic weekly recording, try taping manually by time or channel. And spread the word to freethinking friends, family or colleagues about a TV show, finally, that is dedicated to providing programming for freethinkers!