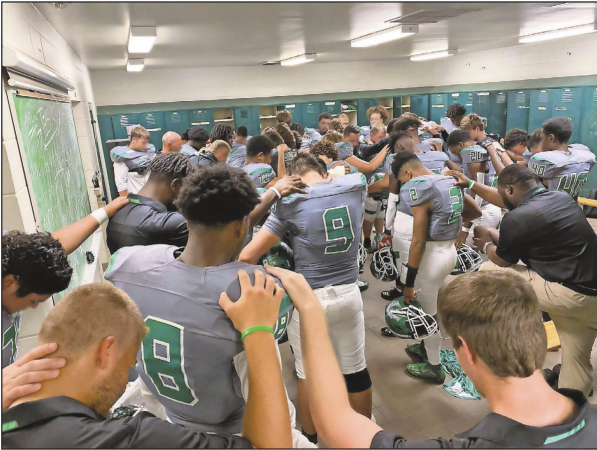 You can't permit religion to overwhelm your football program, the Freedom From Religion Foundation is admonishing a Florida school district.
Lake Placid High School allows Pastor Dustin Woods of Grace Bible Church-Highlands to preach to and pray with its football team before each game, as a community member has informed the state/church watchdog and as has been confirmed in a local news story. Carl White, the team's coach, has adopted a coaching style based around God, states the article. The piece further explains that as part of his religious coaching White holds "weekly sessions" in his home where players "support each other … with a basis in faith." It also reports that there were only 12 players originally attending, but over time more players have felt the need to attend these team worship events where either White himself or an invited guest preach and worship with players.
"Public school football teams cannot appoint or employ a chaplain, seek out a spiritual leader for the team, agree to allow someone to act as chaplain, or otherwise infuse the team with religion," FFRF Staff Attorney Chris Line writes to School Board of Highlands County Superintendent Brenda Longshore. "It is therefore inappropriate and illegal for the Lake Placid High School football team to have a team chaplain and for coaches to allow and participate in religious activities with students, as this signals a blatant promotion of religion over nonreligion generally, and in this case, Christianity in particular."
Highlands County Schools cannot give a non-school-affiliated adult access to the children in its charge, and it certainly cannot grant that access to a minister to advance his faith, FFRF contends: The Supreme Court has repeatedly held that public schools may not be co-opted, either by staff or outside adults, to proselytize students. That's why federal courts have enforced injunctions against school districts who, by action or inaction, grant outside adults access to other peoples' children to evangelize.
Furthermore, public school districts have a constitutional obligation to ensure that staff members do not use their positions to proselytize. Federal courts have consistently rejected the promotion of religious viewpoints in the classroom and similar settings.
Endorsement of Christianity within the district's athletic programs is particularly troubling for those parents and students who are not Christians or do not subscribe to any religion, FFRF emphasizes. Nonreligious Americans make up the fastest growing segment of the U.S. population by religious identification — 35 percent of Americans are non-Christians, and this includes the 23 percent of Americans who identify as religiously unaffiliated.
FFRF is asking the school district to investigate this matter and take immediate action to protect its students. Pastor Woods cannot act as the team's chaplain. And Coach White must be directed to cease including religion in his football program and must stop holding religious worship services with players in his home.
"It's outrageous that the school district is allowing such a blatant fusion of religion and football," says FFRF Co-President Annie Laurie Gaylor. "This has to be immediately sundered in keeping with our secular Constitution."
The Freedom From Religion Foundation is a national nonprofit organization with more than 36,000 members and several chapters across the country, including over 1,800 members and a chapter in Florida. Its purposes are to protect the constitutional principle of separation between state and church, and to educate the public on matters relating to nontheism. Photo has been blurred to protect the students' privacy.