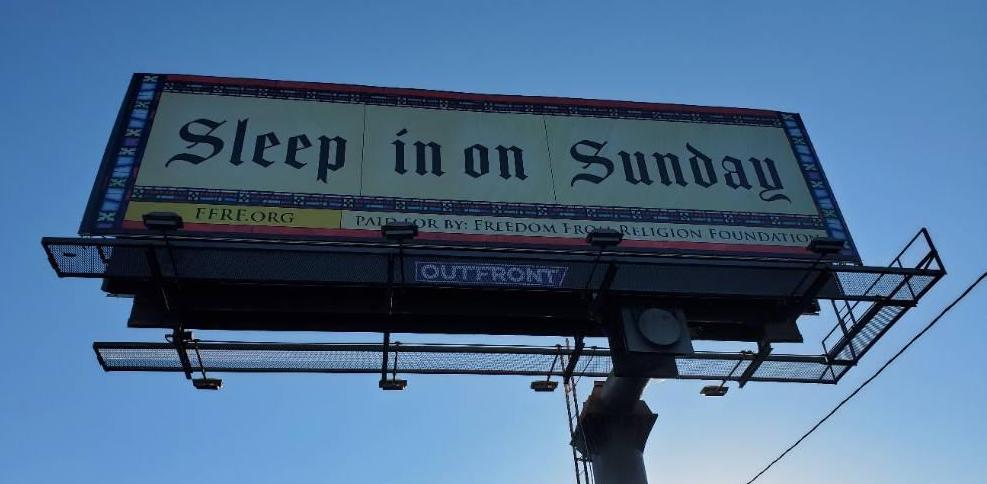 A couple of Freedom From Religion Foundation billboards near Nashville megachurches are garnering a lot of attention.
The 14-by-48-foot bulletins, featuring a stained-glass window motif, proclaim not bible verses but advice to "Sleep in on Sunday" and "Enjoy life now — there is no afterlife." The Nashville boards kick off a national campaign targeting what the state/church watchdog calls "irresponsible megapreachers."
The eye-catching billboards are found on I-24 West, west of Briley Parkway, and on Lebanon Road, a mile east of Andrew Jackson Parkway. They recently went up for the span of one month. The billboard messages are directed at megachurch pastors Kent Christmas, of Regeneration Nashville, and Greg Locke, of Global Vision Bible Church, and their flocks.
Locke is the incendiary preacher who has perpetuated QAnon conspiracy myths and has castigated the pope, Oprah Winfrey and Tom Hanks. He has called President Biden "demon-possessed," Vice President Kamala Harris a "jezebel demon" and claimed they oversee "child-trafficking" tunnels underneath the White House. Locke termed Donald Trump the "legitimate" leader of the United States in the aftermath of the 2020 presidential election. Most concerningly, the pastor was in the mob outside the U.S. Capitol during the Jan. 6 insurrection praying with a bullhorn — and hyped the riot ahead of time. After the riot, he was banned by social media. Unfortunately, Locke remains influential, with more than 2 million followers on Facebook. One of his videos has been watched 34 million times.
Kent Christmas, who is founding pastor of Regeneration Nashville, and heads Kent Christmas Ministries International, has likewise insisted that Trump won the 2020 presidential election, and that the presidential race was "a war between heaven and hell." Christmas, who is stridently opposed to abortion and gay rights, and routinely spouts off about "demons" and "sin," claims to be a prophet of doom.
FFRF is advising the good folks of Nashville to ignore these figures.
"It would be far better to sleep in on Sunday — or commune with nature or volunteer to help someone — than to waste time getting infected with disinformation by either of these blowhards," says Annie Laurie Gaylor, FFRF co-president. "The only afterlife that ought to concern any of us is leaving our descendants and planet a secure and pleasant future."
Locke recorded a video of himself burning a copy of the book, The Founding Myth: Why Christian Nationalism Is Un-American, written by Andrew L. Seidel, FFRF director of strategic response.
"America would be kinder, healthier and happier if fewer people listened to Locke and more listened to their conscience. Don't waste another minute swallowing the hate spewed by these peddlers of outrage." says Seidel. "Take a nap instead."
Gaylor notes that the "truly good news" is that church attendance in the United States is dropping off precipitously, with less than half of Americans claiming to belong to a church, synagogue or mosque, down from 70 percent church membership in 1999.
Similar billboard messages from FFRF will soon be aimed at Houston megapreacher Joel Osteen.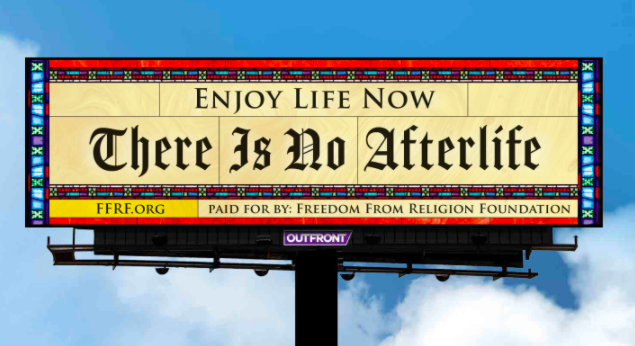 The Freedom From Religion Foundation is a national nonprofit organization with over 35,000 members and several chapters across the country, including hundreds of members and a chapter in Tennessee. Its purposes are to protect the constitutional principle of separation between state and church, and to educate the public on matters relating to nontheism.