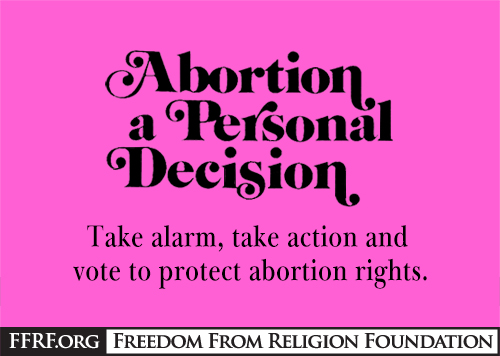 The Freedom From Religion Foundation is cheering the advance of a House spending bill that does not contain an extremely problematic amendment.
President Biden released a $6 trillion federal budget plan in May that omitted the Hyde Amendment — the first time in over 40 years it was excluded. This is a major step toward equitable abortion care in the United States. And with a key House subcommittee clearing the spending bill last week, the message is clear: Abortion care is health care. House Appropriations Committee Chair Rep. Rosa DeLauro, D-Conn., explained that the Hyde Amendment has "disproportionately impacted women of color, and it has ultimately led to more unintended pregnancies and later, riskier and more costly abortions."
First introduced in 1976 by the ultra-Catholic Rep. Henry J. Hyde, the Hyde Amendment restricts federal funding for abortion care so that low-income women on Medicaid (one in five women in the United States), those in the Indian Health Service Plan or the Peace Corps are essentially denied abortion care unless their state of residence uses its own funds to pay for such care. Currently, only 16 states provide such coverage. And since the procedure can cost anywhere from $500 to $2,000, the Hyde Amendment exacerbates health care and economic inequalities for low-income women.
Notably, the pending bill also excludes the Weldon Amendment rider, which prohibits the denial of federal funding to health care entities that won't provide abortion services. This rider is considered a "conscience protection" that emboldens hospitals, insurance companies and health care professionals to deny women health care by refusing to provide, cover or refer abortion care based on "religious or moral grounds." Allowing providers to deny patients' rights because of religious beliefs threatens access to quality, comprehensive health care.
FFRF applauds the historic move to exclude religiously rooted provisions from the federal budget. But the work is far from over. The legislation will move to the full Appropriations Committee for review and an eventual vote. It is sure to be a contentious battle, since anti-abortion legislators will fight to have the Hyde Amendment reinstated during negotiations. In fact, the top Republican on the subcommittee that approved the spending bill, Rep. Tom Cole of Oklahoma, claims that the Hyde and Weldon Amendments "need to be reinstated for this bill to move forward." It is unclear if it will pass the Senate without the reinstatement of these amendments.
We urge you to contact your representative and senators and ask them to support the removal of the Hyde and Weldon Amendments from the federal budget. The stakes for women's rights are enormous.