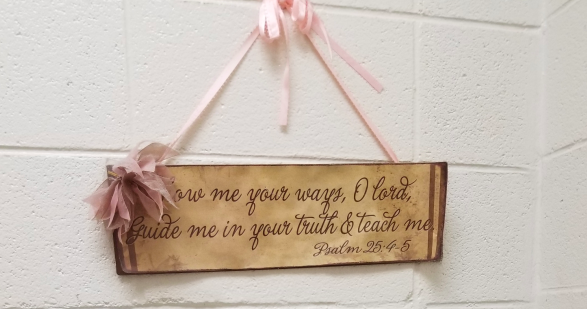 A Georgia school district is rectifying a number of constitutional breaches, thanks to the Freedom From Religion Foundation's persistence.
A concerned local resident informed the state/church watchdog that Graysville Elementary School gave students backpacks containing bibles and other religious materials. Children came home from school with a bible, a list of local Baptist churches, and a note asking them to "visit them and become part of the Catoosa Baptist Association family." The list also included a religious message:

A- ADMIT THAT YOU HAVE SINNED - ROMANS 3:23
B- BELIEVE THAT JESUS DIED AND ROSE AGAIN TO FORGIVE YOUR SINS - ROMANS 5:8
C - CONFESS YOUR SIN TO JESUS AND ACCEPT THE GIFT OF SALVATION - ROMANS 10:9-10
Distributing bibles, religious messages and church recruiting materials to students is a violation of the Establishment Clause of the First Amendment, FFRF reminded Catoosa County Public Schools.

"Courts have held that the distribution of bibles to students at public schools during instructional time is prohibited," FFRF Staff Attorney Chris Line wrote to Superintendent Denia Reese. "Public schools have a constitutional obligation to remain neutral toward religion and to protect the rights of conscience of young and impressionable students. When a school distributes religious literature to its students, or permits evangelists to distribute religious literature to its students, it entangles itself with that religious message."
FFRF spotlighted another problem within the school district in a separate letter a month later. There was a religious themed decor displayed inside Cloud Springs Elementary School, including a sign that said: "Show me your ways, O lord, Guide me in your truth and teach me." — Psalm 25:4-5.
The district was violating the Constitution when it allowed its schools to display religious symbols or messages like the religious sign at Cloud Springs Elementary School, FFRF underscored.
"This display creates the appearance that the district prefers religion over nonreligion and Christianity over all other faiths," the letter stated. "Courts have continually held that school districts may not display religious messages or iconography in public schools."
FFRF's tenacity reaped constitutional dividends.
"The school has been instructed to physically view the inside of any bags or similar items and to remove religious endorsements before giving them to any other students," the district's legal counsel recently replied. "The district also agrees that the signs at Cloud Springs Elementary School are probably inappropriate and that they should be removed."
FFRF is heartened that the school district has taken appropriate action.
"It was particularly distressing that a captive audience of young children were being targeted by religious missionaries and told they are 'sinners,'" says FFRF Co-President Annie Laurie Gaylor. "We're glad that our alerts had an effect."
The Freedom From Religion Foundation is a national nonprofit organization with more than 35,000 members and several chapters across the country, including over 500 members and a local chapter in Georgia. Our purposes are to protect the constitutional principle of separation between state and church, and to educate the public on matters relating to nontheism.