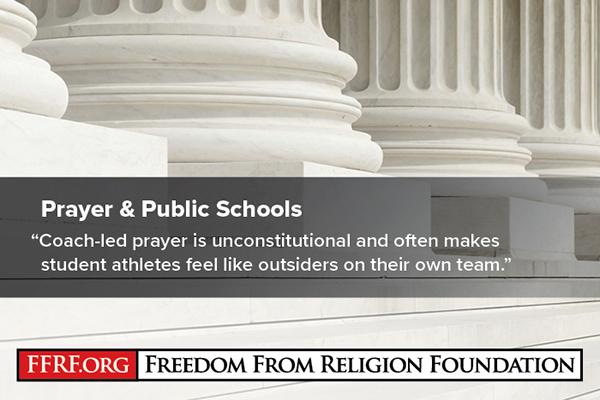 The Freedom From Religion Foundation has taught a Virginia school district a profound constitutional lesson.
A concerned Madison County Public Schools parent reported to the state/church watchdog that coaches for the Madison County High School soccer team had led their players in prayer before a game on April 29, a practice that had apparently been occurring for years.
It is illegal for public school athletic coaches to promote and endorse religion or lead their teams in prayer, FFRF reminded the school district.
"Public school coaches must refrain not only from leading prayers themselves, but also from participating in students' prayers," FFRF Staff Attorney Chris Line wrote to Madison County Public Schools Superintendent Anna Graham. "It is unconstitutional for public school employees to participate in the religious activities of their students. Federal courts have held that even a public school coach's silent participation in student prayer circles is unconstitutional."

The coaches represent the school and the team when acting in their official role as coaches of the Madison County High School soccer team, FFRF emphasized. Therefore, they cannot use their position to instill religion in players or lead their team in prayer and they cannot organize or advocate for students to lead team prayer either.
FFRF asked Madison County Public Schools to commence an investigation and take immediate action to stop any and all school-sponsored prayers, since, it stressed, the district has an obligation to make its sponsored activities nondiscriminatory and welcoming for all of its students.
The tutorial had a salutary effect on the school district.

"Our assistant superintendent of instruction and human resources worked closely with our athletic director to investigate this claim," the superintendent recently replied via email. "As a result of the investigation, all current coaches were reminded they shall not promote or endorse religion or lead their teams in prayer. Moving into the 2021-2022 school year, this information will once again be reviewed with all coaches."
FFRF is always glad to be of educational service.
"We're delighted that we were able to impart constitutional knowledge to school officials," says FFRF Co-President Annie Laurie Gaylor. "And we appreciate the fact that they've been so receptive and responsive."
The Freedom From Religion Foundation is a national nonprofit organization with more than 35,000 members across the country, including over 800 members in Virginia. Our purposes are to protect the constitutional principle of separation between state and church, and to educate the public on matters relating to nontheism.