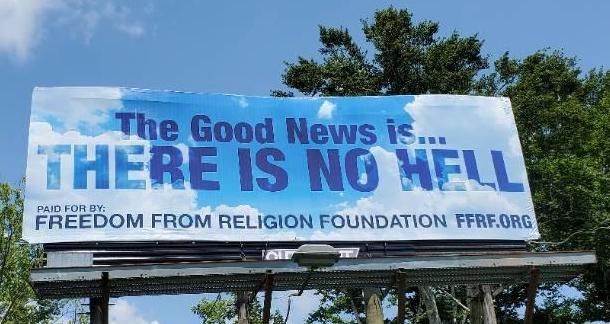 The Freedom From Religion Foundation has placed provocative messages on two billboards outside Dickson, Tenn., thanks to local member Frank Stiver. Dickson is a town of about 15,000 40 miles west of Nashville.
One billboard says, "The Good News is . . . THERE IS NO GOD" and the other says, "The Good News is . . . THERE IS NO HELL." The slogans were suggested by Stiver, an octogenarian who generously paid to post them on behalf of FFRF. Both billboards are 8 feet by 25 feet and are found on Interstate 40. One board is a mile east of Highway 48 and the other a mile west of Highway 48 near Exit 163.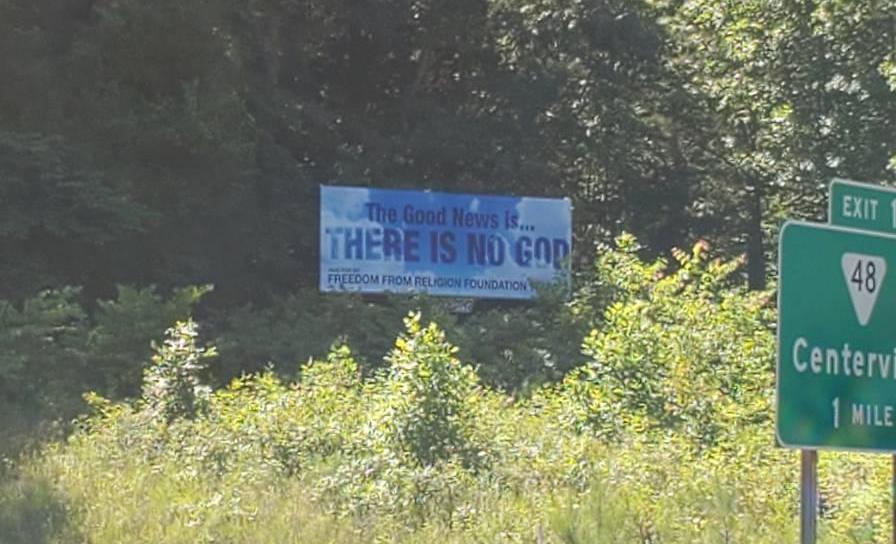 "The Freedom From Religion Foundation believes these billboards proclaim truly good news," says FFRF Co-President Dan Barker, an author and evangelical minister turned atheist. "The concept of a place where individuals are tortured eternally for being the 'wrong' religion is reprehensible. Humans should not be enslaved to the concept of a vengeful deity."
FFRF is grateful to Stiver for helping it spread "the good news."
The Freedom From Religion Foundation, a national state/church watchdog, has more than 35,000 nonreligious members and several chapters around the country, including hundreds of members and a chapter in Tennessee.