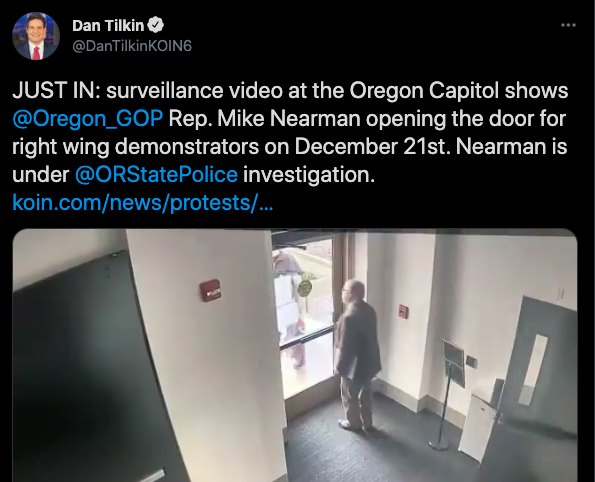 The Freedom From Religion Foundation concurs with a bipartisan call for the resignation of an Oregon state representative implicated in what appear to be seditious actions.
Many of us missed the news in December that a mob — well before the Jan. 6 insurrection at the U.S. Capitol — invaded the state Capitol in Salem, Ore., aided and abetted by state Rep. Mike Nearman. Surveillance cameras picked up Nearman opening the door to the Capitol building on Dec. 21, allowing the pro-Trump mob, which included Patriot Prayer members, to invade.
Their grievances included masking orders and the fact that the Capitol had been closed to the public because of the pandemic. Wielding body armor and pepper spray, the pro-Trump insurrectionists smashed windows and clamored for the arrest of Oregon Gov. Kate Brown.
On Jan. 5, Patriot Prayer members were among the hundreds that clashed with police and counterdemonstrators outside the Oregon Capitol to protest certification of Joe Biden as president, according to Newsweek. And Patriot Prayer supporters were among those criminals who invaded the U.S. Capitol a day later.
Nearman was removed from committee in January, fined $2,000 for damage caused by the mob, and told he has to give 24-hour notice before coming to the Capitol building. A Roman Catholic, Nearman graduated from a Jesuit high school and got his undergraduate degree from Marquette University. He is a staunch opponent of marriage equality and abortion rights, and joined churches in a May 2020 lawsuit seeking to strike down public health orders meant to stop the spread of COVID.
House Speaker Tina Kotek called on Nearman to resign months ago: "His actions have created immense fear among legislators and Capitol staff," she said. "I believe he should resign immediately because he has already breached the public trust and endangered our ability to safely conduct the people's business."
This week, after a video was disclosed appearing to show Nearman coaching protesters on how to gain entry in the building last December, even the state's House Republican Caucus joined Kotek's call by signing a letter encouraging Nearman to resign. In the video, Nearman announces "Operation Hall Pass," gives out his cellphone number and coyly encourages viewers to text it if they want entry into the Statehouse.
House Majority Leader Barbara Smith Warner lambasted the Oregon siege as a dress rehearsal for the Jan. 6 attack and said Nearman's actions put everyone in the building at risk: "If that's not traitorous, I don't know what is."
A bipartisan special committee is convening this week to consider whether Nearman should be expelled. Of course, Nearman should be expelled — if he does not do the right thing and resign first.